These oven roasted sweet potatoes are a family favorite, and they are the best way to eat a sweet potato any time of year.
Sweet potatoes are one of my favorite vegetables.
I love sweet potato fries and I really like sweet potato casseroles. But this might be my favorite way to eat them.
This recipe is in my regular rotation year round. The sweet potatoes get perfectly browned and roasted, have great flavor inside and out, and go with almost anything.
The best part is my family loves them this way too. Even if it isn't their favorite food, they all eat sweet potatoes prepared this way.
And of all the oven roasted sweet potato recipes out there, this is my favorite. It has simple ingredients, is an easy recipe, and always comes out delicious.
There is something about perfect sweet potato cubes oven baked side dish that is beautiful to look at, tastes great, and keeps everyone at the table happy.
What ingredients are in oven roasted sweet potatoes?
Sweet Potatoes: you want your sweet potato cubes peeled and diced
Olive Oil: this is the oil that will help the sweet potatoes brown evenly and not stick to the baking sheet
Brown Sugar: I love the dark flavor of this sugar; it really brings out the natural sweetness in the potatoes
Ground Cinnamon: this spice pairs perfectly with savory and sweet dishes to give a classic hearty flavor
Salt: this makes everything else in the dish taste better and clearer
Pro Tip: While there are different ways to dice sweet potatoes, you really want to make sure they are all the same size pieces. If you have cubes that are much bigger than other pieces, they won't cook evenly.
An easy way to make sure you have them the right size is to pull out dice from a board game. You want to cut your cubes into pieces that are slightly smaller than a standard dice.
How to roast sweet potatoes:
Combine all the ingredients into a small bowl.
Spread potatoes in a single layer on a lined cooking sheet.
Bake, flip cubes over, then bake again.
Serve and enjoy!
Pro Tip: Roasting vegetables at a high temperature is important for getting browned edges and crispy skin. You want to wait to put your pan in until you have a hot oven.
And make sure your pan is in the center of the oven to get even heat all around your potatoes. Too high will burn the top while too low will burn the bottoms.
Do I peel sweet potatoes for roasting?
Yes. While the sweet potato skin is edible, peeling them will help the potatoes cook more evenly. The skin takes longer to cook.
Also most people don't like to eat the skin, so the oven roasted sweet potatoes dish is prettier when they are peeled and diced ahead of time.
Do I need to boil sweet potatoes before roasting?
No. The potatoes are cooked completely in the oven on the sheet pan. There is no need to boil ahead of time.
Can you cut sweet potatoes ahead of time for roasting?
Yes! These should be fine to cut up to 24 hours before roasting the next day. But do not store them at room temperature.
Be sure to store them covered in an airtight container in the fridge after cutting them.
Pro Tip: Raw sweet potatoes do not oxidize (turn brown once cut and exposed to air) as fast as regular potatoes, but if you are worried about that, store them in cold ice water.
The cold water will create a layer over the cut sweet potatoes so they aren't exposed to air and won't turn brown.
What goes with oven roasted sweet potatoes?
Everything! My family really loves roasting sweet potatoes with almost anything they eat. Here are a few of my favorites:
Meat: chicken, beef, pork, fish
BBQ: barbecued meat gets its own bullet point in our house because we love it
Salad: use it in a green salad, on a rice or quinoa salad, warm or cold
Use it in a Bowl: taco/burrito bowl, Mediterranean bowl, grain bowl, southwest flavored bowl
Grilled Food: meat, veggies, kabobs, hot dogs, brats, this is a delicious side dish for all of them
Breakfast: use them in a hash, breakfast burrito, or as a side to eggs and bacon
Can I roast sweet potatoes ahead of time?
You can roast them ahead of time, but unless you are eating them cold, you will need to reheat them in the oven or in a saute pan to have crispy edges when you serve it.
For best results, eat this oven roasted sweet potato recipe as fresh as possible.
Are oven roasted sweet potatoes healthy?
Yes! Sweet potatoes are a great addition to a healthy lifestyle. And even though they are full of fiber, vitamin c, and other nutrients, the natural sugars inside them make it a savory sweet potatoes dish.
Can you roast frozen sweet potatoes?
Yes! Because they have been partially cooked and frozen, they will have a little softer texture than a fresh oven roasted sweet potato.
It doesn't really give you a faster cook time, but you can save on cutting and peeling prep time. The edges will still be crisp and browned.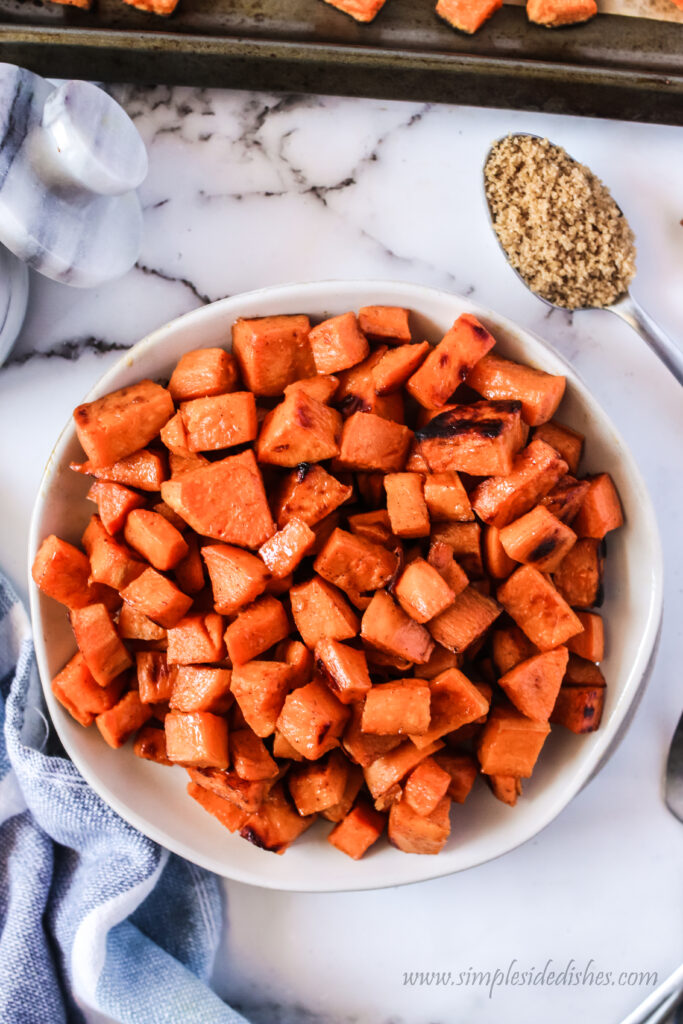 Even if it isn't your favorite vegetable, these oven roasted sweet potatoes are a healthy side dish that's also easy.
Even though they are a savory side, they taste a little like dessert with the brown sugar, cinnamon coating, and delicious caramelization on every piece.
More Vegetable Recipes You'll Love…
Yield: 8 Servings
Roasted Sweet Potatoes
These oven roasted sweet potatoes are a family favorite, and they are the best way to eat a sweet potato any time of year.
Ingredients
Instructions
Preheat oven to 425*F
Line a baking sheet with a liner or parchment paper.
In a bowl combine potatoes, olive oil, brown sugar, cinnamon and salt. Mix well.
Spread sweet potatoes onto the prepared cooking sheet.
Bake for 15 minutes.
Remove from the oven and flip sweet potatoes.
Bake for an additional 15 minutes.
Remove from the oven and serve immediately.

Nutrition Information:
Yield:
8
Serving Size:
1
Amount Per Serving:
Calories:

85
Total Fat:

3g
Saturated Fat:

1g
Trans Fat:

0g
Unsaturated Fat:

3g
Cholesterol:

0mg
Sodium:

87mg
Carbohydrates:

13g
Fiber:

2g
Sugar:

5g
Protein:

1g