This is the very Best Greek Salad because it is light, tangy, crunchy, creamy, and so simple to toss together. A tasty side dish to any meal you serve.
This is a delicious Greek salad but perhaps not the traditional Greek salad you've had in the past. That's because this one uses leafy greens that are more common in classic salads.
Authentic Greek salad doesn't use leafy greens but instead is cut vegetables in large chunks with cheese. Which makes this recipe our personal twist on a fresh Greek salad. A mix of the old and the new, which just happens to be a delicious salad!
There are some salads I make regularly and some salads that I crave. Other salads have memories connected to people and events.
This best Greek salad has all three. I never get tired of this healthy salad. It is great any time of day and any time of year. Personally I tend to make this in early spring and summer with my garden bursting with fresh ingredients.
I know the best Greek salad ingredients list looks long, but there are 7 fresh ingredients in this fresh salad, and the rest are for the homemade Greek salad dressing that is so delicious!
You will not regret making your own salad dressing, and it's so easy you will be surprised you haven't done it before.
What ingredients are in the best Greek salad?
Romaine Lettuce: chopped romaine lettuce is cool, crisp, and is the base for the salad.
Crisp Cucumbers: this adds cool crunch to the salad – English Cucumbers are best if you can find them.
Roma Tomatoes: chopped fresh juicy tomatoes add a sweet acidic taste to the salad
Red Onion: chopped onion adds a sharp sweetness to each bite
Kalamata Olives: these salty olives add a special greek flavor to the salad.
Black Olives: black olives are not as salty but give good texture and salt to the salad
Creamy Feta Cheese: crumbled feta adds a creamy note through the salad.
Extra Virgin Olive Oil: this is the oil base for your salad dressing that will carry the other flavors
Garlic Powder: a perfect way to add a light garlic taste in every part of the dressing
Oregano: this is a classic seasoning that will add a savory touch to the dressing
Basil: this classic greek herb adds a great flavor through the whole dish
Black Pepper: this adds a spice and helps your body digest the nutrients in the rest of the dish
Salt: this will bring out the flavors of everything else in the dish
Onion Powder: powdered onion will add a quiet onion flavor through the dressing
Mustard: adding mustard to salad dressing is a great way to add a surprising and tasty note to every other spice in the mix
Red Wine Vinegar: you can't make salad dressing without vinegar, and red wine has a great tangy grape flavor to pull everything together
Pro Tips:
Classic Greek Salad includes a green bell pepper. Though we don't have it listed above you could certainly add it for extra sweetness and crunch. Or try a red bell pepper too.
A traditional Greek salad recipe will have thick slices of feta on it. We prefer feta crumbles in this delicious recipe.
If you can't find Roma tomatoes, use grape tomatoes or even cherry tomatoes – really just use good quality fresh tomatoes if possible.
How to make best Greek salad:
Toss salad ingredients together.
Shake the simple dressing ingredients together in a jar.
Serve salad with dressing on top of the salad.
What kind of dressing goes on a Greek salad?
A Vinaigrette Dressing is what traditionally goes on a healthy Greek salad recipe. And don't worry we have that recipe for you too!
My easy Greek salad recipe gives you a homemade Greek vinaigrette dressing that I think is the best Greek salad dressing.
It has a great balance between spicy, tangy, and smooth. You are going to love it.
Is the best Greek salad healthy?
Yes! This salad is loaded with fresh vegetables, olives that have so many nutrients, feta cheese which has a lot of flavor in a small amount so you can use less, and a powerful homemade vinaigrette loaded with nutrients.
This might even be the healthiest recipe on my website. And it is so delicious.
What to serve with Greek salad:
Pizza: you don't have to make Greek style pizza for this salad to go perfectly as a side to any pizza
Pasta: salad is a great side to pasta
Bread: breadsticks, focaccia, rolls, or any of your favorites go great with this salad
Baklava: because after a perfect Greek salad, perfect Greek dessert is the only thing that makes sense, right?
Is the best Greek salad keto?
Yes! There is no extra sugars and so many of the veggies are low carb choices. You can eat this best Greek salad with lettuce and still follow a keto diet.
Is the best Greek salad vegetarian?
Yes! Nothing in this dish contains meat. However, it does contain feta cheese, so if you are serving this to a vegetarian, check to see if they eat cheese or not.
Is the best Greek salad vegan?
No. Feta cheese is dairy which comes from a cow which makes this dish not vegan friendly.
Feta is an important ingredient in Greek foods, so just serve feta on the side if you have a vegan friend coming when you are serving this dish.
How to store leftover best Greek salad:
This simple salad is best when eaten the same day it is made.
However, if you have leftovers, be sure to store the salad separate from the dressing. Dressing will make a salad wilt and lose its crunch.
What olives are used in the best Greek salad?
I use Kalamata olives and black olives to give two different olive flavors in my salad.
Can I make the best Greek salad in advance?
Yes! But don't mix it all together in advance. You can mix the dressing in a jar and save it in the fridge.
And prep/chop all the salad toppings, but keep all the toppings separate from the lettuce until you are ready to serve. Then mix everything together right before serving to keep your easy Greek salad fresh and crunchy.
More Salads You'll Love…
You will love the great flavors of this The Best Greek Salad and how easy it comes together too!
Yield: 5 Servings
Best Greek Salad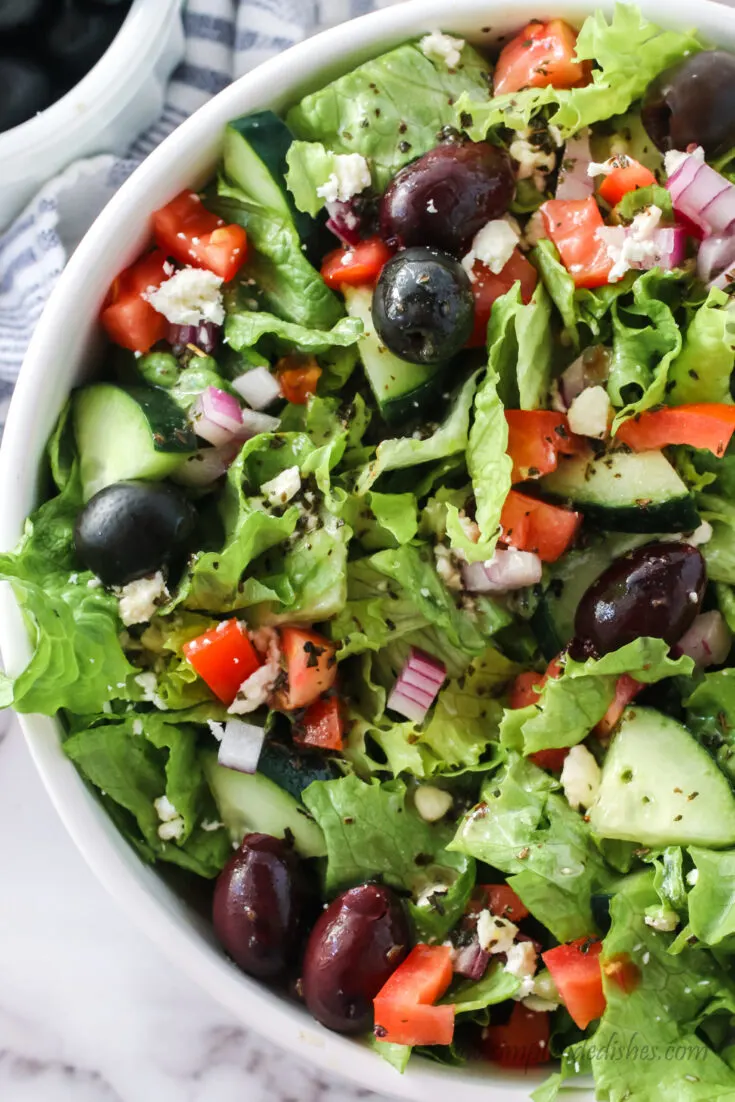 This is the very Best Greek Salad because it is light, tangy, crunchy, creamy, and so simple to toss together. A tasty side dish to any meal you serve.
Instructions
Place romaine lettuce in a large serving bowl.
Add cucumber, tomatoes, red onion, Kalamata olives, black olives and feta cheese to bowl.
In a jar with a lid, add olive oil, garlic powder, oregano, basil, black pepper, salt, onion powder, mustard, and red wine vinegar.
Add lid to jar and shake well.
Pour over salad and serve immediately.