Homemade flour tortillas taste so much better than store bought, and they are fun to make too! Plus they are ready in about 30 minutes!
Homemade flour tortillas are one of those recipes that you either grew up with and love doing or can be scary to attempt.
Sometimes the tortillas are hard or chewy and not cooked or they aren't soft enough to use as taco or burritos.
And even sometimes the dough never comes together and you end up fighting it!
Well I am here to present to you the most perfect, never will fail you, flour tortilla recipe, even if this is your first time making your own tortillas.
There are a few key steps you need to get them right every time you make them: time (do not rush the rest period!), dry climate (do not make these on a humid day!), and the right cooking surface (very hot and completely dry).
If you try to make this homemade flour tortillas recipe and skip any of those three steps, you will end up with a bad tortilla.
But if you follow those tips, you will quickly join team homemade tortillas and have a delicious simple side.
What ingredients are in homemade flour tortillas?
Flour: I usually use all purpose flour, but you can use whatever your regular flour is
Salt: this is important to giving the tortilla flavor and helping it keep a loose, not dense shape
Shortening: this makes your tortillas soft and flexible
Warm Water: this binds everything together to make your dough
Pro Tip: I usually use vegetable shortening like Crisco, but some people prefer to use lard. Keep in mind that whatever shortening you use will change the flavor of the tortillas.
How to make homemade flour tortillas:
Mix dry ingredients; then use hands to blend shortening into flour mixture until crumbly.
Make a well and pour hot water in.
Mix 8-10 minutes by hand until it forms a stretchy dough ball.
Pinch off dough balls into equal pieces and place on a lined sheet pan.
Cover with plastic wrap and let the dough rest.
On a well floured work surface and using a floured rolling pin, take one ball of dough at a time and roll it out into a very thin tortilla shape.
Place the tortilla on a very hot, dry griddle and cook, flip, and cook on the second side.
Repeat steps 6 & 7 with the remaining tortillas.
Enjoy!
Pro Tip: Do not make these on a humid day. Humid days have more moisture in the air, including in your kitchen.
The more moisture in the air, the longer you have to knead the dough to get the right consistency. A dry day is best to make tortillas!
Can you freeze homemade flour tortillas?
Yes! Once your homemade tortillas are cooked and cooled completely (be sure to check the center of the pile!), you can wrap them in plastic or foil and store them in a freezer safe container.
Let them come to room temperature overnight. Then be sure to warm tortillas before serving again.
Do you have to have a tortilla press to make homemade flour tortillas?
No! You only need a rolling pin and a floured surface. While a tortilla press does work, I like the texture of the tortillas better when they have been stretched and rolled again and again using the rolling pin.
Can I use a cast iron skillet to cook my homemade flour tortillas?
Yes! A cast-iron skillet is a great option to cook the tortillas on. The important thing to remember is you want a very hot skillet that you can keep dry.
Remember to heat your cast iron skillet up over medium heat and let the temperature get up to 500F before putting the first tortilla down to cook.
Pro Tip: The best way to keep your skillet clean while you are cooking is to have a clean kitchen towel to wipe off extra flour between cooking tortillas. That will give you nice golden brown spots on every side, not just the first side.
Are homemade flour tortillas vegan?
Yes! There are no animal products in this recipe which makes it a great addition to your vegan Mexican food menu.
Are homemade flour tortillas healthy?
These are a much healthier option than store bought tortillas since they have only a few, simple ingredients.
And if you want you can make them with a whole wheat flour which makes them an even healthier option than traditional flour tortillas.
Can dogs eat homemade flour tortillas?
These tortillas won't hurt your dog, but they don't have much benefit for your dog's food needs.
As long as it is plain (no flavorings or sauce) and not a big part of their diet, these are fine for your pup to eat.
How long do homemade flour tortillas last?
We recommend eating your cooked tortilla within 48 hours of cooking.
Do homemade flour tortillas go bad?
Yes. Depending on the heat and humidity in your area, leftover tortillas will either get hard and stale or grow mold.
For best results, eat or freeze fresh flour tortillas within 2 days of making them.
Are homemade flour tortillas gluten free?
Not if you use all-purpose flour. If you use corn or another gluten free flour, then these are gluten free.
Do homemade flour tortillas have leaven?
No. As written, this recipe does not contain anything with leavening.
But if you use self-rising flour then there is leavening in your flour and that will affect the results of your tortillas.
Homemade flour tortillas will be some of the best tortillas you will ever eat, and this easy recipe is one you will come to again and again.
Yield: 15 Tortillas
Homemade Flour Tortillas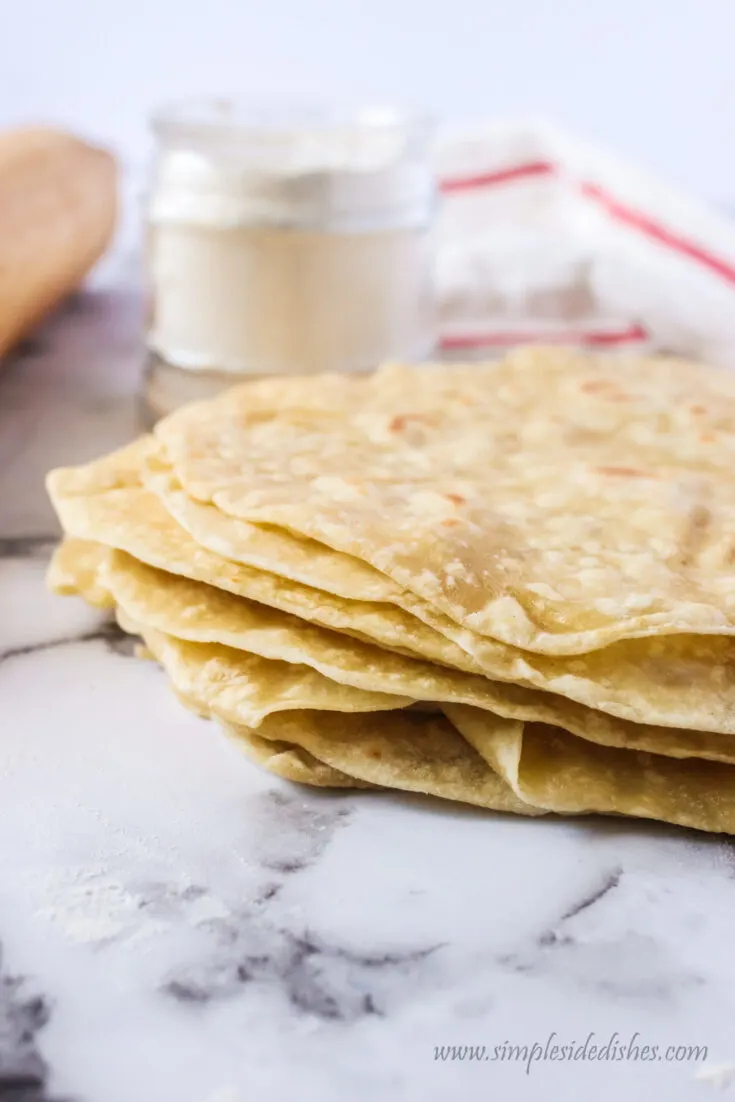 Homemade flour tortillas taste so much better than store bought, and they are fun to make too! Ready about 30 minutes - Yum!
Ingredients
Instructions
Though you can make these in a mixer, I've found the best results come when done by hand.
In a large bowl add flour, and salt. Mix well.
Add shortening into the flour mixture and using your hands, blend the shortening into the flour mixture. Mixture should look crumbly when well mixed and when pressed together create a ball.
Create a small well in the middle of the dough and add warm water.
Mix for 8-10 minutes by hand. At first the dough will be very sticky and stick all over your hands. The more you knead the dough in your bowl, and work it, the less sticky it will get. I found, picking the dough up and holding one end, slamming it into the bowl works well. Eventually dough should come away from the sides of the bowl and your hands and form a ball. Dough will still be slightly sticky but will also be stretchy. You should be able to pull it 6-8 inches (or more) without it breaking. Once it does, your dough is ready.
Pinch off hunks of dough about the size of a ping pong ball or golf ball and place on a lined cookie sheet. You should get 12 - 15 balls.
Cover with plastic wrap and let rest for 20 minutes - 2 hours.
After resting, lightly flour a work surface and a rolling pin.
Place a dough ball on the lightly floured work surface and then flip over so the floured part is on top.
Using a rolling pin, roll dough forwards and backwards to create an up and down oval.
Pick up dough, turn upside down and sideways - dough should be long side to side now. Roll again up and down to create a circle.
Continue to pick up dough, flip it and turn it between each roll until the dough is paper thin.
Heat a skillet or griddle to 500 - 525*F. Do not oil skillet or griddle. We want a dry surface.
Gently place the tortilla on a hot surface, careful not to burn yourself.
Cook for 30 - 45 seconds then flip and cook an additional 30 - 45 seconds.
Repeat with remaining tortillas.
If your pan accumulates a lot of flour, clean flour out with a dry paper towel and continue.
Keep tortillas warm in a dish towel until ready to serve.
Nutrition Information:
Yield:
15
Serving Size:
1
Amount Per Serving:
Calories:

99
Total Fat:

3g
Saturated Fat:

1g
Trans Fat:

0g
Unsaturated Fat:

2g
Cholesterol:

1mg
Sodium:

107mg
Carbohydrates:

16g
Fiber:

1g
Sugar:

0g
Protein:

2g