These roasted vegetables in the oven are the best way to get an easy veggie side dish on the table!
Some people are veggie fans. Some people would rather leave them to the side.
And then there are people who are trying to eat more vegetables but just can't find ones they enjoy.
Everyone loves this dish. It's a perfect mix of different vegetables that give color, crunch, and flavor.
But the real secret is the garlic seasoning and the touch of Parmesan cheese on top.
Those two ingredients take this dish and change it from a regular vegetable dish and turn it into a garlic Parmesan heavenly side dish.
You will love this oven roasted vegetables recipe, and so will everyone else at the table!
What vegetables can you roast in the oven?
You can roast any vegetable in the oven. I have not met a vegetable that cannot be roasted.
Some will taste better together than others.
The trick when you want a blend of roasted vegetables is to pick ones that cook in a similar amount of time and have a similar shape.
For example, bell peppers will roast much faster than carrots so you will want to cook those on separate trays or start the carrots before adding in the peppers.
And green beans are a different shape than brussels sprouts so you will need to cut those down or roast them in sections too.
This recipe uses a mix of colors and type of vegetable so your side is easy, colorful, and delicious!
Pro Tip: If your favorite vegetables are missing in this list but they are similar in size or shape, you can add them in to make this a perfect side dish for you.
Cauliflower florets and broccoli are similar type of veggies; zucchini and yellow squash are too. Since they are so similar, if you love them go ahead and take some of one veggie out and sub in your favorite.
That is an easy way to get the combination of vegetables you love.
What do you need to make roasted vegetables in the oven?
Red Bell Pepper: red pepper is the sweetest of the bell family and has the best flavor
Orange Bell Pepper: not as sweet but still delicious when roasted
Broccoli Florets: this adds a great green color and different texture than the other vegetables
Sweet Potato: since these are firm root vegetables, you need to dice these slightly smaller to make sure they cook in the same amount of time
Red Onion: a sweeter, milder onion that adds great flavor and crunch
Zucchini: this perfect summer squash tastes even better when it's roasted
Olive Oil: a little oil helps the seasoning stick to the veggies and keeps the veggies from sticking to your cooking tray.
McCormick Garlic Herb Seasoning: this is such an easy blend to use! It is delicious and mixes all the seasonings you need in one jar ready to go so you do not have to wash and chop fresh herbs to get great flavors.
Parmesan Cheese: this is my favorite way to add a huge amount of flavor with just a little bit of ingredients
Pro Tip: To meal prep this dish, peel and chop all your veggies the night before. Then all you have to do is season and bake!
How to roast vegetables in the oven:
Cut veggies and place on a lined baking sheet.
Drizzle oil and mix.
Sprinkle seasoning on top.
Bake until tender.
Sprinkle veggies with Parmesan and serve!
Pro Tip: I always make this on a cookie sheet pan. But you can make roasted vegetables in oven safe dishes of any size.
The important thing is that the vegetables sit in a single layer at the bottom of the dish.
Can you roast frozen vegetables?
You can, but I do not recommend it.
Because vegetables have such a high water content, when they are frozen, the water inside turns to ice. The ice cuts into the proteins that give fresh vegetables that great crunch.
That's why when you thaw a frozen vegetable it is soggy and limp.
Some vegetables are fine to roast after they have been frozen. Sweet potatoes and onions can hold up to it.
But if you roast frozen peppers and zucchini you will often end up with a soggy watery mess instead of the nice roasted vegetables in the Oven dish you were wanting to make.
How long to roast vegetables:
When all the veggies are cut the same size and you cook at a higher heat, they will become oven roasted vegetables in just 35 minutes.
Can you freeze roasted vegetables in the oven?
Yes! Once your fresh vegetables have been roasted and so changed their true texture already, you can freeze them.
That is a great way to get a healthy side dish fast the next time you want them.
For best results, let them cool. Then line a cooking tray with parchment paper and spread them out so they aren't touching and freeze for 1-3 hours until solid.
Then transfer all the vegetables into a freezer safe, airtight container and store for up to 3 months.
To reheat, stick the frozen roasted vegetables in the oven on a lined baking tray and cook until warmed through.
Can I use butter to roast vegetables?
Yes! If you prefer to use butter instead of olive oil, just melt the butter before tossing the raw veggies in butter and adding seasonings.
When you use butter to make roasted vegetables in the oven it will add a different layer of flavor to the dish that some people prefer.
What to do with oven roasted vegetables:
Serve with meat: steak, chicken, pork chop, roast, grilled, these veggies make a great side to most main dishes.
Serve it as your vegetable side dish: I like to make sure every meal has a vegetable on the table, and this is great for weekday dinners for picky eaters as well as holiday meal times.
Add to a rice or quinoa bowl: layer rice or quinoa, greens, these roasted vegetables, your favorite sauce, and top with a crunch like nuts or seeds and you have a delicious power bowl meal.
Make a roasted veggie wrap or panini: take your favorite panini or wrap fillings and add these roasted veggies for a delicious lunch on the go.
Use them as a salad topping: it's not a traditional topping, but I love using leftover roasted vegetables as a cold salad ingredient.
Whether you need an easy side for a weeknight meal or are just looking to eat more vegetables every day, these roasted vegetables in the oven are quick and delicious any time of year.
Yield: 10 Servings
Roasted Vegetables in the Oven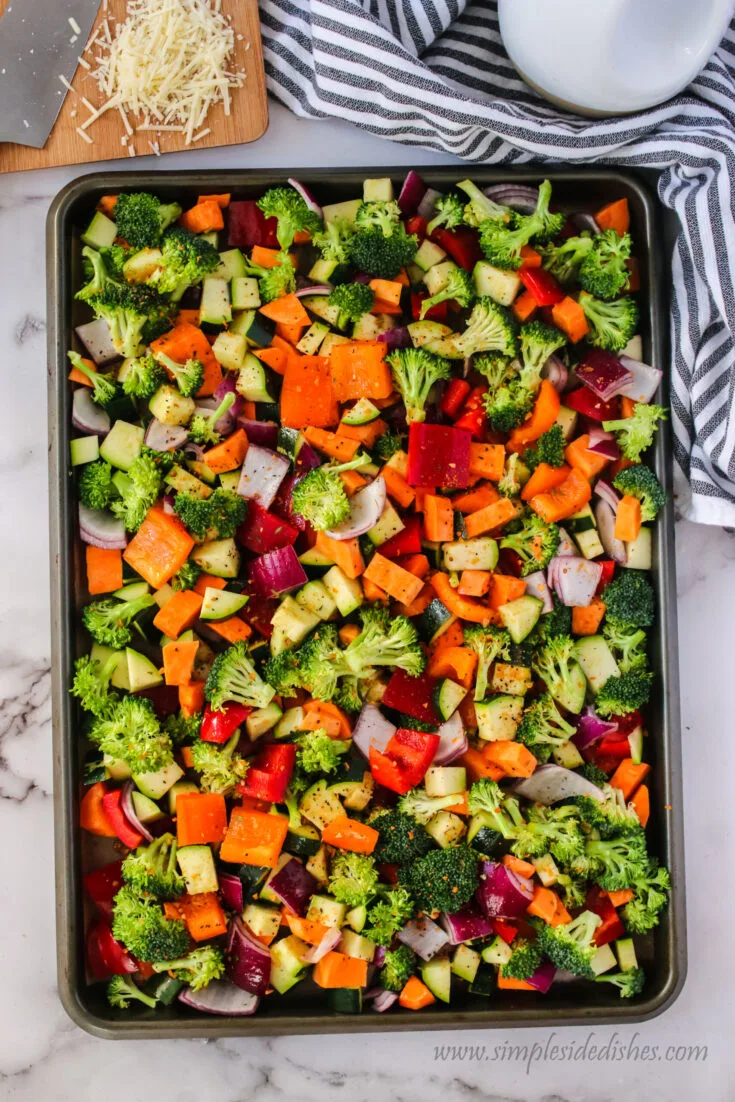 These roasted vegetables in the oven are the best way to get an easy veggie side dish on the table! Healthy, easy and oh so tasty!
Instructions
Preheat oven to 400*F
Line a cookie sheet with parchment paper, non-stick foil or baking mat.
Cut veggies into 1 inch pieces and spread out on a cookie sheet.
Drizzle olive oil on top of veggies and mix with hands to ensure all pieces are covered.
Sprinkle seasoning on top.
Bake for 35 minutes or until vegetables are soft to the prick of a fork.
Remove from the oven and sprinkle parmesan cheese on top.
Serve immediately.
Nutrition Information:
Yield:
10
Serving Size:
1
Amount Per Serving:
Calories:

111
Total Fat:

6g
Saturated Fat:

1g
Trans Fat:

0g
Unsaturated Fat:

4g
Cholesterol:

4mg
Sodium:

162mg
Carbohydrates:

12g
Fiber:

3g
Sugar:

4g
Protein:

4g