These easy orange glazed carrots are simple, fast, and the perfect way to transform fresh carrots into one of the most delicious side dish recipes you will make in your kitchen.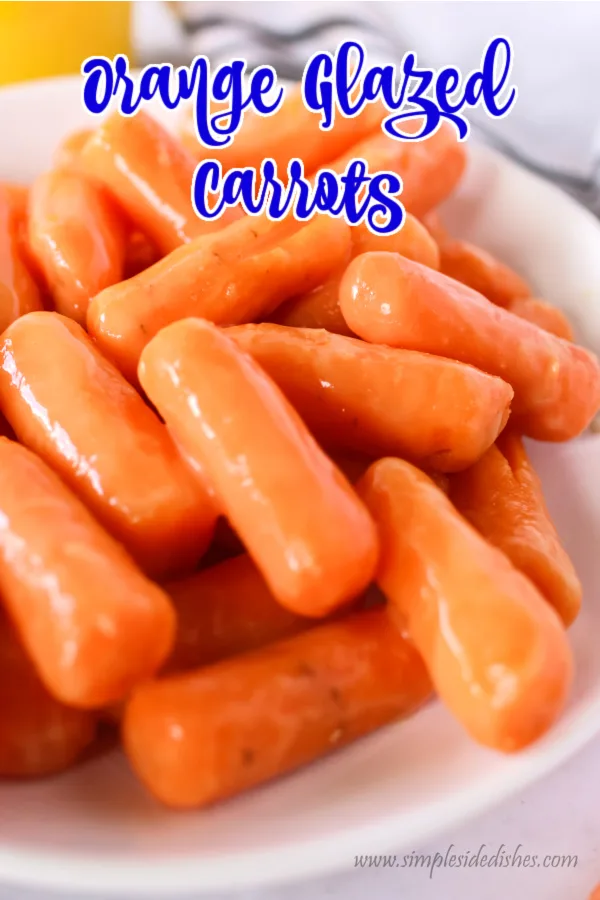 If you need a carrot recipe, this is the perfect side dish for you. It is one of my easy recipes that the entire family enjoys.
I know, you might look at it and say, "Boiled carrots with orange juice? Are you crazy?"
Yes I am, but it's the good kind of crazy! These Orange Glazed Carrots are packed with flavor and SO EASY to make! Trust me, they are just what you've been looking for in a side dish.
I promise, you do not need to use a steamer basket to take ordinary carrots and change them into a delicious orange glaze carrot party.
Here's why:
When you boil carrots in salt water, you are seasoning the carrots as they are boiling. So they get a kick of flavor on the inside and not just sprinkled on the outside at the end.
And that small step makes such a big difference in the final flavor.
You get a little bit of salted flavor on the inside which makes the carrots orange juice glaze flavor on the outside really stand out.
It makes the flavor so great that you can use it on special occasions, at a holiday meal, or serve it on your weeknight dinner table.
Whenever you do serve it, these orange glazed carrots will become one of everyone's favorite side dishes.
What ingredients are in orange glazed carrots?
Baby Carrots: the star of the dish; already washed, cut, and in perfect bite sized pieces
Salt: this helps season everything so you get as much flavor as possible in this side dish
Orange Juice: this is what is giving you the orange glaze on the carrots
Sugar: this will make the glaze more like a syrup and stick to the carrots better
Ground Ginger or Ginger Paste: this is one of my favorite ingredients in this recipe, just make sure not to use too much or you will have a spicy side instead of a delicious orange sauce
Butter: butter adds flavor as well as helps to thicken the glaze
Cornstarch: this is the real thickener; it doesn't add flavor but it will give you a thick glaze so it sticks to every piece
Water: this mixes with the cornstarch before adding to the glaze so you don't get clumps of cornstarch on your carrots with orange glaze
Pro Tip: These glazed carrots with orange juice have amazing flavor on their own, but if you really love a hint of molasses, try using brown sugar instead of white sugar in the glaze.
How to make orange glazed carrots:
Place carrots and salt in a pot, cover with water, and bring to a boil.
Cook until you have tender carrots and drain the water out.
Combine glaze ingredients while carrots are cooking and cook on the stove until sugar is dissolved.
Combine cornstarch and water and whisk into the cooked glaze until it thickens.
Pour glaze over drained softer carrots and toss together.
Serve!
Pro Tip: Because of the bright color on these orange juice carrots, try serving them in a dish that really shows off the color. I like to serve them in white or clear glass bowls.
Can you freeze cooked orange glazed carrots?
Yes! This side dish can be frozen. Just let them cool then place your sunshine carrots in a freezer safe container.
For best results, we recommend you melt butter in a medium saucepan on a stove top over medium heat and cook the carrots until they are hot.
If you prefer, you can reheat them in olive oil instead.
Pro Tip: After reheating from frozen, add a small amount of orange zest to the top to bring out the orange glaze flavor and make it feel fresh again.
How long do cooked orange glazed carrots last in the fridge?
We recommend eating these within 5 days of making them. If you don't plan on eating them by then, freeze them.
Pro Tip: Try adding a couple leftover carrots into a smoothie. The carrots glazed with orange juice will add a nice touch to your healthy drink.
Are cooked orange glazed carrots healthy?
Yes! Carrots are a very healthy vegetable, and this sunshine carrots recipe coats the carrots in orange juice and ginger which also have great health benefits.
Why are carrots orange?
They have a lot of beta-carotene in them. Beta-carotene is full of orange coloring and you can even juice carrots to create your own natural dye!
In your body, beta-carotene is turned into Vitamin A which is important to keep so many things your body does healthy. It also is a great anti-oxidant.
It also makes these orange glazed carrots a beautiful color on your dinner table.
Can you turn orange from eating too many carrots?
Yes! But you'd have to eat about 8 large carrots a day every day for weeks to change your skin yellow-orange.
One large carrot is about 8-10 baby carrots. So if you are eating 70 baby carrots a day, every day for a month, you might turn orange.
But I probably could eat these orange glazed carrots that often because I love them that much.
Pro Tip: Those numbers are for human adults. Babies and children need less.
If you are feeding babies carrots and sweet potatoes every day they could turn orange faster than you would.
Can dogs eat cooked carrots?
Yes! Just be sure to set aside 2-3 baby carrots before you coat the carrots in orange juice. The orange juice glaze is not good for your dog.
It's better to leave the orange glazed carrots for your human friends and serve plain ones to your pup.
Pro Tip: Remember to cut carrots into smaller, bite sized pieces before serving to your dog (especially if they are little) to prevent choking.
We love these orange glazed carrots whether it's a busy after school side dish or a special holiday dinner; if you need a crowd pleaser and easy side dish, this is the perfect one for you!
Yield: 6 Servings
Orange Glazed Carrots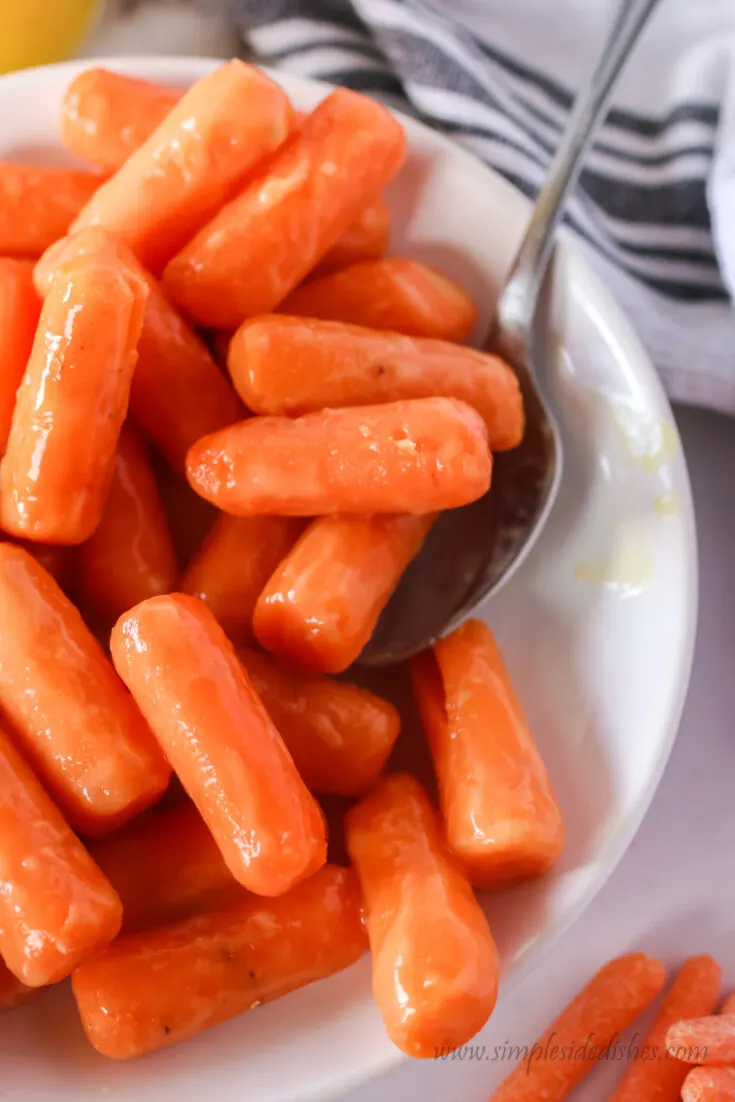 These easy orange glazed carrots are simple, fast, and the perfect way to transform fresh carrots into one of the most delicious side dish recipes you will make in your kitchen.
Ingredients
Instructions
In a sauce pan, add carrots and 1/2 teaspoon of salt and enough water to cover.
Bring to a boil and cook for 20 minutes, or until carrots are fork tender.
While carrots are cooking, in a separate pot, combine butter, ginger, sugar, orange juice and 1/4 teaspoon salt.
Cook over medium heat for 5 minutes or until sugar is dissolved.
In a small bowl combine corn starch and water.
Pour corn starch mixture into orange juice mixture and mix well. Mixture should thicken.
When carrots are done cooking, drain.
Combine carrots and orange juice mixture together and serve immediately.
Nutrition Information:
Yield:
6
Serving Size:
1
Amount Per Serving:
Calories:

51
Total Fat:

4g
Saturated Fat:

2g
Trans Fat:

0g
Unsaturated Fat:

1g
Cholesterol:

10mg
Sodium:

299mg
Carbohydrates:

4g
Fiber:

0g
Sugar:

3g
Protein:

0g