With fresh produce and basic ingredients, this asparagus soup recipe is a delicious recipe any time of year, but it is especially great in asparagus season when you have perfect spears waiting to be eaten.
The first thing you need to know is asparagus soup recipe is not a hot soup. It is a chilled soup.
Technically since it is chilled, it is asparagus vichyssoise, but my version does not have as much cream. That makes this a healthy soup.
If you have never had a cold soup with a perfect creamy texture, you are in for a treat.
It's healthy because it is loaded with vegetables and broth that have amazing nutrients and antioxidants. It doesn't use heavy cream, but it still gives you a great creamy consistency since it is a puréed soup.
In fact, this asparagus potato soup is a perfect recipe when you need a light dinner main course or a simple side dish to go with dinner the next day.
Because it is served cold, this recipe for asparagus soup is made the day before and is ready anytime you need it to be served straight from the fridge.
That means an asparagus leek soup is a delicious way to eat a healthy meal on the go. It fits perfectly in thermoses that keep liquids cold for a bonus meal or snack option.
With its great flavors and fresh vegetables, this creamy asparagus soup is going to be one you reach for again and again during asparagus season.
What ingredients are in asparagus soup recipe?
Fresh Asparagus: this is the star of the soup; choose bunches of asparagus that are easy to snap, not rubbery
Butter: this gives great flavor to the vegetables that get cooked in it
Onion: this adds flavor and thickness to the soup
Leeks: only use the white part of the leeks for a sweeter onion flavor
Baking Potato: you need to have asparagus soup with potato because it adds natural starch and fiber to thicken the soup
Chicken Stock or Broth: this is your liquid flavor base, so pick one you like the flavor of
Lemon Juice: you can't taste the lemon, but just a squeeze of lemon juice brightens the whole soup and keeps a nice green color
Salt: this is so important for every soup you make since it pulls all the flavors out of each ingredient and helps them blend together
White Pepper: I like to use white pepper in this dish since it isn't as spicy and doesn't add black flecks to the soup
Half and Half: this is a garnish, but it adds a nice touch making this dish more like a creamy asparagus soup without being as heavy as a traditional creamy soup
How to make asparagus soup recipe:
Snap and discard woody ends of asparagus stalks, then cut into 2-inch pieces.
Melt butter in a large pot over medium heat for 1-2 minutes, then add asparagus, onion, and leeks.
Once cooked through, remove asparagus tips to use for a garnish and set aside.
Add potato and chicken broth and simmer until potato is tender.
Blend entire mix into a smooth soup using a traditional or immersion blender.
Chill soup and asparagus tips in an airtight container in the fridge overnight.
Ladle cold asparagus soup into bowls and drizzle half and half over bowls and top with asparagus tips and serve!
Pro Tip: The best way to blend this is with an immersion blender. Hot liquids can be dangerous to blend if you do not have a hand blender.
If you are using a high speed blender, be sure not to fill it more than half way, and always use a lid.
What to serve with asparagus soup recipe:
There are so many great combinations you can serve with this asparagus soup recipe. Here are a few of my favorites:
Bread: Bread is a winner anytime I serve soup. If there is something to dip into the soup, my children are more likely to eat it, which means it's a great way to serve them more vegetables. Try this easy focaccia bread for an extra tasty treat.
Salad: Soup and salad are a classic combination. Try this cold butternut squash salad for a delicious meal any time of the year.
Chicken: Grab a rotisserie from the store and serve chicken and soup for dinner.
Brunch: This green soup looks so pretty on a brunch table, you can serve it next to quiche or any other brunch favorites.
Can you freeze asparagus soup recipe?
Yes you can freeze asparagus soup recipe. Once it has cooked and cooled, transfer it to a freezer safe container, label it, and save it for another day.
When you are ready to serve it, let it thaw in the refrigerator overnight. If it has separated, you can give it a quick stir or put it in the blender to bring the simple soup back together.
Then all you have to do is garnish and serve!
How to store leftover asparagus soup recipe:
Store leftover asparagus soup recipe in the fridge or freezer in an airtight container. It can keep for up to a week in the fridge and up to 3 months in the freezer.
Can dogs eat asparagus soup recipe?
No dogs cannot eat asparagus soup recipe. This recipe uses onions and leeks which are toxic to dogs, so you do not want to risk your pup having any of this soup.
This asparagus soup recipe is the easiest way to get a side dish packed with vegetables that everyone loves to eat.
Yield: 6 Servings
Asparagus Soup Recipe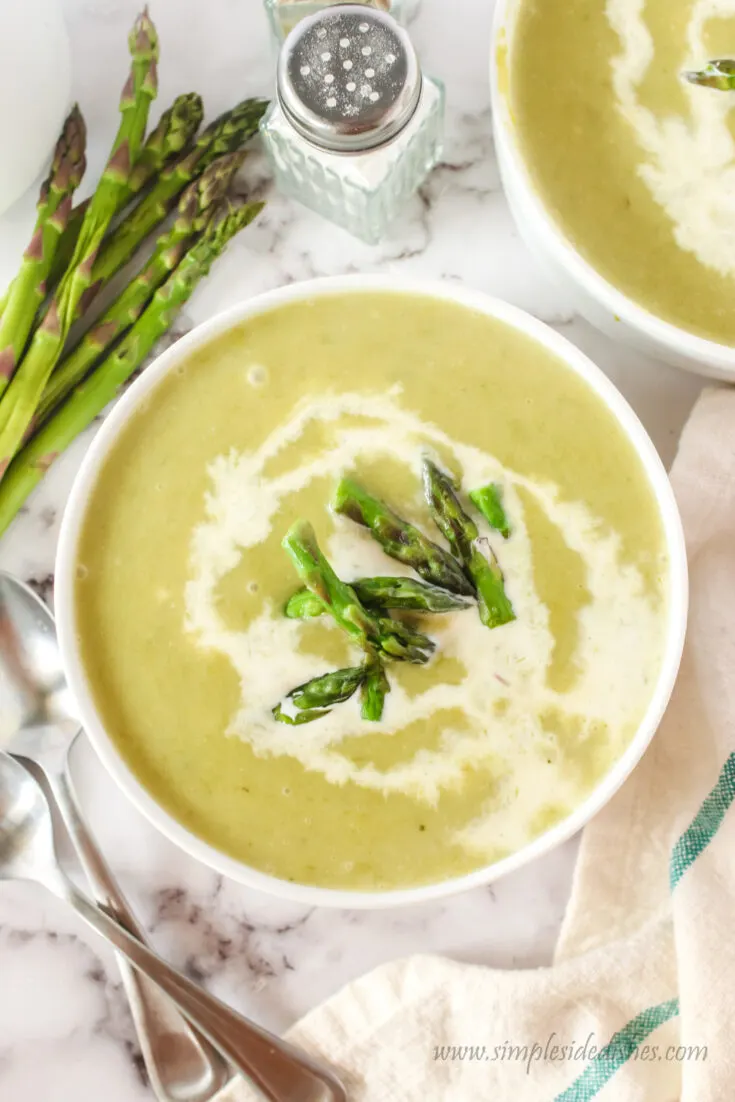 With fresh produce and basic ingredients, this asparagus soup recipe is delicious any time of year. A simple side dish to compliment any meal!
Total Time
12 hours
45 minutes
Ingredients
Instructions
Snap off and discard woody ends of asparagus
Cut remaining stalk into 2-3 inch pieces.
In a large pot melt butter.
Add asparagus, onion and leeks and cook until onions and leeks are soft and cooked through.
Remove several asparagus tips to use for garnish and set aside.
Add potato and chicken broth. Bring mixture to a simmer and cook for 20 minutes or until potato is
tender.
Once potato is soft and tender, using an immersion blender or a traditional blender, blend up entire
mixture into a nice smooth soup.
Pour soup mixture into a large storage container and chill for 12+ hours.
Place asparagus tips in a zipper bag and chill as well.
When ready to eat, ladle soup into bowls.
Drizzle half and half over the soup (it should stay on the top and make a pretty design).
Top with asparagus heads and serve.
Nutrition Information:
Yield:
6
Serving Size:
1
Amount Per Serving:
Calories:

150
Total Fat:

9g
Saturated Fat:

5g
Trans Fat:

0g
Unsaturated Fat:

3g
Cholesterol:

24mg
Sodium:

804mg
Carbohydrates:

15g
Fiber:

4g
Sugar:

4g
Protein:

6g