These garlic roasted red potatoes have great flavor and tastes amazing. With only 5 ingredients, they are the perfect side dish for any day of the week.
Of all the potato recipes I make, my most favorite are the oven-roasted potatoes.
There is something about letting potatoes cook a long time that gives you perfectly crispy edges, golden brown color, and incredible flavor.
Don't get me wrong, sweet potatoes and mashed Yukon gold potatoes are always delicious and I love them.
In fact, I have a whole page of easy side dishes that are just potatoes.
But this recipe with its fork tender inside and crispy garlic coating the outside is just so perfect that I come back to it again and again.
If you are looking for a tasty side dish and an easy recipe, these garlic potatoes are a fool-proof recipe that will give you great potatoes every single time.
What ingredients are in garlic roasted red potatoes?
Red Potatoes: regular sized or baby potatoes both work great since you cut them into bite sized chunks
Salted Butter: melted butter coats the potato pieces in the seasonings giving you perfect roast potatoes
Minced Garlic: this has so much more flavor than garlic powder when roasting raw potatoes
Salt: this makes everything else taste better and have more flavor
Parmesan Cheese: be sure to use shredded cheese not powdered for a sharper cheese flavor
Pro Tip: If you really hate mincing your own garlic, you can buy bottled or tube garlic in the produce section of your grocery store.
How to make roasted red potatoes:
Combine butter, garlic, salt, and Parmesan in a large bowl.
Wash and dry potatoes then cut into 1 inch chunks.
Add potatoes to butter mixture and toss to coat every piece.
Spread in a single layer on a sheet pan.
Bake in a preheated oven, flipping every 15 minutes.
Serve once you have tender potatoes.
Are garlic roasted red potatoes healthy?
Yes roasted garlic red potatoes are healthy!
Potatoes have so many nutrients in them especially when you keep the skin on.
Garlic is full of so many great antioxidants, it has a lot of health benefits.
And the butter is portioned to keep it inside a healthy diet.
However if you need a lower saturated fat diet, you can substitute the butter for olive oil.
It will change the taste, but if you use a higher quality oil, you will still get a great parmesan roasted garlic potatoes side dish.
What to serve with garlic roasted red potatoes:
I think garlic red potatoes are the perfect complement to almost any meat or veggie dish. Here are a few of my favorite pairings:
Great Steak: your favorite cut of steak and green beans go great on a plate next to these roasted red garlic potatoes
Roast Chicken: whether you roast it yourself or grab a rotisserie from the store, these are a great side dish to chicken
Fried or Battered Fish: I like to serve these as my own fish and chips but instead of french fries or potato wedges, these crispy potatoes take their spot.
Roasted Vegetables and Chickpeas: roast broccoli, squash, chickpeas, whatever you have and serve them on top of these roasted garlic potatoes with your favorite pesto sauce and you have a fantastic dinner bowl
Can you freeze garlic roasted red potatoes?
Yes you can freeze parmesan roasted garlic potatoes!
Just place the cooled potatoes on a rimmed baking sheet and put it in the freezer for an hour until frozen.
Then transfer the frozen potato cubes to an airtight container or freezer bag and you can keep it in a deep freezer for up to a year.
How to reheat garlic roasted red potatoes:
Whether you are reheating frozen or refrigerated oven roasted garlic potatoes, you want to reheat them in a way that gives you that crispy exterior for a great skin on each bite.
That means using a stove or an oven.
You can use a skillet with a drizzle of olive oil or butter and saute until warmed and crispy.
You can also place them on a baking sheet in an oven, toaster oven, or air fryer.
Heat until warmed through and crispy, turning to heat evenly.
This gives you oven roasted garlic potatoes, just faster than the first time you cooked them.
What meat goes well with garlic roasted red potatoes?
I think any meat goes well with red garlic roasted potatoes.
Classic combinations are steak, chicken, fish, and pork.
You can have saucy meat like butter chicken or a dryer meat like a well seasoned steak.
I have even served barbecue meats next to these red roasted potatoes a couple of times and people loved them.
You really can't go wrong with any meat.
Are garlic red potatoes gluten free?
Yes, these garlic roasted potatoes are naturally gluten free.
Be sure to check anything that has a label to make sure nothing was added, but this is a great go to gluten free side dish.
These garlic roasted red potatoes are a perfect simple side dish; they are loaded with garlic butter flavor in every bite.
Yield: 4 Servings
Garlic Roasted Red Potatoes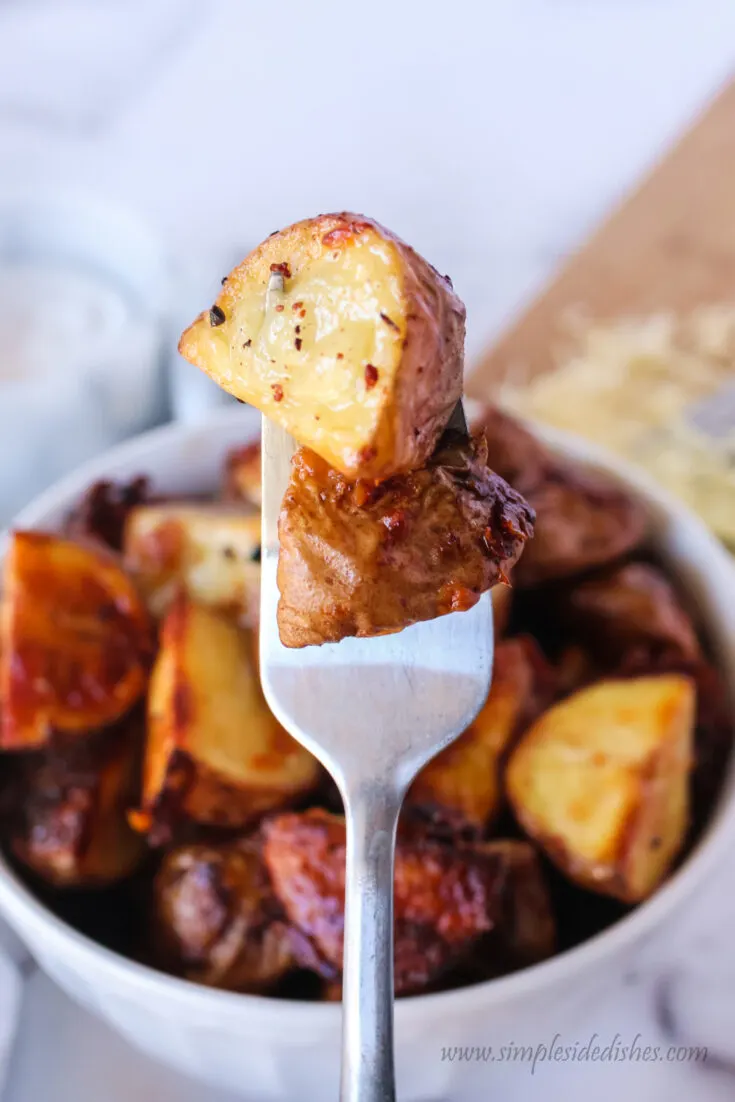 These garlic roasted red potatoes have great flavor, taste amazing, and with only 5 ingredients, they are the perfect side dish for any day of the week.
Ingredients
Instructions
Preheat oven to 400*F
In a large bowl combine melted butter, garlic, salt and parmesan cheese.
Wash and dry potatoes to remove any dirt and debris.
Cut red potatoes into 1 inch chunks. Smaller potatoes may only need to be cut in half, while larger potatoes either quartered or into 8ths.
Add potatoes to butter mixture and toss to evenly coat potatoes.
Spread potatoes onto a baking sheet so they are in one layer.
Bake for 45 minutes to 1 hour, flipping every 15 minutes.
Once potatoes are fork tender, remove from the oven and serve immediately.