Making these mashed potatoes in the instant pot is so simple, and it is all done in one container making clean up easy too!
I love mashed potatoes. There is something so comforting about delicious creamy mashed potatoes. They make great side dishes to so many dishes and kids LOVE them!
I also love my instant pot. An electric pressure cooker creates the best results when making homemade mashed potatoes.
When I make mashed potatoes in the instant pot they have more flavor than traditional boiled mashed potatoes since we use chicken broth to flavor them, and I only have one pot to clean after.
One of my favorite aspects of cooking mashed potatoes in the instant pot is that they make a great side to your weeknight dinner. They aren't just a special occasions dish, but an every day, kid friendly recipe.
Extra flavor, hands off time, and easy clean up is a recipe for the best instant pot mashed potatoes recipe!
What ingredients are in Mashed Potatoes in the Instant Pot?
Potatoes: I like russet potatoes but Yukon gold potatoes or even red potatoes work well. We recommend cutting potato pieces into small chunks before cooking.
Chicken Broth: we use this in the instant pot to add extra flavor; it's so much better than using plain water!
Butter: this adds a creamy delicious spread through the mashed potatoes
Milk: we use this to smooth out the potatoes when mashing them. We like whole milk but any percent will give a creamy texture.
Green Onions or Chives: minced chives look so pretty when serving them
Pro Tips:
You can use your own special add ins as well. Sour cream, Greek yogurt, cream cheese and a garlic clove or two add even more flavor.
To mash your potatoes you can use a potato ricer, potato masher or even a hand-held mixer.
Instead of milk, consider heavy cream it offers a richer flavor.
How to make Mashed Potatoes in the Instant Pot:
Put broth and russet or Yukon potatoes in an instant pot.
Cook and let it natural release. Don't quick release on this easy recipe.
Open the instant pot and remove the pot.
Add butter and mash!
Add milk and mix.
Serve with chives and butter.
Pro Tips:
If you want these instant pot potatoes mashed with a tool other than a potato masher, like a hand mixer, be careful not to over mix or your potatoes will end up gluey. For the best flavor we recommend a potato masher.
You can make these mashed potatoes with the skin on or off. For this recipe we left the skin on.
How long to cook Mashed Potatoes in the Instant Pot:
I set the cooking time for 10 minutes on high pressure. If you are familiar with cooking in an instant pot, you know that only means the actual cooking time is 10 minutes.
But it will take 10 minutes for the pot to build up pressure, 10 minutes to cook, and 10 minutes to naturally release pressure before opening the pot.
So the lid will be closed and you will have 30 minutes of actual hands off time when cooking the instant pot mashed potatoes with skins on.
Can I keep mashed potatoes warm in an instant pot?
Yes you can keep mashed potatoes warm in an instant pot! Really it's the easiest way because it doesn't require extra pots!
Once done cooking the potatoes, your instant pot will automatically switch to the keep warm setting and keep your potatoes warm.
But you can also remove the inner pot of the instant pot full of cooked potatoes, mash them, then put them back into the instant pot with the lid on, and push "keep warm" until you are ready to serve them.
When you are ready, give them a stir, put them in your serving dish, then add a dollop of butter and the chives on top. Perfectly warm mashed potatoes in the instant pot – my favorite way!
A hand blender or immersion blender works great for mashing potatoes. Otherwise you can use a hand masher or potato ricer, all of which give great results. Any way you choose to mash them, will be an easy way.
Can you reheat Mashed Potatoes in an Instant Pot?
Yes! The instant pot is great for reheating a lot of mashed potatoes at once.
Just take your leftover mashed potatoes and put them in your instant pot, turn the setting on "Keep Warm" and put the lid on.
Stir it every 5 minutes, and in less than ten minutes you will have perfectly warmed mashed potatoes. If they seem dry just add a little milk or butter.
You can also add mashed potatoes and use the Slow Cooker button, but this will take closer to 3 hours depending on how many you are heating up.
Even as leftovers, these are still the best instant pot mashed potatoes you will eat!
Should you soak potatoes before making instant pot mashed potatoes?
No; you do not need to soak your potatoes in cold water before making these. Soaking potatoes is great when making fries but needed not for mashed potatoes. Room temperature potatoes are great!
Can you freeze instant pot mashed potatoes?
Yes! If you have any leftover mashed potatoes in the instant pot, just put them in a freezer safe container.
Then when you are ready to eat, warm them until heated through, and you have delicious mashed potatoes again.
What to do with leftover potatoes?
This is such a delicious question to bring up. With leftover mashed potatoes in the instant pot you can:
Freeze them for another day.
Eat them as straight mashed potatoes.
Turn them into shepherd's pie.
Make potato pancakes (latkes).
Serve them with gravy or gravy and chicken chunks.
Finger paint on cookie sheets with children.
You really cannot go wrong with leftover mashed potatoes unless you forget about them and let them go bad. So if you don't have a plan, just freeze them until you do!
Are instant pot mashed potatoes healthy?
Yes! Potatoes are a starch and we add chicken broth and milk for flavor and protein, and chives are a bright green herb with nutrients.
Also because I make instant pot mashed potatoes skin on instead of removing the skin, you have twice as many nutrients and fiber in these potatoes compared to mashed potatoes that have removed the skin. Making this recipe an easy side dish that everyone can get behind!
Can dogs eat instant pot mashed potatoes?
No. Our mashed potatoes in the instant pot recipe uses butter and milk which can give your dog an upset stomach.
It also uses chives. Chives are in the onion family and are poisonous to your dog.
You can give your dog a potato cooked in chicken broth before mashing and adding dairy and chives, but it's not super nutritious for your pooch.
Can cats eat instant pot mashed potatoes?
No. Just like dogs, dairy ingredients like butter and milk will affect your cat's digestive system. And the chives are poisonous to cats and dogs.
Your cat can also have the plain cooked potato, but not mashed potatoes in the instant pot with butter and chives.
For easy hands off time and less dishes to clean, these mashed potatoes in the instant pot are the best and simplest way to get a side of mashed potatoes on your table. Enjoy!
Yield: 10 Servings
Instant Pot Mashed Potatoes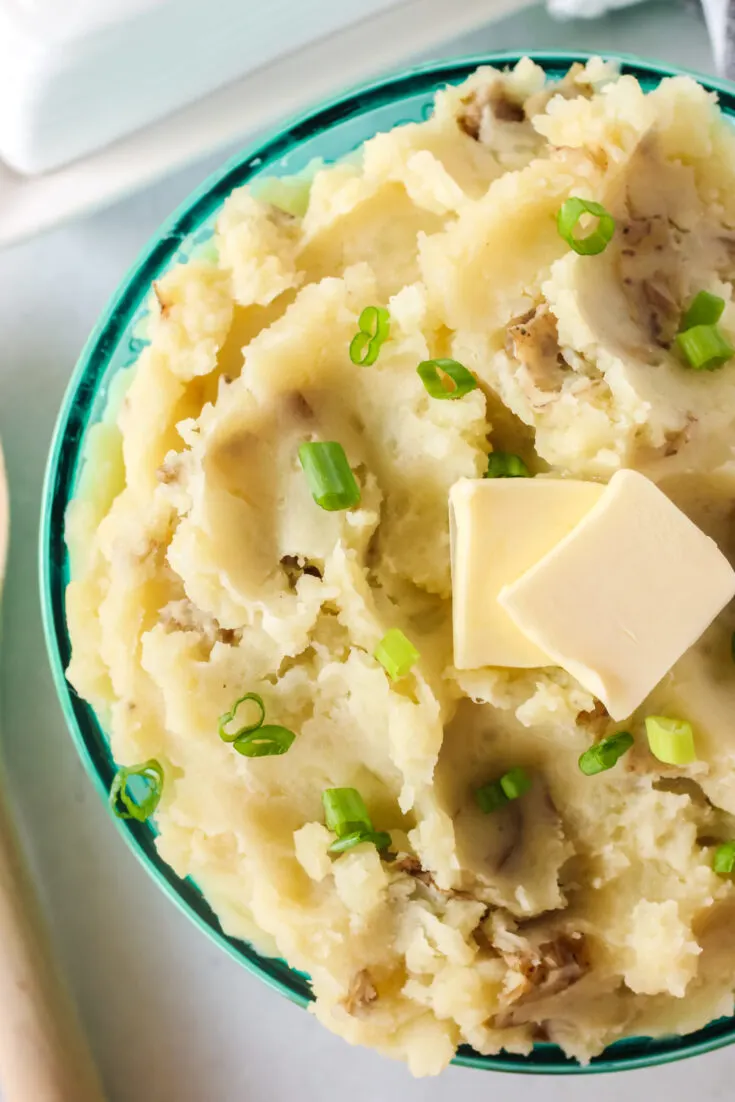 Making these mashed potatoes in the instant pot is so simple, and it is all done in one container making clean up easy too!
Additional Time
10 minutes
Ingredients
Instructions
Pour the can of chicken broth into an empty instant pot.
Add cubed russet potatoes into the Instant Pot.
Place the lid on the instant pot and turn the valve to the seal position.
Cook on high pressure for 10 minutes. Instant pot will take 10 minutes to build pressure then cook time will begin.
Once cook time has ended, leave potatoes in the instant pot until the screen reads L10, meaning it's a natural release for 10 minutes. After 10 minutes, flip the valve to open and release remaining pressure.
Hit cancel on the instant pot so it no longer cooks.
Open the instant pot and remove the bowl.
Add 1/2 cup butter and mash with a potato masher. Do not over mash. Over mashing makes "gluey" potatoes.
Add milk and stir.
Serve immediately in a serving bowl with salt and pepper and another 4 Tablespoons of butter diced on top.
Top with minced chives or green onions for color.
Nutrition Information:
Yield:
10
Serving Size:
1
Amount Per Serving:
Calories:

339
Total Fat:

14g
Saturated Fat:

9g
Trans Fat:

1g
Unsaturated Fat:

4g
Cholesterol:

38mg
Sodium:

303mg
Carbohydrates:

49g
Fiber:

5g
Sugar:

3g
Protein:

6g