This lemon jello salad recipe is a lemon lovers dream side dish; it's easy, a delicious treat, and can be served next to the main course.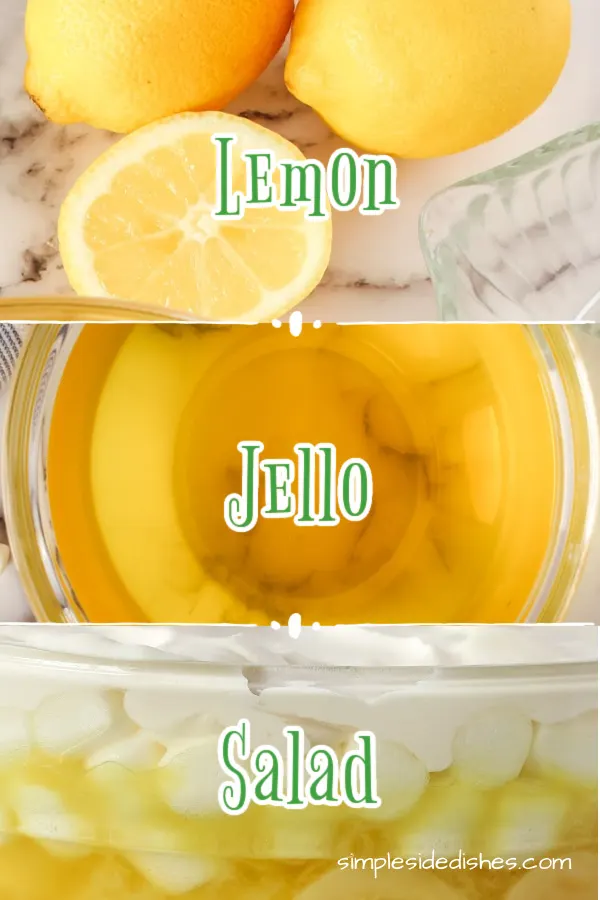 If you are looking for a perfect lemon jello fruit salad, this is the recipe for you. My kids all think it is so much better than a green salad, and some days I completely agree.
This is a salad that people make with a variety of different flavors of jello and fruit combinations.
But this lemon jello salad is my family's most favorite combination. We ate it last week and are eating it again this week.
With its juicy pineapple and bright lemon flavors, it's one that kids and adults reach for every meal.
What ingredients are in lemon jello salad?
Package of Lemon Jello: this gives the texture and lemon flavor to the jell-o salad
Boiling Water: this activates the gelatin in the packet to give it that classic jello texture
Cold Water: this helps cool the lemon gelatin so it can set faster
Canned Crushed Pineapple: be sure to drain it; the pineapple juice will give you soup instead of jello
Bananas: slice them thin or thick depending on how big you like your fruit chunks to be
Mini Marshmallows: this adds a white fluff topping to the lemon layer
Heavy Whipping Cream: you need this to make your own whipped cream
Vanilla: all the best recipes include vanilla extract
Powdered Sugar: this sweetens your homemade whipped cream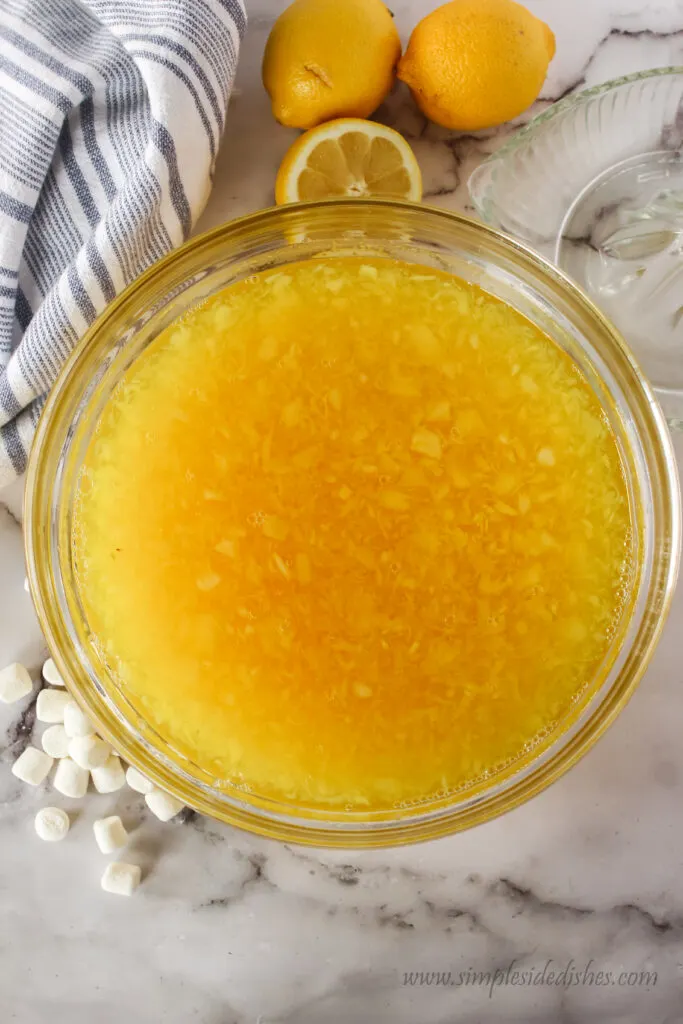 How to make lemon jello salad:
In a large bowl, dissolve jello in hot water, then add cold water and stir well.
Pour mixture into a large glass serving bowl or jello mold and refrigerate, stirring every 10-15 minutes until it is thick cooled jello liquid but not chunky.
Add pineapple and bananas, mixing between each item.
Top with marshmallows, cover with plastic, and chill until you have set jello.
Right before serving, blend topping ingredients until soft peaks form.
Spread whipped cream on top with the back of a spoon and serve!
Can I use sugar free jello in this lemon jello salad?
Yes you can use sugar free jello in this lemon jello pineapple salad. Usually using a sugar free substitute will give you a different artificial sweetener flavor.
But jello fruit salads are great choices for substituting and using sugar free gelatin because of all the natural sugars in the fruit you add inside.
Do I drain the pineapple in this lemon jello salad?
Yes you need to drain the pineapple in lemon jello fruit salad before mixing in. If you do not drain it, you will end up with a mess instead of a delicious lemon fluff dessert.
Be sure to reserve juice for another recipe or freeze into ice cubes to throw in smoothies.
How long does lemon jello salad take to set?
You need at least 4 hours to let this lemon jello set up before serving it. That time starts after all the ingredients have been mixed in and after you have stirred the jello to let it cool.
Start to finish you need about 5 hours to make this no bake dessert recipe.
Is lemon jello salad vegan?
This lemon salad with Jello is not vegan. Jello is not vegan because gelatin is collagen from cow or pig bones boiled down.
To make this vegan, you need vegan jello and no whipped topping layer.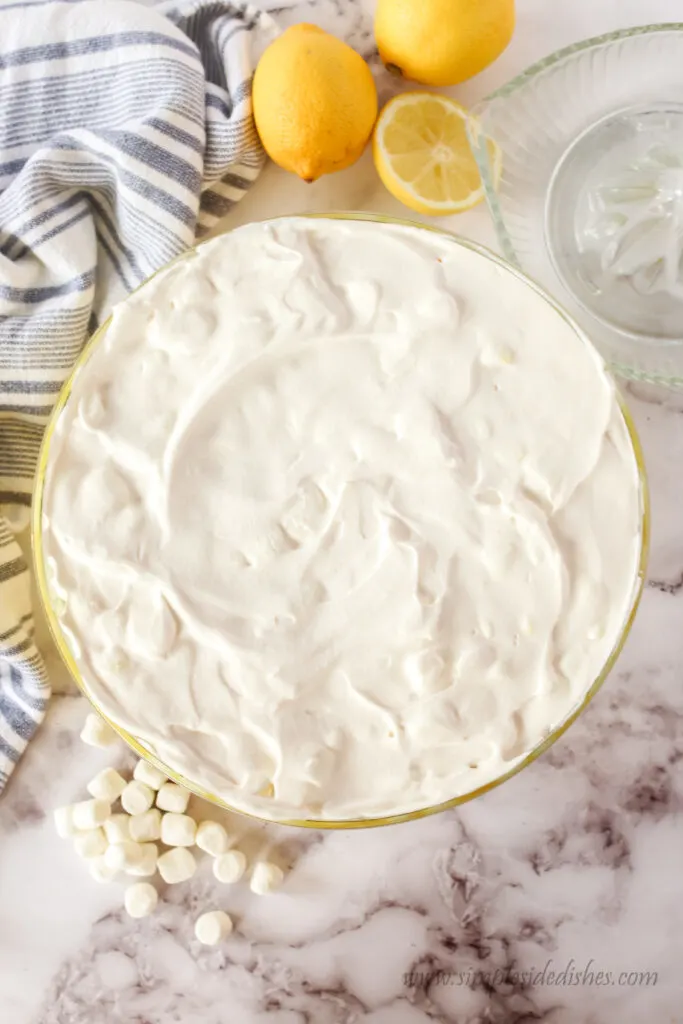 Is lemon jello salad gluten free?
Yes lemon banana jello salad is naturally gluten free. However, jello packets are often "processed in a facility" that uses gluten ingredients, so be sure to ask if your guests use things labeled that way or not.
Is lemon jello salad good for you?
Lemon jello fruit salad is full of fruit and the low calories and protein in the gelatin are very good for you. The extra sugar in the dish is not great for you. So as long as you have some self control, this dish can fit in a healthy lifestyle.
Can dogs eat lemon jello salad?
No, dogs should not eat lemon jello with pineapple salad. Flavored jellos have a lot of ingredients that are not good for dogs including added sugars and xylitol which is a sweetener that is fine for humans but toxic for dogs even in small amounts.
Does lemon jello salad go bad?
Jello that is powdered and not mixed or prepared can last forever and doesn't go bad, but if you make a jello recipe like this lemon jello salad, the jello will go bad in less than a week. When mixed with fruit, the fruit will turn bad before the jello.
But even plain jello will eventually go bad and change the texture and flavor.
Is jello a liquid or a solid?
Jello is not in a solid or liquid form; instead it is something that we call a colloid. That means there is a solid (the gelatin) that is suspended or trapped inside a liquid (water).
It can hold its shape once cooled like a solid, but once you take a bite and warm it in your mouth, the jello acts more like a liquid and dissolves.
This lemon jello salad is still a colloid. The fruit inside it are solid, but the jello and whipped cream are both colloids.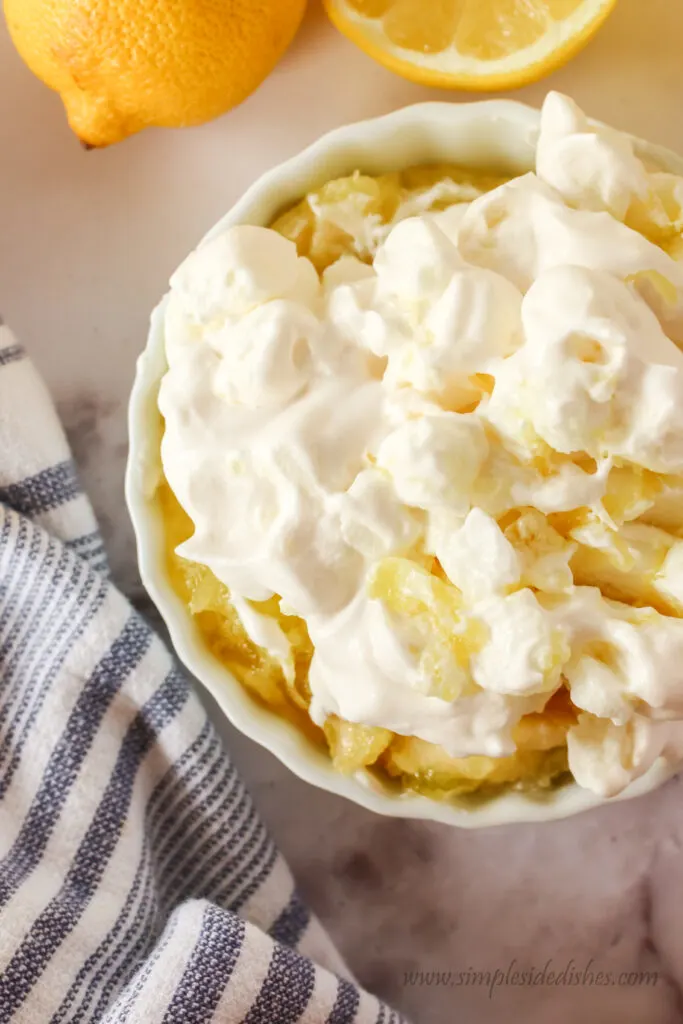 Is sugar free jello keto?
A lot of people say that sugar free jello is keto, and others will disagree and say that sugar free jello is not keto. Technically it is low carb which is important in a keto lifestyle.
But if your goal is to remain in ketosis, sugar free jello can raise your blood sugar because of the maltodextrin in the jello. And if your blood sugar changes, your body can use glucose instead of fat for energy which is not ketosis.
You decide if sugar free jello is right for you. If you are trying to make this lemon jello salad on a keto diet and decide to use sugar free jello, be sure to leave out the bananas and do not add any sugar to the topping.
Can you freeze lemon jello salad?
No you cannot freeze lemon jello marshmallow salad because jello does not thaw well. If you thaw frozen jello, it will become a runny soupy mess.
You can freeze this lemon jello pineapple salad into pieces to use as ice cubes in smoothies. It's a great way to add sweet lemon flavor to your smoothie.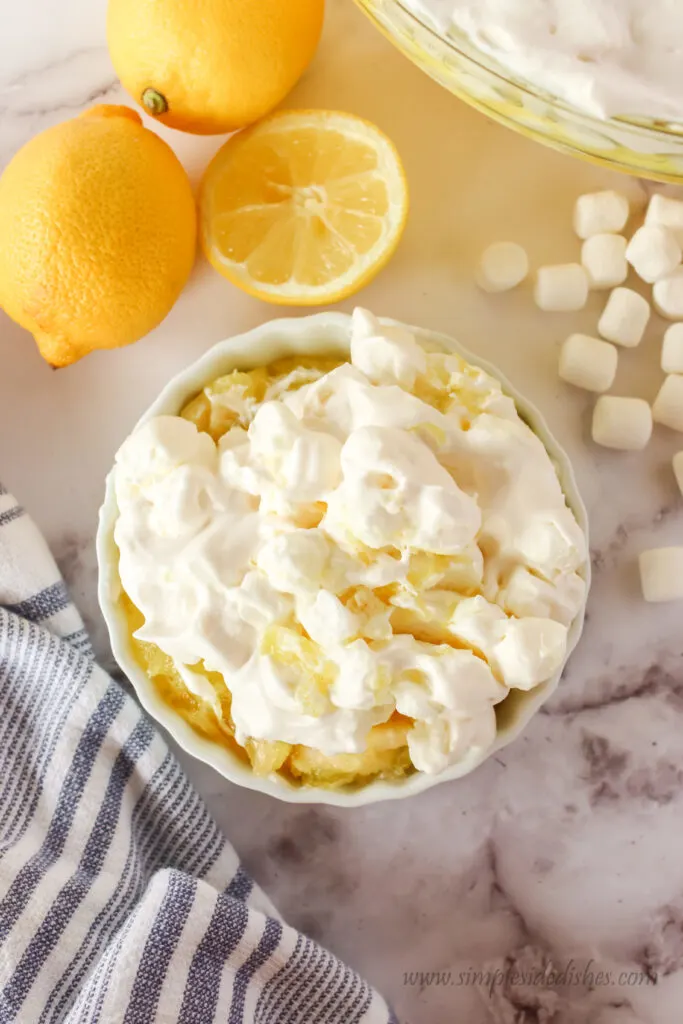 More Jello Recipes You'll Love…
Whether you need perfect dish for a family reunion, a pretty Easter dish, or any other special days, this lemon jello salad is one of my family favorites that we reach for again and again.
Yield: 8 Servings
Lemon Jello Salad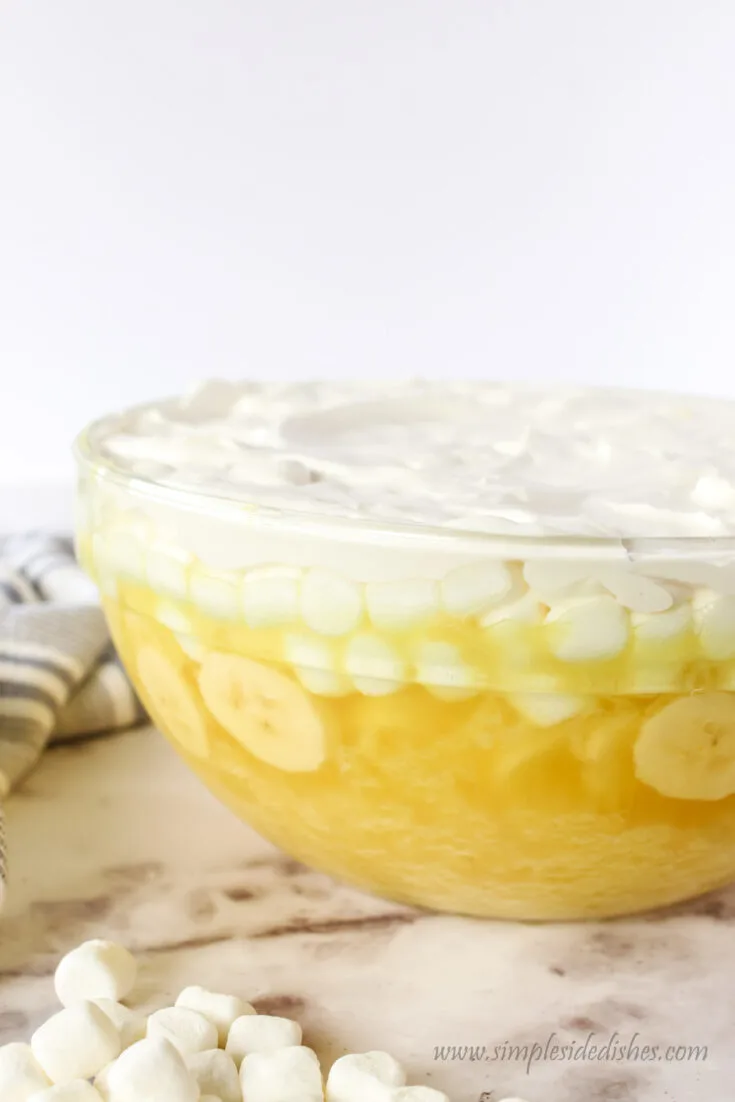 This lemon jello salad recipe is a lemon lovers dream side dish; it's easy, a delicious treat, and can be served next to the main course.
Ingredients
Instructions
In a large bowl, dissolve jello in hot water.
Add cold water and stir well.
Pour jello into serving bowl and refrigerate for 30 minutes. Check on after 15 minutes and stir.
Once mixture is the consistency of slime, add drained pineapple.
Add bananas to Jello and pineapple mixture and stir well.
Top with marshmallows and cover with plastic wrap.
When ready to serve, blend heavy whipping cream, vanilla and powdered sugar together until soft peaks form.
Spread whipped cream mixture on top of jello and serve immediately.
Notes
* Whipped cream layer can be added in advance but does tend to break down.
* You can always use cool whip if you wish.
Nutrition Information:
Yield:
8
Serving Size:
1
Amount Per Serving:
Calories:

119
Total Fat:

6g
Saturated Fat:

3g
Trans Fat:

0g
Unsaturated Fat:

2g
Cholesterol:

17mg
Sodium:

10mg
Carbohydrates:

18g
Fiber:

2g
Sugar:

12g
Protein:

1g