You are going to love this pizza quesadilla recipe; it has all the perfect pizza flavors but is ready to eat in only five minutes!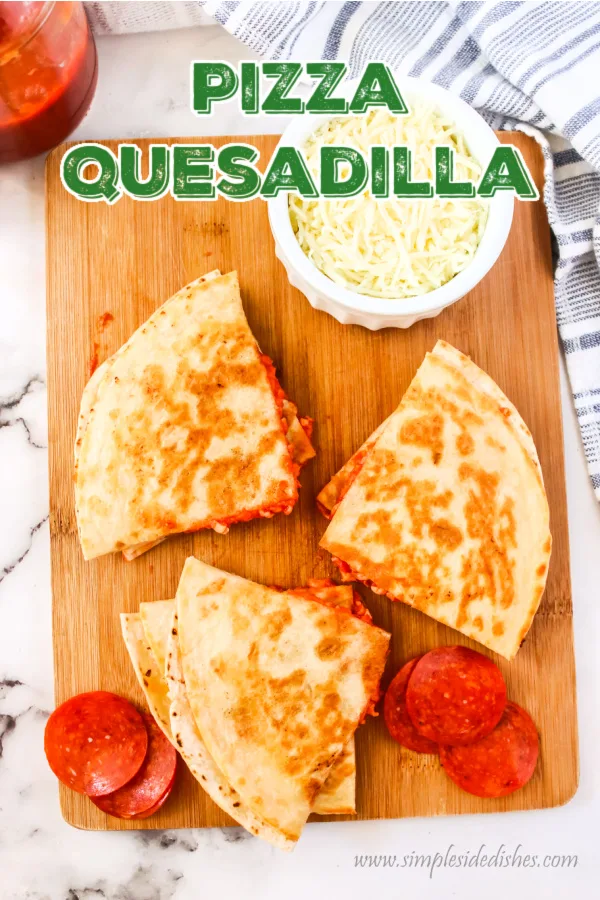 I love pizza. I really love pizza, it's one of my favorite meals. I absolutely eat this pepperoni pizza quesadillas for lunch, snack, tailgating, or any time I am in the mood.
The reason we call this a side dish is because it makes a great side to a soup or even a salad. It's so easy and simple it can be justified for about any meal – but dessert.
It gives you those perfect pizza flavors, but it can be ready so much faster than traditional pizzas. Plus it's tastier than a regular quesadilla.
And as a bonus, it can be eaten one handed for those days when life is extra demanding. So it can be a side dish or a meal. That makes it a winning recipe in my book.
What is a pizza quesadilla?
It is a quesadilla filled with pizza ingredients. It takes the delicious crispy tortilla and fills it with melted cheese, sauce, and any other pizza toppings.
It's a great way to get a delicious pizza taste, but much faster than even heating the oven up! Easy Pizza quesadillas are a fast, delicious, easy way to get your pizza fix.
What ingredients are in a pizza quesadilla?
Flour Tortillas: this is the crust of the pizza; already made and ready for toppings!
Butter: this makes the tortillas crispy, more like a pizza crust
Sauce: you can use pizza, spaghetti, or regular tomato, whatever you prefer
Mozzarella Cheese: this makes the best melty pizza cheese
Cheddar Cheese: this adds flavor and color to the filling
Favorite Toppings: pepperoni slices, sausage, bell pepper, mushrooms, onions, bacon, peppers, black olives whatever you love on pizza!
Pro Tips:
If you are a topping lover, do not use as many toppings as you want right away. These can get messy and drippy if they are loaded. Instead use your favorite pizza toppings sparingly.
On occasion we like to sprinkle a little parmesan cheese on ours, which adds to the flavor!
Feel free to make your favorite pizza simply by changing out the toppings. Meat lover, vegetarian, or even Hawaiian can also be created with this easy dinner idea.
How to make a pizza quesadilla:
You are familiar with cheese quesadilla and this pizza version is just an adaptation of your favorite classic!
Butter tortillas and place on a hot griddle.
Sprinkle with cheese, a thin layer of pizza sauce, toppings, and more cheese.
Cover with a second tortilla (butter side up!).
Cook over medium-high heat, flip the bottom tortilla to be the top, and cook until golden and crispy.
Slice on a cutting board and devour! We suggest serving with extra marinara sauce for dipping!
Pro Tips:
You need cheese touching both tortillas so it melts and holds everything together. Do not skip the extra layer of cheese!
If you don't think you can eat a whole quesadilla, simply fold half of the tortilla and make a smaller portion.
All tortillas work well with this recipe. Feel free to use whole grains tortillas, brown rice tortillas, or gluten free for a gluten-free pizza quesadilla.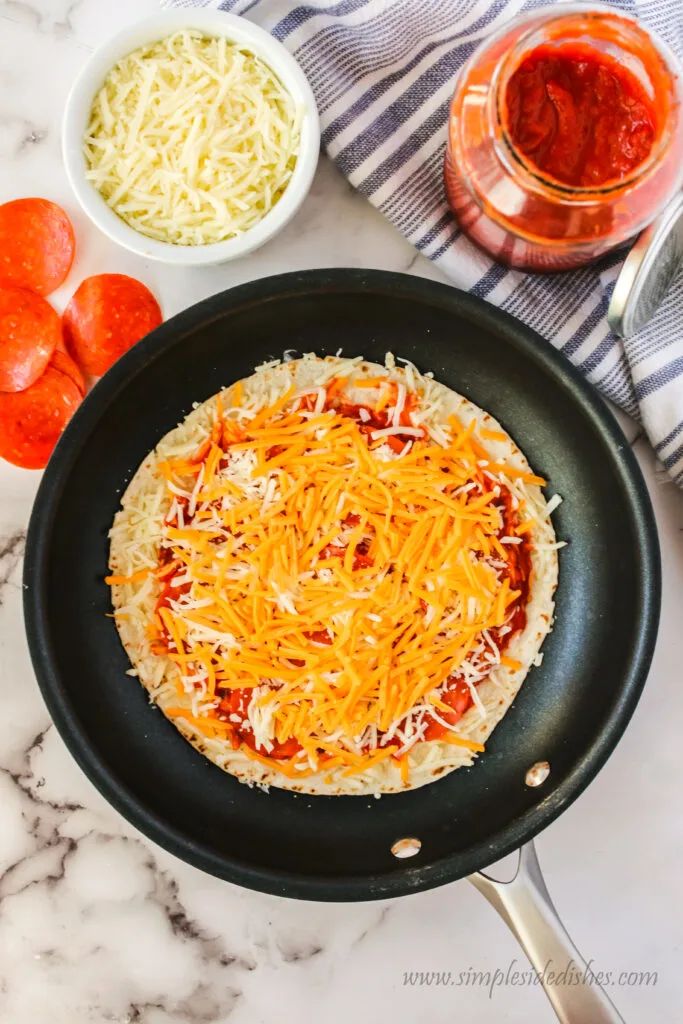 Are quesadillas considered pizzas?
Quesadillas are not considered pizzas. Traditionally they are each their own food. This is a delicious quesadilla that tastes like a pizza!
This pizza quesadilla gives you the classic crispy tortilla with melted cheese you get from a quesadilla and combines it with all the delicious flavors and toppings you get in a homemade pizza.
It's a great option for those who are looking for the flavor of pizza without all the fuss which is ready in just a couple of minutes.
Are pizza quesadillas healthy?
Yes! Depending on what toppings and types of tortillas you use, some will be healthier than others.
A loaded veggie one will have more nutrients than a pepperoni pizza quesadilla. And a veggie sauce will have more nutrients than a cheese sauce.
Also using a whole grain tortilla will add more nutrients to this dish.
You are in control of how healthy you want to make your quesadilla pizza.
Are pizza quesadillas keto?
Yes! You can make these low-carb really easily. Just be sure to use a low-carb tortilla, whatever your favorite keto one is.
And be sure to use a keto friendly sauce. Some sauces will have more carbs than you think.
Using the right tortillas and sauce will make this a perfect low carb, keto friendly dish.
Are pizza quesadillas gluten free?
Yes! Just be sure to use gluten free tortillas.
I do not love the taste of corn tortillas with pizza toppings, but there are other tortillas you can use that are gluten free.
How to make pizza quesadillas in the oven:
Maybe you are making a lot of things at the same time or just need 10 minutes to yourself. You can make these in the oven.
Just use a large cookie sheet so each quesadilla can touch the bottom of the pan at the same time.
One thing you must do if making these in the oven is melt the butter.
You need to brush melted butter on the outside of your tortillas before putting your quesadillas together then brush the top again before putting them into the oven.
Then be sure the oven is set to 400*F and cook for 10 minutes or until crispy golden brown.
Can you make pizza quesadillas ahead of time?
I love foods that I can meal plan or meal prep so there is less work for me to do when I want to eat it. But you cannot make these ahead of time.
Since these cook so fast, you can prep all your ingredients and still have a fast dish. Chop whatever toppings you are adding and be sure your cheese is shredded.
Then you can just open and cook instead of worrying about ingredient details. And it is still fast and delicious!
How to reheat a pizza quesadilla:
For best results, we recommend making and eating these fresh each time.
But if you have leftovers, the best way to reheat them is on a skillet or griddle. Lightly butter the pan and heat the quesadilla over it so the crust is crispy.
Heating in the microwave will give you a soggy crust. Heating under the oven broiler will dry it out.
What to serve with pizza quesadilla:
Anything you serve with regular pizza! Root beer, salad, and breadsticks are classic pizza sides at our house.
Topsy Turvy Meal day. For fun recipes, why not serve a taco pizza with your pizza quesadilla? It's especially fun for kids to have a fun food swap meal day.
Sauce. Dipping sauce makes everything more fun to eat.
Veggie trays. Easy veggies and dip is a great partner for this fun dish.
More Easy Recipes You'll Love…
Whatever toppings you use, this recipe for a pizza quesadilla is one you will come to again and again for a fast, easy, delicious dish. It one of our favorite ways to enjoy pizza in minutes!
Yield: 1 Quesadilla
Pizza Quesadilla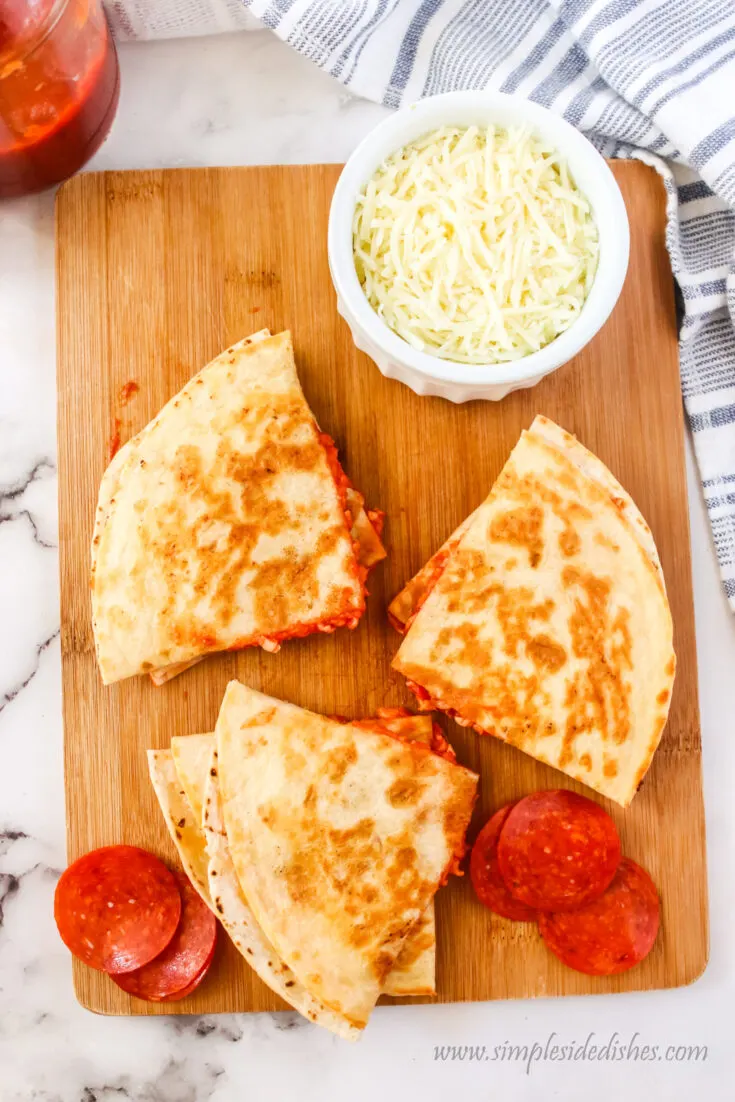 You are going to love this pizza quesadilla recipe; it has all the perfect pizza flavors but is ready to eat in only five minutes!
Ingredients
Instructions
Heat a skillet or griddle to medium low heat.
Butter one side of each tortilla.
Place one tortilla on pan butter side down.
Sprinkle a light layer of each cheese on tortilla.
Spoon pizza sauce on top of cheese. No need to look pretty.
Place a thin layer of topping ingredients on top of cheese.
Add another layer of cheese to help seal your quesadilla together.
Add second tortilla on top of cheese with butter side up.
Once bottom cheese is melted and tortilla is crispy, flip and cook again on the other side.
Once second side is cooked, remove from heat, cut and serve.
Nutrition Information:
Yield:
1
Serving Size:
1
Amount Per Serving:
Calories:

644
Total Fat:

35g
Saturated Fat:

19g
Trans Fat:

1g
Unsaturated Fat:

14g
Cholesterol:

83mg
Sodium:

1040mg
Carbohydrates:

59g
Fiber:

4g
Sugar:

2g
Protein:

23g