This arugula beet goat cheese salad combines tender balsamic-infused beets with tangy goat cheese and a nutty crunch of walnuts all on a bed of leafy greens. Whether you're a salad enthusiast or looking to impress your guests at a dinner party, this vibrant and nutritious dish is sure to please everyone!
This is my favorite way to eat beets. I rarely eat them other ways, but there is something so perfect about this arugula beet goat cheese and walnut salad.
The beets are cooked tender then covered in a balsamic glaze that gives them a tangy sweetness you do not get any other way. Some people eat them plain, but I make a salad with beets and other simple ingredients.
Any goat cheese recipe tastes great with balsamic, so when you serve this easy beet salad with a delicious balsamic dressing, you get a delicious salad everyone loves.
Don't be surprised by the pepperiness of the arugula! The first time I tried that green plain, I did not like it. But when you mix it into this arugula walnut salad with goat cheese, there are so many perfect combinations of flavors that you will not want any other green.
Really, the combination of balsamic beet salad with arugula and goat cheese make it a perfect side dish you can serve any time you want.
How to Cook Beets for Salad:
The best way I have found to cook beets for a salad is to first boil the beets until fork-tender, then peel and cut them into quarters.
Once the beets are cooked and cut, cook them in a balsamic vinegar olive oil glaze. That gives the beets a rich and tangy flavor. Store them in a mason jar in the fridge for one full day before using to let the flavor deepen before serving them in this walnut beet goat cheese salad.
Pro Tip: If red beets are not one of your favorite vegetables, try using golden beets. Golden beets are sweeter and less earthy, and some people like that flavor better than a traditional beet in this arugula goat cheese balsamic salad.
What Ingredients are in Arugula Beet Goat Cheese Salad:
Fresh Arugula: this leafy green has a peppery flavor and is full of nutrients
Beets: roasted until tender and covered in a balsamic glaze to balance the peppery arugula base
Goat Cheese: creamy and tangy cheese that gives variety to the salad
Walnuts: chopped and sprinkled on top of the salad for a crunchy texture and nutty taste
Balsamic Vinegar: the main part of the beet glaze
Extra Virgin Olive Oil: helps the beet glaze become a dressing for the salad
Salt: brings out the flavor of everything in the dish
Black Pepper: adds a peppery note to the beets to go with the arugula
Pro Tip: Allow beets to marinate in the balsamic and olive oil glaze for a day in the fridge to deepen the flavor before serving with your beet arugula goat cheese salad.
How to Make Arugula Beet Goat Cheese Salad:
Boil beets until fork tender.
Peel and quarter the warm beets.
Glaze the quartered beets with balsamic and olive oil and let them cool.
Place arugula on plates or in a small bowl and sprinkle with goat cheese and walnuts.
Add the cooled balsamic-infused beets in a single layer to the salad.
Drizzle dressing over the salad and if you do not have enough dressing, add more balsamic and olive oil as desired.
Pro Tip: Store balsamic-infused beets separately from other ingredients. Mix beets into the beet and goat cheese salad right before serving.
What to Serve with Arugula Beet Goat Cheese Salad:
I serve a large bowl of this beet and goat cheese salad by itself for a light lunch. But this salad pairs perfectly with grilled meats, beans, or tofu for a complete and satisfying meal.
What Meat Goes with Arugula Beet Goat Cheese Salad:
You can serve any meat with this arugula, beet, and goat cheese salad. Some of my favorite pairings are grilled chicken, roasted turkey, or seared shrimp. They complement the salad's flavors and are great sources of protein.
Can I Make Arugula Beet Goat Cheese Salad Ahead of Time?
Yes, you can make goat cheese salad with beets ahead of time! Prepare the beets in advance and store them separately from the other salad ingredients. Then assemble the salad just before serving for the freshest taste.
How to store Arugula Beet Goat Cheese Salad?
Store arugula beet walnut and goat cheese salad in an airtight container in the refrigerator. For best results, store the balsamic infused cooked beets in a separate container from the other ingredients.
Can I Use Canned Beets in Arugula Beet Goat Cheese Salad?
While you can use canned beets in in this salad, fresh beets have better taste and texture. Canned beets can be used for convenience though. Just be sure to rinse them thoroughly and pat dry before using.
Are Beets Healthy?
Beets are very healthy! Beets are rich in fiber, vitamins, and minerals that do so many things for your body including helping with digestion, brain function, heart health, and giving immunity support. Overall they are one of your super food vegetables.
Combined in this beet salad with goat cheese and you get a side salad that is a great addition to a healthy lifestyle.
Additional Salads You'll Love…
My favorite thing about this arugula beet goat cheese salad is how perfectly it tastes every time. The combination of earthy beets, peppery arugula, and creamy goat cheese with a tangy balsamic vinaigrette gives you a healthy salad you will make again and again.
Yield: 4 Servings
Arugula Beet Goat Cheese Salad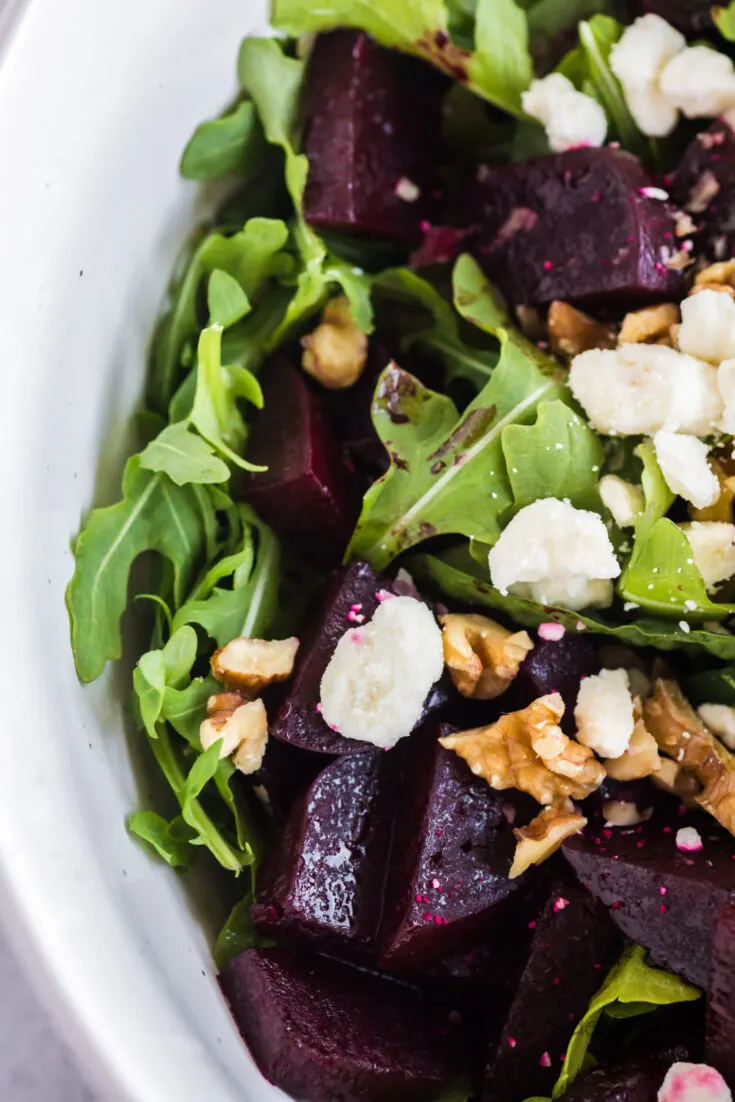 Indulge in the combination of flavors and colors with this Arugula Beet Goat Cheese Salad. It's nutritious, easy-to-make, and tasty!
Ingredients
Instructions
Clean and prepare beets to be cooked. Cut off stem and scrub free of any dirt.
Add beets to a pot and cover with 1 inch of water.
Bring to a boil and cook for 35-40 minutes, or until beets for fork tender.
Remove from water and rinse under cold water.
Once beets are cool enough to touch, cut into 1/2 inch cubes
Rinse out original pot and prepare it to be used again.
Add balsamic vinegar and olive oil to pot.
Add beets and mix well.
Bring mixture to low and cook 2-3 minutes, allowing beets to warm slightly.
Season with salt and pepper and stir again.
Remove from heat.
In a large bowl, add arugula.
Add beets, goat cheese and walnuts to salad bowl.
Drizzle with any remaining balsamic vinegar mixture still in the pot.
Serve immediately.
Nutrition Information:
Yield:
4
Serving Size:
1
Amount Per Serving:
Calories:

160
Total Fat:

9g
Saturated Fat:

3g
Trans Fat:

0g
Unsaturated Fat:

6g
Cholesterol:

7mg
Sodium:

427mg
Carbohydrates:

15g
Fiber:

3g
Sugar:

11g
Protein:

6g