This caramel apple salad recipe is the best part of any meal. With only 5 ingredients, it is one of those easy recipes that tastes like dessert but can be served with your main course. Everyone loves it!
If you need an easy and delicious recipe that comes together in 5 minutes and can be made in advance, you need this caramel apple fluff.
Chopping all the apples is the longest part of this recipe.
But just because it's fast and only uses 5 ingredients does not mean it is weak in flavor. Instead, this apple caramel salad recipe has sweet and tart flavors as well as creamy, smooth, and crisp textures.
It is the perfect side dish that will go with anything you have on the table.
‌What is caramel apple salad?
Apple Caramel Salad Recipe is a classic easy recipe that makes a perfect side dish any time of year. It mixes apple season with candy flavors in a tart dessert salad.
Basically, it's a bowl of apples and pineapple covered in creamy caramel sauce. It is one of my favorite sweet salads.
What ingredients are in caramel apple salad?
Instant Butterscotch Pudding: this gives you more caramel flavor than using an instant vanilla pudding mix
Crushed Pineapple: do not drain them because the pineapple juice is what you are using to mix with the instant pudding
Cool Whip: this whipped cream won't go runny, even at room temperature
Apples: I like tart granny smith apples cubed into small pieces, but use the best apples you have
Miniature Marshmallows: the fluffy bites of marshmallow go really well with the tart apples crunch
How to make caramel apple salad:
Combine dry pudding and pineapple in a large bowl and mix well.
Fold in the cool whip.
Add apples and marshmallows to the cool whip mixture and stir well.
Cover and refrigerate for 2 hours or overnight.
Does caramel apple salad have actual caramel apples in it?
No, this caramel apple salad recipe does not have actual caramel apples in it. Instead we take the flavors of caramel apples and throw them together in a large mixing bowl to make you think you are eating real caramel apples.
Pro Tip: If you have pre-made caramel apples that you like the flavor of, you can chop them and add them on top as a garnish. Or you can mix them into the salad.
If you do mix them in, be sure to chop them very small as the caramel on some apples can get too hard to eat when chilled. And you don't want your caramel apple crunch salad to be so hard someone breaks a tooth on it!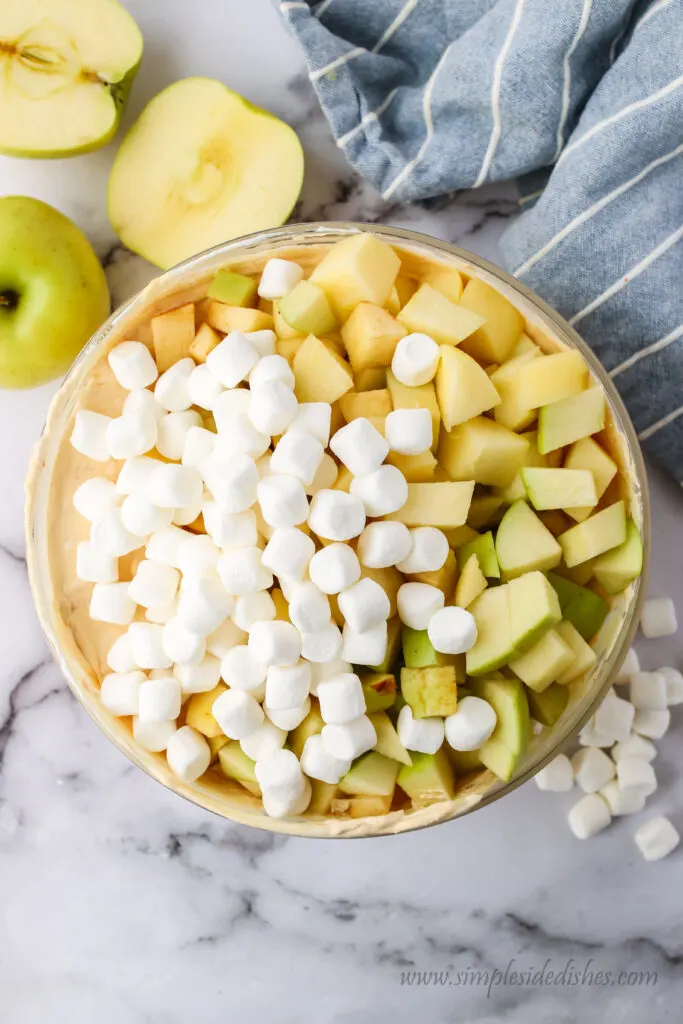 What kind of apples are in caramel apple salad?
While you can use any kind of apple to make caramel apple crunch salad, I like to use classic green apples to give you that pure caramel apple taste.
You can use red apples, pink lady, red delicious apples, or any combination of tart and sweet apples. But I really like the taste of tart granny smith fresh apples to give you a little bit of contrast next to the sweet caramel.
Do you add snickers to caramel apple salad?
No, I do not add snickers to my apple caramel salad recipe. I like this dish to have the simple ingredients of a caramel apple.
If you are looking for a snickers caramel apple salad recipe, try snickers salad that uses chopped snickers bars.
Pro Tip: Just like regular caramel apples, sometimes my children like to have a little bit of candy rolled on the edges. So sometimes I will garnish their bowl with toffee bits or chopped snickers or milky way candy bars. But this salad doesn't need it.
Can you make caramel apple salad ahead of time?
Yes you can make caramel apple fluff ahead of time! It needs to chill in the fridge for at least 2 hours before serving, so this is a great recipe to make ahead of time.
How to store leftover caramel apple salad:
Store leftover apple fluff salad in an airtight container in the fridge for 3-4 days. It should remain a great sweet treat for you to snack on.
Pro Tip: If you find there is extra liquid at the bottom of your salad, just add a few more miniature marshmallows to soak up the apple caramel salad flavors and freshen up the dish.
Can you freeze caramel apple salad?
No, you cannot freeze this apple salad with caramel and have it thaw well. It is a great thing to freeze to make your own caramel apple milkshakes, but it will not be a very good salad if you freeze it.
Is caramel apple salad gluten free?
Yes, this apple fluff salad has ingredients that are all naturally gluten free. It is always a good idea to read the labels of your prepackaged boxes to make sure gluten has not been added before serving.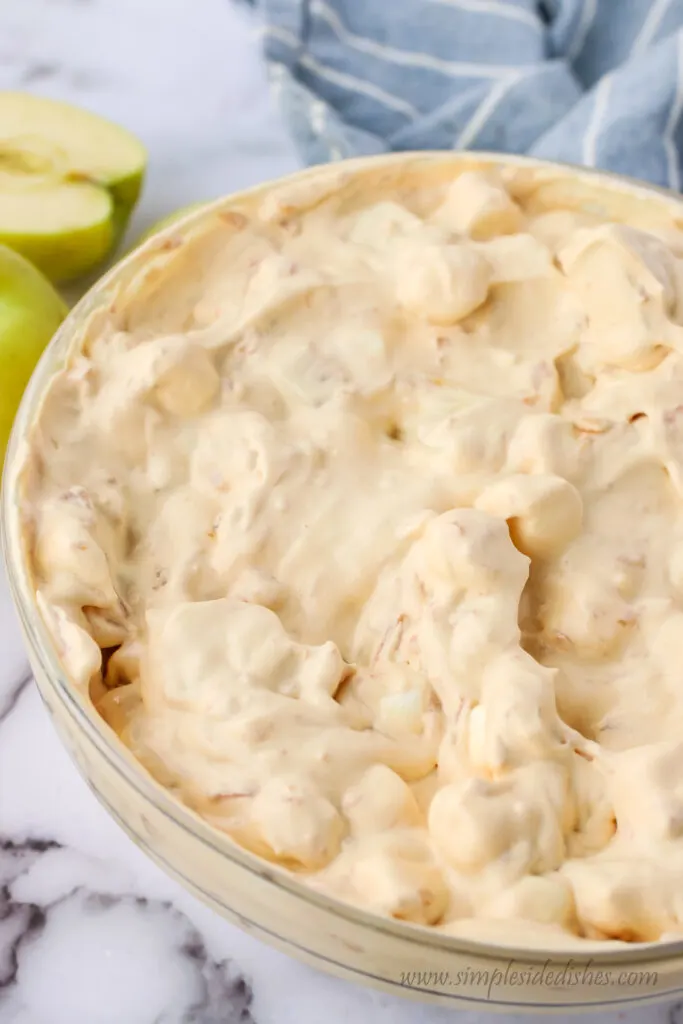 Can dogs eat caramel apple salad?
‌No, caramel apple marshmallow salad is not good for your dogs. A good thing to feed your pup is plain chopped apples, but skip the rest of the ingredients and just feed them the apples.
More Recipes with Apples You'll Love…
This old fashioned caramel apple salad is fast to put together, full of classic caramel apple flavors, and a simple side dish that can stand as a fruit salad or a perfectly tasty dessert. You will find it is an easy dessert for family gatherings and for any time you need great apple recipes.
Yield: 6 Servings
Caramel Apple Salad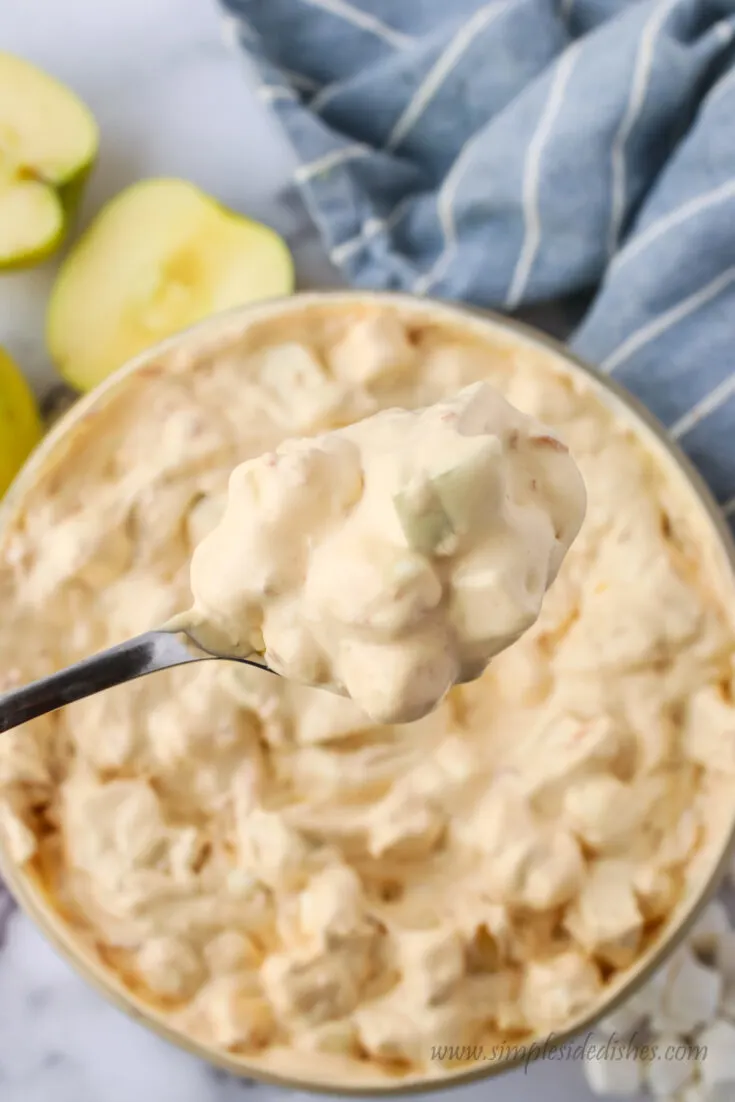 This caramel apple salad recipe is the best part of any meal. With only 5 ingredients, it tastes like dessert but can be served as a salad.
Total Time
2 hours
20 minutes
Instructions
In a bowl combine dry pudding and pineapple. Stir well, until blended.
Fold in the cool whip.
Add apples and marshmallows and mix well.
Cover and refrigerate for 2 hours or overnight.
Serve cold.
Nutrition Information:
Yield:
6
Serving Size:
1
Amount Per Serving:
Calories:

125
Total Fat:

1g
Saturated Fat:

1g
Trans Fat:

0g
Unsaturated Fat:

0g
Cholesterol:

1mg
Sodium:

42mg
Carbohydrates:

30g
Fiber:

3g
Sugar:

21g
Protein:

1g