This Citrus Glazed fruit salad recipe is refreshing and delicious. Using canned fruit makes this dish come together quickly too!
Fresh fruit salad is one of my favorite things. Sure, you can make one by just throwing your favorite fruits in a bowl. But this one is special.
We use a simple citrus salad dressing to take this easy fruit salad from regular to amazing.
I promise, it is worth the extra step to make a dressing that will coat the fruit.
And this recipe has no cool whip or vanilla pudding mix.
Just a combination of fruit that make the perfect salad that the whole family will enjoy.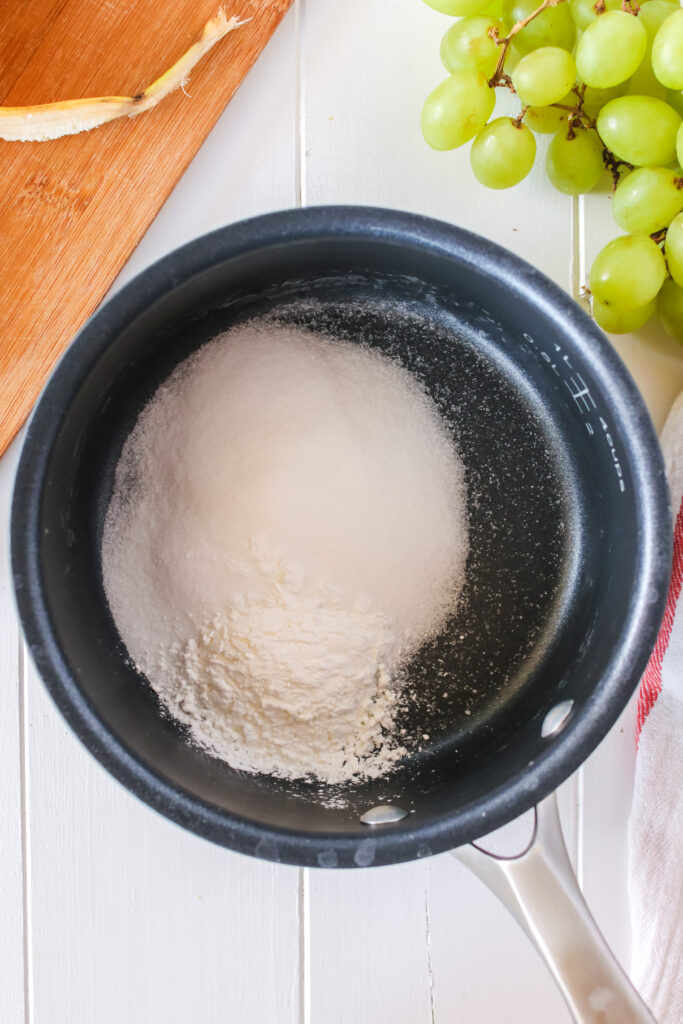 What is Citrus Glazed Fruit Salad?
Glazed fruit salad is my favorite way to take a mixed bowl of fruit and make it special.
It is a variety of fruit with a super simple sweet citrus dressing poured over top that glazes the fruit.
Glazing the fruit with a dressing makes it delicious, but it also keeps the fruit from browning as it sits.
What goes in Citrus Glazed Fruit Salad?
Canned Pineapple: this is the easiest way to get that yummy pineapple taste; no coring, chopping, or peeling needed!
Bananas: full of potassium, vitamin B, and delicious flavor to balance the pineapple
Green Grapes: the grapes bring sweetness, color, and a great texture difference from the other fruits included
Canned Mandarin Oranges: sweet, bright citrus fruits full of vitamins and those so important antioxidants (they protect cells in your body from harm)
Apples: when these are chopped into bite sized pieces they add a pleasing crunch to each part of the salad
Jar Maraschino Cherries: these are optional, but give such a nice pop of red color to the bowl
Sugar: sugar keeps the citrus dressing sweet
Cornstarch: this thickens the dressing glaze
Orange Juice: gives a bright citrus flavor to the salad dressing
Pineapple Juice: drained and saved from the canned pineapple, this uses turns it into a tropical-citrus fruit salad dressing that covers the salad
Pro Tip: For best results, wait to cut the ripe fruits until after the delicious dressing has been made. That helps keep the fruits from turning brown.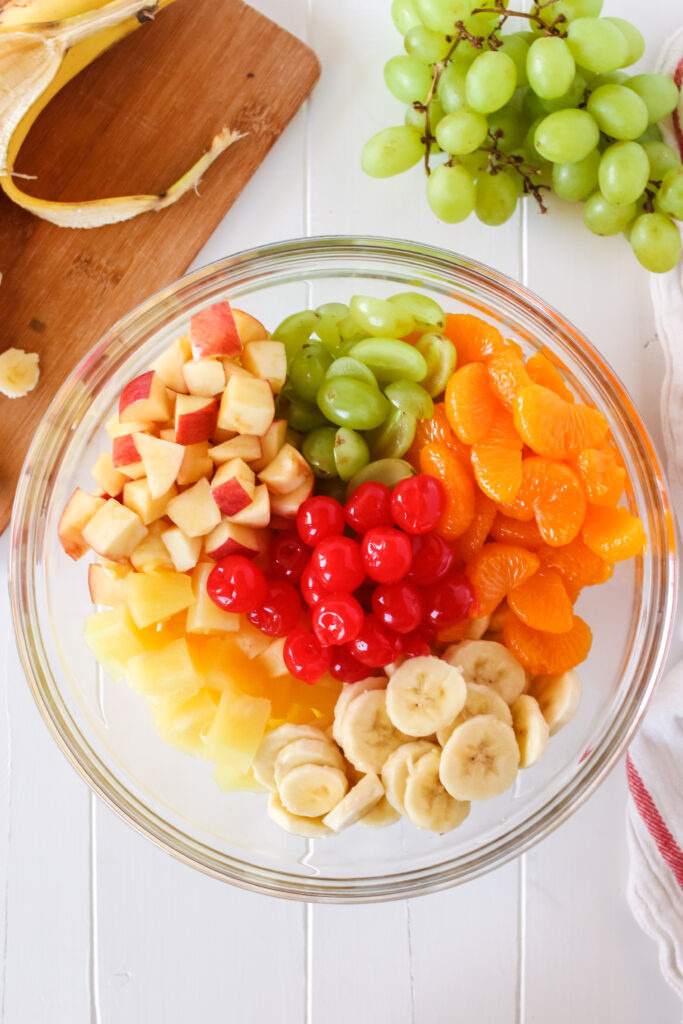 How to make Citrus Glazed Fruit Salad:
Layer the fruit in a large bowl.
Make the fruit salad dressing.
Pour over the fruit and stir.
Chill and serve!
Pro Tip: For the best flavor, do not boil the dressing too long. You will make thick citrus syrup instead of light citrus fruit salad dressing!
How to keep Fruit Salad fresh?
The best way to keep easy fruit salad fresh is in an airtight container inside the refrigerator.
The glaze keeps the fruits fresh; the cold keeps the sweet fruit crisp and ready to eat.
How long does Citrus Glazed Fruit Salad last?
We recommend eating easy fruit salad within 3-4 days.
The longer cut fruit sits, the more likely it is exposed to air and will brown and lose its crispness.
Can you freeze Fruit Salad?
No, you cannot freeze easy fruit salad to be served as a fruit salad later.
But you can freeze the leftovers to use in smoothie fruity recipes later. This fruit combination is perfect for a quick smoothie.
Pro Tip: Cover a pan with parchment paper and lay the fruit out flat before packaging for the freezer. Then you have individual pieces that are easier to blend!
Can you put bananas in Citrus Glazed Fruit Salad?
Yes, this easy fruit salad recipe uses bananas.
Bananas are a key ingredient to balance the flavors of the other fruits and give you a natural creamy fruit salad taste.
How do you stop bananas from turning brown in Fruit Salad?
To stop bananas and other fruit from turning brown, you cover them with an acid – lemon juice, lime juice, or vinegar are the most popular suggestions.
But in this easy fruit salad, we make a sugar glaze with citrus juices for our dressing (using orange and pineapple juice), and as long as you stir the salad well, it will keep the bananas from browning immediately.
Pro Tip: Always layer the cut bananas right next to the pineapples before mixing in the dressing.
The pineapple chunks were sitting in pineapple juice and have acid to help stop the browning right away before you coat the fruit in the dressing.
Can dogs eat Citrus Glazed Fruit Salad?
No, dogs cannot eat this easy fruit salad. Plain apples and bananas are fine for dogs to eat, but grapes are dangerous for some dogs. They can cause kidney failure in dogs.
It's best to skip feeding your dog this dish and just feed them raw fruit or other snacks.
Can you use frozen fruit to make this Citrus Glazed Fruit Salad?
No, you cannot use frozen fruit to make this easy fruit salad. Thawed frozen fruit will become mushy and more wet than fresh or canned fruit, leaving you with a big bowl of wet, fruity soup.
Can you make Fruit Salad on a budget?
Yes you can make easy fruit salad on a budget! In this recipe, all the more expensive fruits we use are canned. Canned fruits are picked at peak flavors, already chopped for you, and very budget friendly.
The fresh fruits we use in the salad are typically less expensive: apples, bananas, and grapes. They are available year round too.
We also use juice from the canned pineapple to make the dressing for the salad, so you don't have to buy something extra, you just use what you have.
This homemade fruit salad will make you feel like you can eat something tasty and delicious while on a budget. And it's easy too!
Is Citrus Glazed Fruit Salad healthy?
Yes easy fruit salad is a healthy side dish for family dinner or as a fun healthy dessert! Fruits are full of vitamins, nutrients, and fiber. Fruit also has a high water content, so it keeps you hydrated on days when it can be challenging to get enough water.
Pro Tip: To make this simple fruit salad recipe even healthier, choose fruits that are canned in 100% fruit juice instead of canned in sugar water. That will keep the sugar content coming from natural fruits instead of added sugars.
Whether you need a fruit salad for a special occasion, summer picnics, fall, thanksgiving, school snacks, or anything else, this dish is the best Citrus Glazed Fruit Salad you can make.
With fresh flavor and so many nutrients you are sure to make this perfect side dish year round!
Yield: 8 Servings
Citrus Glazed Fruit Salad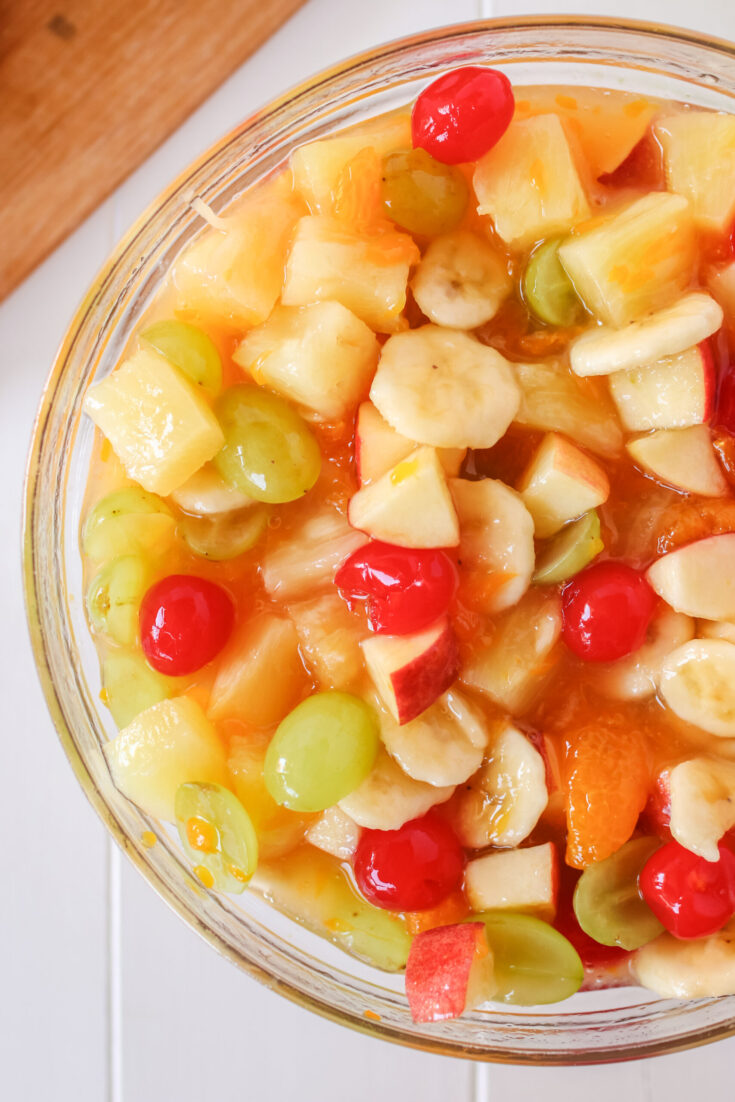 This Citrus Glazed fruit salad recipe is refreshing and delicious. Using canned fruit makes this dish come together quickly too!
Total Time
3 hours
25 minutes
Instructions
In a bowl, combine pineapple, bananas, grapes, oranges, apples and cherries. No need to toss yet, just layer. Set aside.
In a saucepan combine sugar and cornstarch and stir.
Add orange juice and pineapple juice and mix well.
Bring mixture to a boil and cook while whisking continually until mixture is thick.
Remove from the stove and pour over cut fruit immediately.
Gently stir.
Refrigerate for 3 hours or longer until fruit salad is chilled and ready to serve.
Notes
If too much liquid in fruit salad, strain our some of the glaze and serve.