This sour cream potato salad comes together so fast, and even with the easy dressing ingredients, it's packed with extra flavors!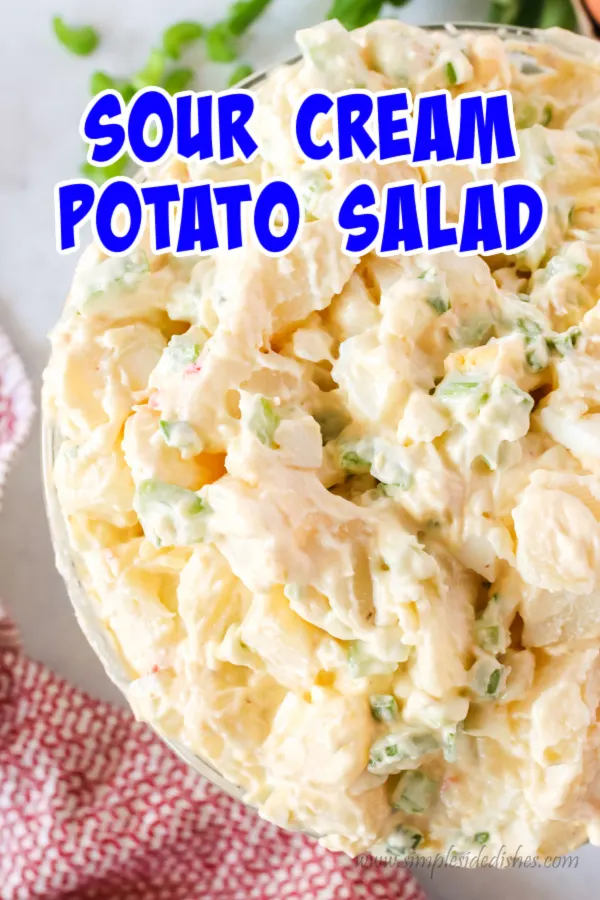 I'm going to tell you right now, some people are very opinionated about their potato salad. And what it comes down to is that I love an easy potato salad recipe.
It might not be your traditional potato salad recipe, but I promise you that the recipe I have today is going to be the easiest way to get the best flavor in your potato salad.
This version has mustard horseradish and hard boiled eggs. If you are a loaded potato salad purist, this might hurt your soul.
But if you can look past a creamy dressing without mustard and no eggs, this might surprise you.
It may not be a true classic potato salad, but with its creamy base and red potatoes, it is one of my favorite recipes.
This sour cream potato salad has simple ingredients with a great combination of flavors.
The secret is to let the potatoes marinate in Italian dressing so each potato soaks up flavor before you even mix it into a salad.
It really is the best potato salad with an explosion of flavors in every bite.
What ingredients are in sour cream potato salad?
Italian Salad Dressing: this soaks into the boiled potatoes giving them great flavor in every bite
Potatoes: you cannot skip this ingredient; potatoes are the most important one for this recipe
Celery: chop these really small. I know the recipe says finely dice, but sometimes I mince them to add just a bit of fresh crunch in the salad
Green Onions: these add color and fresh flavor
Hard Boiled Eggs: it isn't a true potato salad unless it includes hard boiled eggs!
Mayonnaise: this adds a sweet creamy note through the dressing
Sour Cream: this balances the sweetness with a tangy flavor
Horseradish Mustard: this adds a spicy flavor that mixes perfectly into the other flavors and really takes this potato salad to a new level of flavors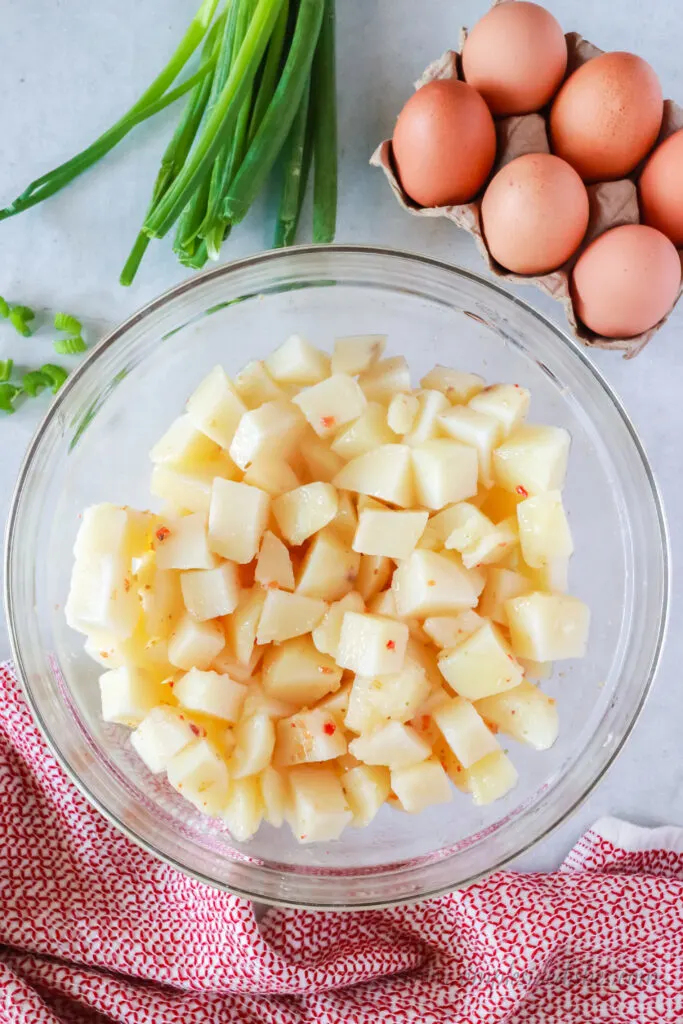 How to make sour cream potato salad:
Place potatoes in a large pot and boil until tender.
Drain cooking water and cover with Italian dressing.
Chill 2 hours.
Add the rest of the ingredients in a large bowl, mix, and serve!
Pro Tip: You do not want to spread the sour cream mixture over warm potatoes! Be sure to plan ahead when making homemade potato salad and give yourself enough time to have chilled potatoes before mixing. Even if that means letting them cool overnight.
Can you freeze potato salad made with sour cream?
No. You cannot freeze any creamy potato salad recipe. The creamy sauce breaks, and the structure of the potatoes does not stay in their firm shapes.
The end result is very watery and mushy. Not a good thing for potato salad! For the best textures, eat your salad fresh.
Can you substitute sour cream for mayo in a potato salad?
No. Even though some bloggers say you can, they really have completely different flavors.
I think the flavors are so different that my sour cream potato salad recipe uses both!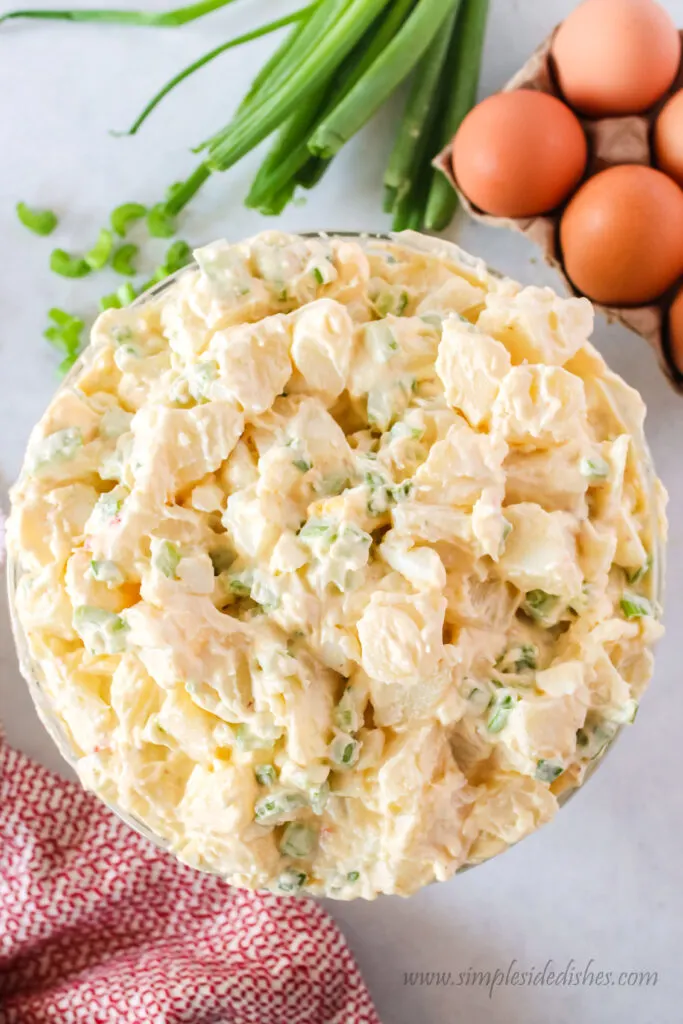 Can you make sour cream potato salad ahead of time?
Yes! While this recipe calls for serving immediately, you can make it ahead of time. You can also cook and soak the potatoes then assemble everything right before serving.
How long does sour cream potato salad last?
We recommend eating within 3-5 days of mixing the sour cream in potato salad together.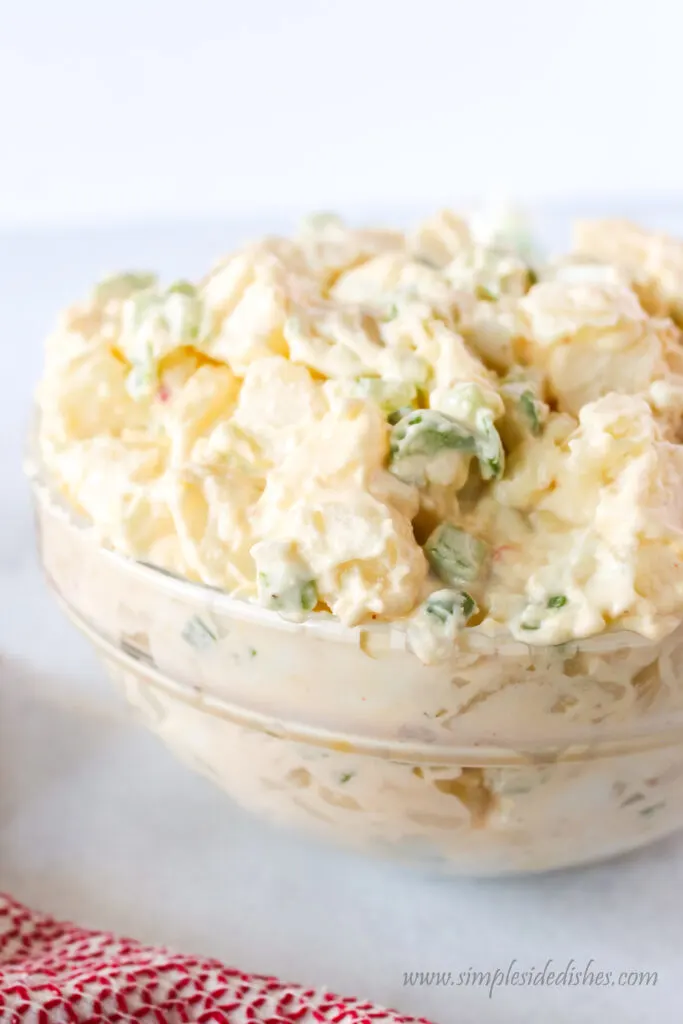 How to store leftover sour cream potato salad:
To store leftover potato salad, we recommend using an airtight container in the fridge.
Pro Tip: It's important to keep your potato salad with sour cream in the fridge if you are not eating it.
While it can safely be out of the fridge for 2 hours at a time, it will keep longer if you keep it in the fridge as much as possible.
Is sour cream potato salad healthy?
Sometimes I give you really healthy recipes. And sometimes I will give you a crowd favorite that is absolutely delicious and you will have to pay attention to your serving size.
This is a recipe you will need to watch your servings to keep part of a balanced diet, but it can be done.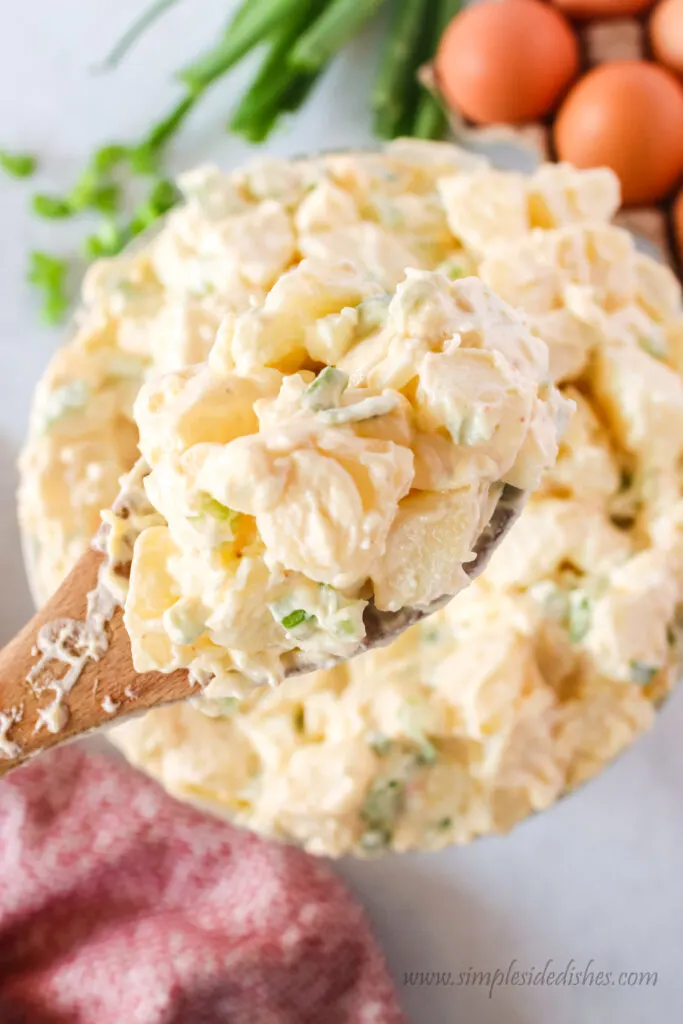 Can dogs eat sour cream potato salad?
No dogs cannot eat potato salad. There are a lot of dairy ingredients in this salad that are harmful to dogs digestive systems. We recommend keeping this dish away from your dog.
What goes with sour cream potato salad?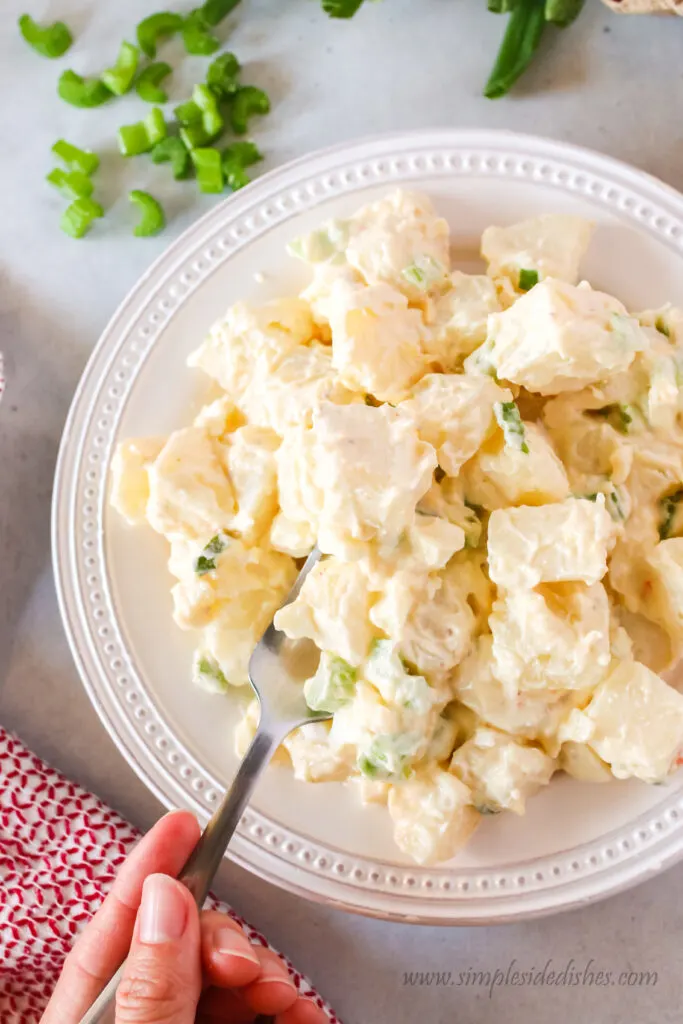 What are the best potatoes for sour cream potato salad?
You can use whatever potatoes you like. I like to make this a red potato salad recipe.
But any potato will work, fingerling potatoes, russet potatoes, even baby yukon gold potatoes. The great thing about this is you can use what you have or can find in the store and still have a delicious side dish.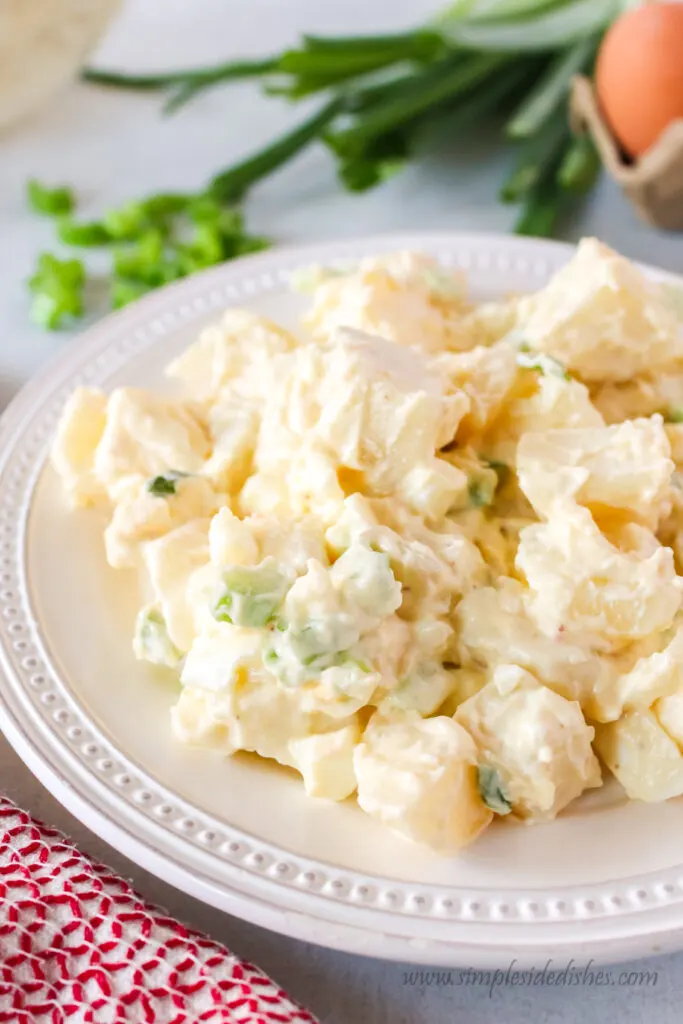 This sour cream potato salad is the perfect side dish for any BBQ potluck meal and a great way to add a lot of flavor to a weeknight dish.
Yield: 6 Servings
Sour Cream Potato Salad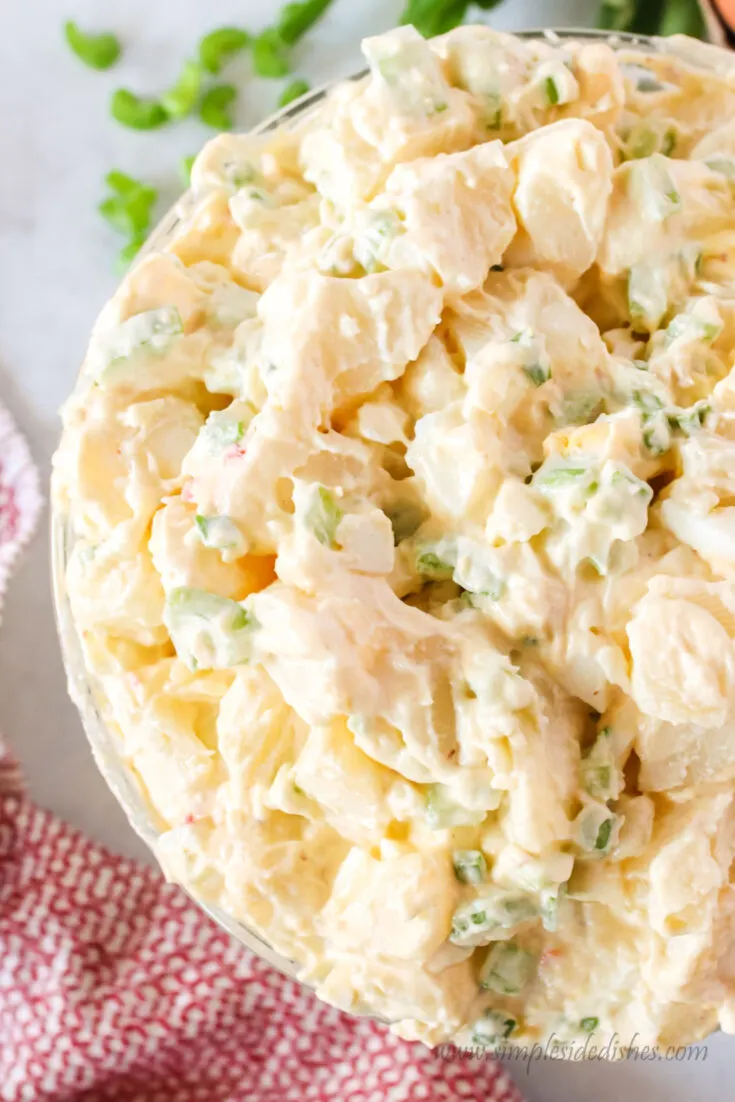 This sour cream potato salad comes together so fast, and even with the easy dressing ingredients, it's packed with extra flavors!
Ingredients
Instructions
Cook potatoes in a pot of water for 10 - 15 minutes, until potatoes are fork tender but not dissolving under the pressure of a fork.
Drain potatoes and place in a bowl.
Pour Italian dressing over potatoes and mix well.
Chill potatoes for 2 hours or longer.
Once chilled, add green onion, celery, mayonnaise, eggs, sour cream and mustard. Mix well.
Serve immediately or store in fridge until ready to serve.
Nutrition Information:
Yield:
6
Serving Size:
1
Amount Per Serving:
Calories:

562
Total Fat:

38g
Saturated Fat:

8g
Trans Fat:

0g
Unsaturated Fat:

28g
Cholesterol:

151mg
Sodium:

454mg
Carbohydrates:

47g
Fiber:

5g
Sugar:

5g
Protein:

10g