This maple syrup cornbread is a great variation to traditional cornbread when you need something a little sweeter and with that great taste of maple.
Cornbread is a fast, easy recipe that you can throw together last minute when you really want a side of bread with whatever is for dinner.
I love this maple syrup cornbread because it is sweeter than traditional cornbread, and the flavors of maple and cornmeal go together so perfectly.
And when you take warm cornbread with maple syrup on top and melted butter with each bite, you'll think you were in heaven.
What ingredients are in Maple Syrup Cornbread?
All-Purpose Flour: this regular flour keeps the cornbread light and not so dense or heavy
Cornmeal: the star ingredient for cornbread is cornmeal
Baking Powder: this helps the cornbread rise
Salt: you can't taste it, but it makes everything else taste better
Egg: eggs bind everything together when you use them to bake
Fat-Free Milk: milk protein helps create a stronger dough
Maple Syrup: this is the flavor boost for the sweet cornbread
Butter, melted: fats add texture to baked goods and more flavor than using plain vegetable oil
Pro Tip: Be sure you are using cornmeal. Cornmeal is not the same as polenta which is coarsely ground corn or corn flour which is also known as masa used to make corn tortillas.
Cornmeal is finer than polenta but more coarse than masa. It sits right in the middle of the two.
How do you make Maple Syrup Cornbread?
Combine the dry ingredients in a large bowl.
Whisk the wet ingredients in a medium bowl.
Stir all the ingredients together & pour the batter in a prepared pan.
Bake & serve!
Pro Tip: I like to make my sweet maple cornbread in a square baking pan. But you can use a cast iron skillet if you prefer that.
To make cast iron skillet cornbread, preheat the cast iron pan in the oven. When it is preheated, pull the pan out, run butter along the bottom and sides, and then add your batter and cook as directed.
The butter helps it not stick, and the preheated pan gives you a perfectly crispy crust all over the real cornbread.
Can I use maple syrup to sweeten cornbread?
Yes, in this cornbread recipe, real maple syrup is the only sweetener used.
No sugar, no honey, just maple syrup. And that gives you the unique flavors of real maple and just the right amount of sweetness.
Can I use fake maple syrup in this maple syrup cornbread recipe?
If you ask my husband if you can use fake maple syrup in this cornbread recipe, he would tell you absolutely not!
But he lived in Quebec for 2 years and was spoiled with as fresh as can be real maple syrup and will never go back to the fake stuff.
The ultimate answer is yes; you can use fake maple syrup or pancake syrup to make this maple cornbread. If you just don't have the real stuff, you can use the fake stuff.
It will change the flavor since fake uses imitation flavorings. It might also change the texture since pure maple syrup has a different consistency.
For best results, we recommend using pure (real) maple syrup.
Can dogs eat Maple Syrup Cornbread?
It is not dangerous for dogs to eat maple syrup cornbread. So if your dog swipes a couple maple cornbread muffins, do not panic.
However, cornbread and maple syrup do not have a lot of health benefits for dogs. Even though it won't hurt your dog, too much will not be good for them.
Is Maple Syrup Cornbread healthy?
Pure maple syrup is very healthy and has a lot of health benefits, but maple syrup cornbread is mixed depending on your definition of what makes a food "healthy."
This recipe includes all-purpose flour instead of a whole grain flour and uses dairy items like milk and butter. All those ingredients have a place in a healthy diet.
But how you eat them will depend on whether or not you call this side dish "healthy."
Can you freeze Maple Syrup Cornbread?
Yes you can freeze sweetened cornbread! Take any leftover cornbread and once it has cooled to room temperature, cover it, label it, and save it for another day.
It is so easy to let it thaw on the counter and heat for a few minutes before serving the next day. Next time, double the batch so you have some ready in the freezer!
Or if you made this into a maple cornbread muffins recipe then individually wrap each muffin, put in a freezer bag, and you can pull out individual muffins to eat when you are ready for them.
What to eat with Maple Syrup Cornbread?
I love eating anything with this sweet cornbread.
While cornbread and a big bowl of Zucchini Chili is a classic combination often served together, you can also serve this alongside any barbeque dish or small bowl of beans or even a Cold Butternut Squash Salad.
I'll serve it whenever I'm in the mood for a fast easy bread side dish that I know my kids will eat. Whatever you are serving it with, the important things are to be sure to serve it with a nice dollop of honey butter or extra maple syrup on the side.
Is Maple Syrup Cornbread a side or a dessert?
Maple syrup Johnny Cake is both a side and a dessert! I serve this as a side dish or even as an afternoon snack, and my kids are thrilled. You could serve it to me for breakfast, and I'd be happy too!
But if you take a piece and load it with extra butter and drizzle it with more maple syrup on top, it makes a delicious dessert.
Does Maple Syrup Cornbread have gluten?
Yes, this syrup cornbread recipe uses all-purpose white flour which does have gluten.
How to store Maple Syrup Cornbread?
Store cornbread in an airtight container on the counter for a few days. Or for longer storage, you can freeze it to eat at another time.
The Best Bread Recipes You Should Try…
Whether you cook this in a casserole pan or as muffins or serve it as a side dish or dessert, this easy maple syrup cornbread recipe is sure to make everyone at the table smile.
Yield: 9 Servings
Maple Syrup Cornbread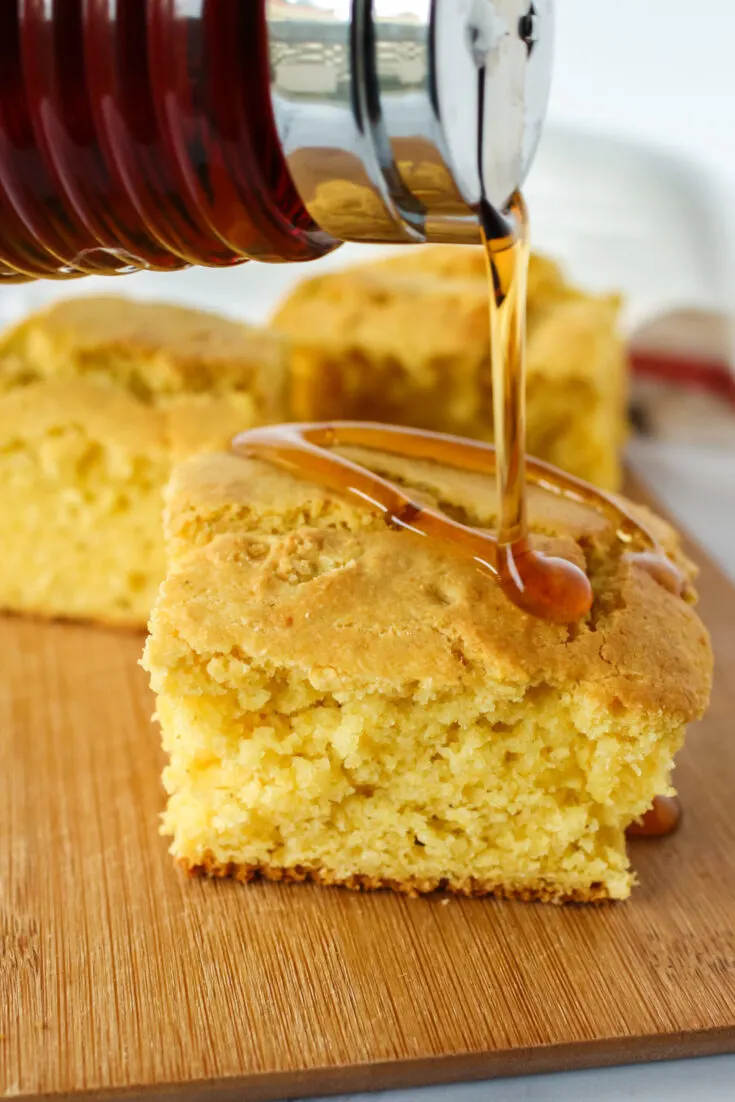 This maple syrup cornbread is a great variation to traditional cornbread when you need something a little sweeter and with that great taste of maple.
Ingredients
Instructions
Preheat oven to 400*F
In a large bowl combine cornmeal, flour, baking powder and salt
In a second bowl add eggs, milk, maple syrup and butter, mix well
Pour egg mixture into cornmeal mixture and mix well.
Spray a 9 inch baking pan with cooking spray.
Pour cornbread batter into pan and bake for 20 minutes.
Insert a toothpick into the center of cornbread and ensure it comes out clean. If so, remove from oven.
Let cool in pan for 5 minutes, then slice, serve and drizzle with additional maple syrup.
Notes
If making corn muffins, bake for 17-20 minutes, ensuring toothpick inserted into center of muffins comes out clean.
Nutrition Information:
Yield:
9
Serving Size:
1
Amount Per Serving:
Calories:

212
Total Fat:

5g
Saturated Fat:

3g
Trans Fat:

0g
Unsaturated Fat:

2g
Cholesterol:

32mg
Sodium:

398mg
Carbohydrates:

37g
Fiber:

1g
Sugar:

12g
Protein:

4g