This Roquefort Salad is loaded with pears, avocados, blue cheese, and is a perfect simple salad whether you need to feed a crowd or are just looking for more healthy recipes.
Sometimes I am on a salad kick. Sometimes it is because I am just in the mood, and other times I need to watch the high calorie diet that life likes to throw at you. So I fight it by eating more salads.
Salads sometimes come together with whatever I have around like a plain avocado and pear salad. But when I am really working on classic flavors, I turn to a classic tasty salad like this Roquefort Pear Salad.
It has amazing flavors, is loaded with fresh produce you can find even in the winter when nothing is in season, and even when I make a large bowl of this pear avocado salad, it gets eaten without complaint.
What is Roquefort Salad?
Roquefort Salad is a blue cheese and pear salad. It is named after a specific type of blue cheese called Roquefort.
Combining the roquefort cheese with avocado pear salad and tangy mustard dressing, this salad has sharp and creamy flavors, smooth and crunchy bites, and with all the dietary fiber, it is a great choice for people who need to eat more fiber.
What ingredients are in Roquefort Salad?
Spring Mix Salad Blend: you want the spring mix to add flavors and texture to your salad
Fresh Pears: I like mine peeled and sliced, but if you prefer you can leave the peel on
Blue Cheese: you can crumble real Roquefort which is a kind of blue cheese or you can use whatever is easy for you to find
Avocado: perfectly ripened avocados can keep a couple days in the fridge so you can peel and slice them and have them perfectly green throughout
Green Onions: this adds texture and quiet flavor to the salad
Toasted Pecans: this nut gets so much more flavor after it is toasted, and it adds a great crunch to the salad!
Olive Oil: this is the base to the homemade salad dressing
Red Wine Vinegar: this will give you that bite you want to cut through the creaminess of the cheese and avocado
Sugar: this balances all the other ingredients in the dressing; it makes it so one isn't more overpowering across the dish
Mustard: you need mustard to make the best Roquefort Salad dressing flavors pop
Garlic: all great salad dressings have garlic; I have never had a good salad bowl without garlic in the dressing
Salt: this brings out the flavors of everything else it touches
Black Pepper: this adds a hint of pepper to sit with the acidity of the dressing
How to make Roquefort Salad:
Spread Spring Mix out on the serving dish.
Top with pear slices, crumbled blue cheese, avocado slices, green onions and toasted pecans.
In a separate small bowl, combine vinegar, oil, and all the dressing ingredients and blend well.
Serve salad with mustard dressing on the side immediately.
What is Roquefort cheese?
Roquefort cheese is a sheep's milk blue cheese that is only made in a certain place in France. It is one of the best blue cheeses you can get.
Used in this pear Roquefort Salad, it gives it amazing creamy flavors. But if you don't have authentic Roquefort, you can still have a great salad with regular blue cheese.
Can I use walnuts in Roquefort Salad?
Yes you can use walnuts in pear and roquefort salad. Some people prefer walnuts either fresh, toasted, or candied.
I like a straight toasted pecan because I like the flavor of that nut best, but use what you love.
Can I make Roquefort Salad ahead of time?
A pear and avocado salad is best made and assembled right before you need to serve it. The avocado and pears oxidize fast, which will make them turn brown if you cut them too long before serving them.
But you can make the homemade Roquefort Salad dressing ahead of time. Some people prefer their salad dressing at room temperature, and if you do, just pull it out of the fridge and let it sit while you slice and assemble the salad.
How long does Roquefort Salad last?
If you completely assemble it, your pear salad with blue cheese will not last more than an hour. The ripe pears and avocado will oxidize and turn brown, and the dressing will wilt the salad leaves.
But if you just put together small portions, you can eat the whole salad throughout the week. Just be sure to keep the ingredients separate until you are ready to eat them.
But this blue cheese salad recipe comes together so quickly that it is fine to serve Roquefort Pear Salad as individual portions.
Can I freeze Roquefort Salad?
No, you cannot freeze Roquefort Salad. When you freeze foods with a high water content and try to serve them raw, the texture will completely change so that instead of having a large salad, you will have sad, mushy ingredients. It can be a perfect bag of frozen smoothie ingredients though.
Can dogs eat Roquefort Salad?
No, dogs cannot eat Roquefort Salad. The ingredients in blue cheese are especially dangerous to dogs, but so are the nuts, green onions, and garlic in the dressing. It would be better to give your pup a plain slice of pear instead of a taste of your human kind of salad.
More Green Salads You'll Love…
This Roquefort Salad with its fresh salad greens makes a delicious pear salad with blue cheese‌ that you will be happy to serve any time of the year.
Yield: 8 Servings
Roquefort Salad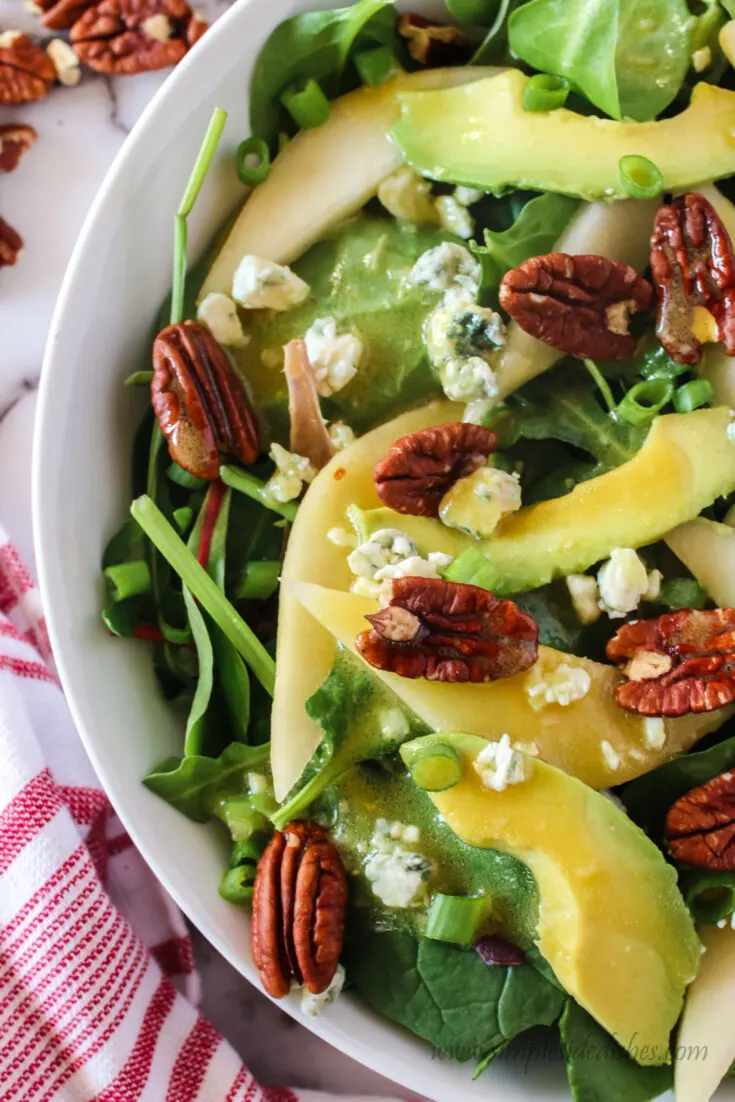 This Roquefort Salad is loaded with pears, avocados, blue cheese, and is a perfect simple salad that accompanies any meal. Fresh and tasty!
Ingredients
16 ounce spring mix salad blend
2 ripe pears, peeled and sliced
1 ripe avocado, peeled and sliced
1/2 cup green onions, sliced
1/2 cup toasted pecans
5 ounce blue cheese, crumbled
1/3 cup olive oil
3 Tablespoons red wine vinegar
1 1/2 teaspoons white sguar
1 1/2 teaspoon Dijon mustard
1 clove garlic, minced or 1 teaspoon garlic paste
1/2 teaspoon salt
1/8 teaspoon black pepper
Instructions
On a large platter or serving bowl, spread spring mix salad blend.
Top with pears, avocado, green onions, pecans and blue cheese.
In a small canning jar or mixing bowl combine olive oil, vinegar, sugar, mustard, garlic, salt and pepper. Mix well.
Serve salad with dressing.
Notes
Toasted walnuts could be used instead of pecans.
Nutrition Information:
Yield:
8
Serving Size:
1
Amount Per Serving:
Calories:

276
Total Fat:

23g
Saturated Fat:

6g
Trans Fat:

0g
Unsaturated Fat:

16g
Cholesterol:

13mg
Sodium:

412mg
Carbohydrates:

14g
Fiber:

5g
Sugar:

6g
Protein:

7g