Flavorful and light, Cold Greek Pasta Salad is the ultimate summertime meal or side dish! Whether you're looking for a cool, dinnertime meal or a zippy side dish for a potluck or gathering, this is the salad for you.
I love the crisp blend of vegetables combined with the tang of the dressing and cheese. And the pasta mellows and marries all the flavors while keeping you satisfied!
This easy Greek pasta salad is colorful and delicious!
This is the perfect meal for those hot, summer nights when you don't even want to THINK about turning on the oven.
Make it ahead so it's nice and cool by evening, or enjoy it as a refreshing side dish when you're at a party or picnic.
It's easy to make and serve the next day! Easy meal prep!
What is in Cold Greek Pasta Salad?
This pasta salad is a flavorful blend of crisp, colorful vegetables, perfectly al dente pasta, greek pasta salad dressing, and tangy feta cheese.
It's a tasty and satisfying meal for any occasion, but I especially love it during those hot summer evenings when all you want to eat is something cool, filling, and refreshing!
Here's what you'll need for this delicious pasta salad recipe:
Penne pasta – I prefer to use penne pasta for this recipe, but you can use your favorite type! I've also made it with Ditalini and Farfale.
Salt – salt is the ultimate flavor enhancer, and it's also a MUST when cooking pasta! Never forget the salt!
Vegetable oil – a small amount of vegetable or olive oil in pasta will help prevent the pasta pieces from sticking together.
Red wine vinegar – there's something so refreshing about a lemon and red wine vinaigrette dressing.
Fresh lemon juice – while bottled lemon juice provides a lot of great flavor and is great in a pinch, the light and bright flavor of fresh lemon juice is incomparable.
Garlic – so mighty and so full of flavor for such a small plant.
Black pepper – black pepper has been adding depth of flavor and spice to dishes for millenia.
Oregano – this herb is native to the Mediterranean and commonly used to season dishes from this region.
Extra-virgin olive oil – a bit of olive oil helps the dressing adhere better to food. It also mellows the flavor of a tart vinaigrette!
Grape tomatoes – grape tomatoes provide a burst of color and juicy flavor.
Red onion – a favorite for raw salads and toppings; for more onion information, check out our ALL ABOUT ONIONS page!
Red and yellow bell peppers – I love the color and flavor these sweet peppers add to this pasta salad recipe!
Crisp Cucumbers – one of the quintessential Greek vegetables, this mighty green veggie has been around for more than 3,000 years!
Olives – love them or hate them, these little guys pack a lot of tangy and salty flavor that compliments the other vegetables and pasta in the dish quite nicely.
Feta cheese – you can't have a Greek feta pasta salad without the creamy feta cheese! Tangy, salty, and with lemony undertones, traditional Greek feta is so yummy!
Pro Tips:
Cherry tomatoes can be swapped for the grape tomatoes if desired.
I like yellow and red peppers but you can substitute with green bell pepper if desired.
Black olives are preferred but kalamata olives can be used instead.
How to Make Cold Greek Pasta Salad?
One of the best things about pasta salads is that they are quick and easy to assemble and enjoy! This delicious greek pasta salad is no exception.
Cook hearty pasta according to package directions.
Combine dressing ingredients in a separate bowl.
Mix cooked pasta with chopped vegetables.
Pour homemade dressing over pasta and veggies and mix well.
Top with feta and chill for at least 2 hours before serving.
I seriously love how easy it is to put together this refreshingly cold Greek pasta salad. You really can't beat how easy it is to prepare or how yummy it is to eat!
Pro Tips:
If you use whole wheat pasta, be sure to adjust the cooking time accordingly.
One of my favorite things is how versatile this dish is! Try swapping artichoke hearts, english cucumbers, or fresh herbs!
How Long Does Cold Greek Pasta Salad Last?
Properly stored, this Greek pasta salad will last 4-5 days in the refrigerator.
Store, covered (preferably in an airtight container), in the fridge.
Keep in mind that if the pasta has sat out for a long period of time at a party or picnic, it will not last as long as if it has been stored in the fridge for its entire existence.
If you make it advance, I recommend keeping it in separate containers until it's time to serve.
Can you Freeze Cold Greek Pasta Salad?
Technically, yes. But there's a bit of a caveat — while pasta freezes and thaws well, that's not the case for most fresh vegetables.
You'll definitely see a clear decline in texture and freshness of your cucumbers, bell peppers, and tomatoes.
They will become mushy and watery when thawed.
So while you can freeze it, I don't recommend it for this recipe.
The great news is this pasta salad recipe has a great refrigerated lifespan, so you can enjoy it as a lunch or snack or side or dinner for almost a week before it's no longer good.
What Goes with Cold Greek Pasta Salad?
Perhaps one of the reasons why traditional Greek salads are a summertime favorite dinner for me is that it's really an entire meal in one!
Serve this easy pasta salad recipe with a bit of grilled fish or chicken and you've got a well balanced dinner with no need for the oven.
But if you're serving this as a side dish or are looking for a little bit more to go with it, here are some great ideas:
Greek Pasta Salad also makes a great side dish at parties and picnics and potlucks!
Is Cold Greek Pasta Salad Healthy?
This is one of those favorite recipes that I can say definitively that yes, it is healthy.
This Greek Pasta Salad is packed with plenty of fresh veggies, tender pasta, and topped with a light vinaigrette.
It's well-balanced and the perfect side dish that would go great alongside some lean protein!
It's the perfect potluck dish, quick and easy summertime dinner, and cool and refreshing side dish. Enjoy!
Beautifully colorful and packed with tangy flavor and crisp vegetables, you're bound to love this Cold Greek Pasta Salad as much as we do!
Yield: 8 Servings
Cold Greek Pasta Salad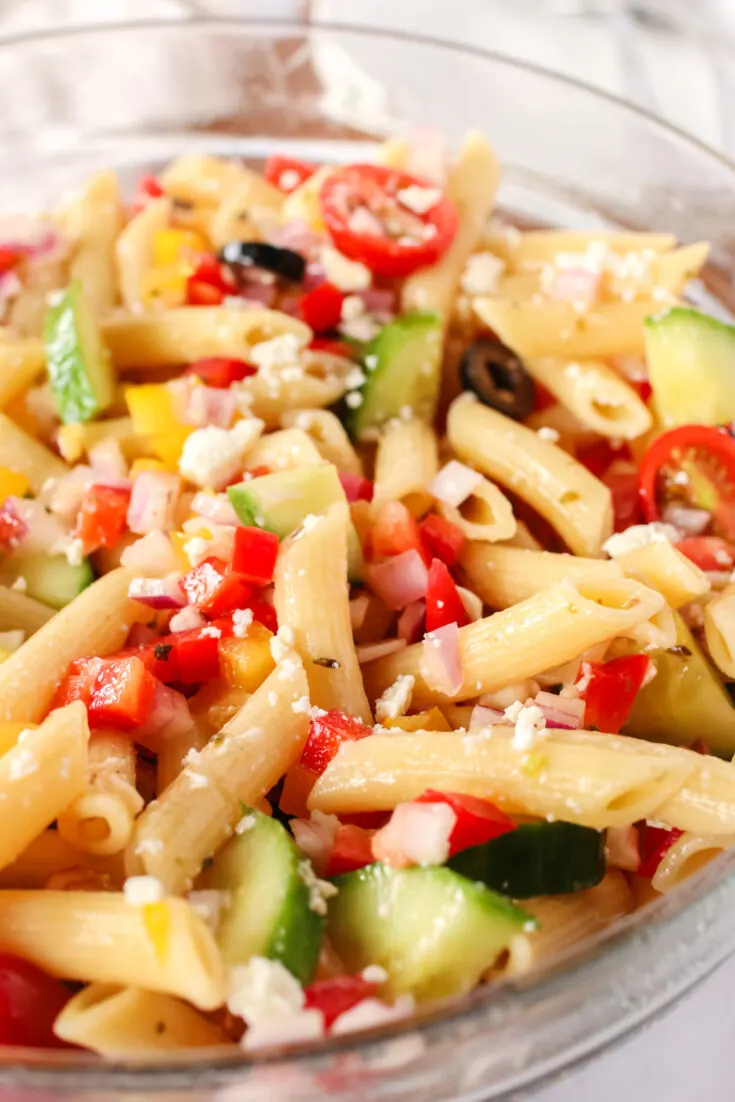 Savor the refreshing flavors of Greek pasta salad. Crisp veggies, tangy feta, and zesty dressing come together in this delightful cold dish.
Total Time
2 hours
41 minutes
Instructions
Fill a large pot with water, 2 teaspoons salt and 1 Tablespoon oil. Bring to a boil.
Once water is at a boil, add pasta and cook for 11 minutes.
While pasta is cooking, in a small bowl combine the vinegar, lemon juice, garlic, oregano, salt, pepper and olive oil. Mix well and set aside.
When pasta has cooked through, drain well and add to a serving bowl.
Add tomatoes, bell peppers, cucumber and olives to pasta and mix well.
Pour dressing over pasta and vegetables and mix well.
Top with cheese and chill for at least 2 hours to overnight before serving.
Nutrition Information:
Yield:
8
Serving Size:
1
Amount Per Serving:
Calories:

208
Total Fat:

15g
Saturated Fat:

3g
Trans Fat:

0g
Unsaturated Fat:

12g
Cholesterol:

8mg
Sodium:

778mg
Carbohydrates:

14g
Fiber:

1g
Sugar:

2g
Protein:

4g