This Brown Rice Salad is a tasty dish that brings together bright colors and bold flavors, making it a perfect addition to any meal or even as a standalone healthy option main dish.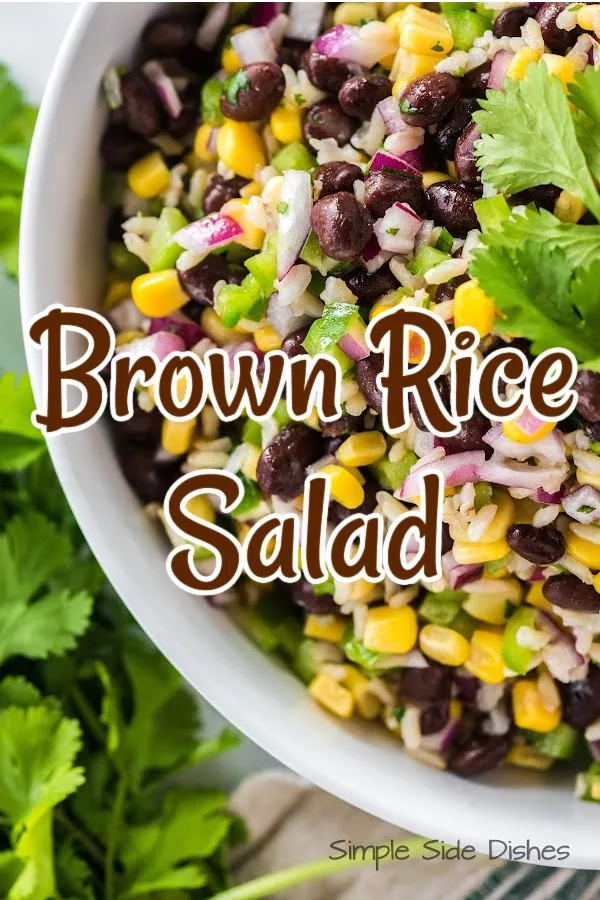 Today I am bringing you the best part of summer flavors that you can eat all year long. This is the cold rice salad recipe you have been looking for.
It has all the great flavors you are looking for in a southwest salad, but adds in a whole grain rice mixture.
In fact, the entire dish is packed with nutrients from the fiber-rich brown rice, protein-packed black beans, and mix of fresh vegetables, all covered with nutrient packed dressing ingredients, this salad is a satisfying and nourishing meal.
As a bonus, this is also a raw and vegan rice salad. So for any of your friends with special food needs, this is a great dish to make a big batch of and serve to everyone at the table.
If that isn't enough to convince you, this recipe is fast, it only takes 5 minutes to toss everything together, there is no cooking time, and it is easy to make ahead and bring with you as an easy potluck or grab-and-go lunch. And it tastes amazing.
Everyone you share it with is sure to love this perfect rice black bean and corn salad.
What ingredients are in brown rice salad?
Cooked Brown Rice: be sure it is cooled rice; a great way to do that is to use leftover from the night before
Sweet Corn: canned sweet corn is always in season and can be kept in your pantry until you are ready to use it
Green Bell Pepper: diced bell pepper adds color, freshness, and a light crunch to the salad
Black Beans: this adds protein and contrast color to your rice salad recipe
Red Onion: diced onion adds crunchy sweetness with just a mild onion flavor
Fresh Cilantro: this gives a classic southwest flavor to you salad
Jalapeno: keep the seeds if you want it spicy, discard them for a mild salad
Red Wine Vinegar: this is the base of your homemade salad dressing
Lime Juice: this goes with the dressing to give you a tangy bright flavor through the entire dish
Extra Virgin Olive Oil: this earthy flavor balances the other and helps coat everything in the cold rice salad with the same flavors
Salt: this brings out the flavor of everything else in the dish giving you a perfect whole grain salad
Pro Tip: You can substitute quinoa for brown rice to give you a different version of a whole grain cold rice salad. Quinoa will add more protein than rice making it more of a complete meal.
How to make brown rice salad:
Combine all ingredients in a large bowl.
Toss well.
Refrigerate for 2 hours or more, allowing the flavors to meld together.
Serve chilled and enjoy!
Pro Tips:
For extra flavor, consider toasting the cooked brown rice before adding it to the salad.
Adjust the spice level by adding or reducing the amount of jalapeno (and seeds) according to your preference.
Can I Use White Rice in Brown Rice Salad?
While this rice salad recipe is specifically written for brown rice, you can substitute the rice with another grain for a different texture and taste.
White rice is usually more delicate and will change the overall flavor profile of the salad. Quinoa has a similar nutty flavor and as a bonus is a complete protein with all 9 amino acids our bodies do not make on their own.
Really you can use any leftover cooked and cooled grain to see what flavors and textures you prefer in this side salad.
How Long Does Cold Brown Rice Salad Last?
Easy rice salad can last for up to 3-4 days when properly stored in an airtight container in the refrigerator. However, we recommend you eat it within 2 days for the most freshness.
How to Store Brown Rice Salad:
Store this salad with brown rice in an airtight container in the refrigerator. Be sure the lid is tightly sealed to maintain freshness.
Can I Make Brown Rice Salad Ahead of Time?
Yes you can make the best rice salad ahead of time! In fact, making this salad ahead of time allows the flavors to develop and meld together which makes it a perfect meal prep side dish.
Prepare it a few hours or even a day in advance, refrigerate, and enjoy the convenience of a ready-to-serve dish.
Pro Tip: Store it in a single serving small bowl to have on the go individual portions through the week.
What to serve with Brown Rice Salad?
You can serve almost anything with this easy salad with brown rice. Here are some of my favorite ways to serve it:
On a bed of leafy greens. Pick your favorite greens and scoop this right on top of it for a perfect side dish.
Next to grilled chicken breast. This is a delicious meal when combined with your favorite protein. Try chicken, tofu, beans, or pork.
Your favorite garden fresh produce. Sometimes in the summer months I like to eat dinner that comes straight from my garden. Serve this with squash, tomatoes, spring onions, fresh herbs, and baby spinach. Cook them, grill them, or leave them raw and have a special garden feast.
Can You Freeze Brown Rice Salad?
It is possible to freeze this healthy salad with brown rice, but it is not recommended. When you freeze fresh vegetables, they lose their crisp crunch and thaw soggier and more rubbery than they were before freezing.
Since you aren't cooking this salad, you want to keep this salad out of the freezer to keep all the ingredients at their highest quality.
Can Dogs Eat Brown Rice Salad?
Brown rice by itself is safe for dogs, but you want to avoid ingredients like onions, a garlic clove, and excessive spices, which can be harmful to them. Keep this southwestern rice salad for your human friends and feed your pets something else.
More Delicious Side Dishes You'll Love…
You will love this easy brown rice salad; with its bright combination of flavors and simple ingredients it is a great recipe to have on hand. Enjoy it as a side dish, light lunch, or a healthy snack option.
Yield: 6 Servings
Brown Rice Salad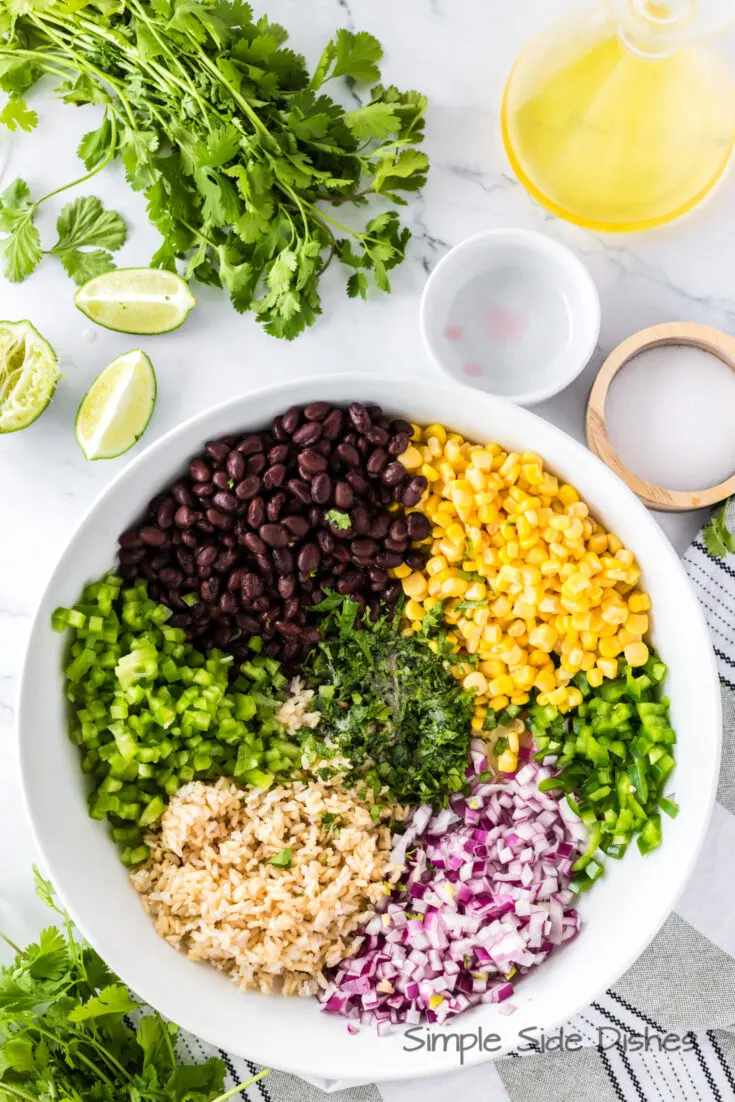 This brown rice salad is a healthy side dish that brings together bright colors and bold flavors. Simple to make ahead and serve cold!
Additional Time
10 minutes
Instructions
Add rice, corn, bell peppers, black beans, red onions, cilantro and jalapeno to a bowl. Toss.
In a small bowl combine vinegar, lime juice, olive oil and salt. Mix well.
Pour dressing over salad and toss.
Refrigerate for 2 hours to overnight.
Toss again before serving.
Notes
Cooked Quinoa can be substituted for rice. However the quinoa absorbs more of the dressing so it's not as flavorful.
Nutrition Information:
Yield:
6
Serving Size:
1
Amount Per Serving:
Calories:

145
Total Fat:

3g
Saturated Fat:

0g
Trans Fat:

0g
Unsaturated Fat:

2g
Cholesterol:

0mg
Sodium:

252mg
Carbohydrates:

25g
Fiber:

6g
Sugar:

2g
Protein:

6g