This Sweet Potato and Pecan Casserole is the best recipe out there! Perfectly sweetened potatoes dripping with butter and covered in a crisp, crunchy pecan crust. A delightful holiday staple that everyone will love!
Perfectly cooked sweet potatoes mashed are a family favorite for Thanksgiving dinner and Christmas dinner.
We love eating Classic Sweet Potato Casserole. You know the one with all the gooey marshmallows? YUM!
But the thing about sweet potato casserole with pecan streusel is that it can be either a dessert or a side dish. It's really just that good!
And I like that it's just a little bit healthier too.
If I've already eaten a Layered Pumpkin Pie Cheesecake, a Swedish Apple Pie, and a Coconut Cream Pie?
I'll just put the sweet potato pecan casserole in the side dish column and choose to not feel guilty! It's the holidays!
Plus it's made from all pantry and fridge ingredients. And heaven knows there's no reason to run to the grocery store this time of year unless you absolutely need to!
Every time I bring this out at family gatherings, every last bite is quickly eaten up! And when you've got all those pies, that's really saying something!
What is Sweet Potato and Pecan Casserole?
Sweet potatoes are an orange root vegetable that can be cooked and eaten similarly to pumpkin. Often we see sweet potatoes in pie or casserole around the holidays.
When sweet potatoes are put into a casserole instead of a pie, the ingredients don't actually differ that much.
The main ingredient that you associate with pie, the crust, however will not be included.
Delicious sweet potato casserole is actually a very classic recipe that's always a big hit for a special occasion.
Use the following ingredients in this southern sweet potato casserole.
Large Sweet Potatoes: You'll want these to be pre-baked and fork tender! They are much more flavorful that way!
Sugar: Easy sweet potato casserole needs both brown sugar and white sugar.
Eggs: This is used to bind the casserole together.
Salt: You need this for flavor. Any type of salt will work.
Butter: I always use salted butter in my baking. Make sure it's at room temperature not melted butter.
Milk: You can use any percentage of milk you have on hand.
Vanilla Extract: Use real vanilla for best flavoring! It makes a huge impact.
Flour: Regular all purpose flour will help make the best topping!
Pecans: You can buy these pre chopped or just chop them up yourself.
How Do You Make Sweet Potato and Pecan Casserole?
Dressing up your thanksgiving table has never been easier! Follow this easy recipe for your holiday menu.
Sweet Potato Base: Mix sweet potato ingredients in a large bowl using a hand mixer or potato masher. Place the sweet potato mixture into a casserole dish.
Pecan Topping: Cut together the topping ingredients. I prefer using a pastry blender as I find it to be much faster to make the crunchy topping but you can use a fork and knife as well.
Bake: Nothing much to say here other than be sure to preheat! I find the ingredients come together pretty quickly and there's nothing worse than having to wait for the oven to heat up!
Eat: When the top of the sweet potatoes is golden brown, dig right in!
How Long Does Sweet Potato and Pecan Casserole Last?
Whether you're making the best sweet potato casserole recipe for Thanksgiving Day or any other special occasions, you'll want to know how long it lasts.
Sweet Potato and Pecan Casserole will last 4 -5 days in the fridge if stored properly. To store sweet potato casserole, we recommend using an airtight container or zipper plastic bag.
Write the date you made on the container to make it easy to remember how old it is.
This comforting dish tastes great as leftovers and doesn't require any extra work.
Are Sweet Potatoes and Yams the Same?
Sweet potatoes are not yams. And yams are not sweet potatoes.
However, most of the time in the store, the things labeled yams are actually going to be sweet potatoes.
Yams have a rough, brown skin that looks a lot like a tree bark. Their insides are a pale or cream color.
Sweet potatoes have a soft reddish brown skin. Their insides vary but range from orange to white to purple.
Yams tend to have a more neutral flavor while sweet potatoes are, just as the name implies, sweet!
When to serve Sweet Potato and Pecan Casserole?
Some think you can only serve sweet potato pecan casserole at Christmas or Thanksgiving. I'm here to tell you that this tasty casserole is actually a year round side dish that everyone goes nuts for.
Some of our favorite pairings to go with this sweet potato casserole with pecan topping are:
Bread: Self Rising Flour Biscuits, Icebox Rolls, Braided Bread Loaf and Butter Swim Biscuits.
Meat: Bourbon Ham Glaze, Smoking a Whole Turkey and Cranberry Glazed Ham
Can I Use Canned Yams for Sweet Potato and Pecan Casserole?
Assuming your canned yams are actually sweet potatoes, then you can!
Most often on the label of canned sweet potatoes they will include both the word yams and sweet potatoes.
Most people use the words interchangeably and don't realize there is a difference between them.
If your label says sweet potatoes anywhere then you've got the right thing!
While I find canned food doesn't pack quite the same punch as fresh food, this sweet potato and pecan casserole is still really good with canned.
You need 4 cups of mashed sweet potatoes so plan your shopping trip accordingly.
And in case you are worrying, the canned yams actually have the same amazing flavors as fresh sweet potato dishes.
Can Sweet Potato and Pecan Casserole be Frozen?
Yes! Hallelujah! Holiday meal prep got you super busy?
Make these creamy sweet potatoes a month early and freeze for later! One thing off the list!
Make the sweet potato casserole up to the pecan crumble layer.
Make sure to wrap the casserole tightly using both aluminum foil and plastic wrap.
Finish with the crunchy pecans layer on top of the casserole when you are ready to bake.
This will keep the pecan layer from getting soggy sitting on top of the uncooked sweet potato layer.
How to Reheat Sweet Potato and Pecan Casserole
Preheat the oven to 300 degrees.
Because the topping has already been cooked once you'll want to cover it with aluminum foil to prevent it from burning.
Bake for 15 minutes or until heated through.
Do You Peel Sweet Potatoes for Casserole?
You don't want the sweet potatoes to have a skin when you put them in the oven but I don't recommend peeling them.
Sweet potatoes are actually really easy to scoop out of the flesh once they are cooked.
So save yourself some time and just scoop out the yummy middles once they are cooked.
To cook, prick each potato all over about 10 times with a fork. Bake in a preheated oven for 1.5 to 2 hours.
Or for a much faster cooking time try cooking Instant Pot Sweet Potatoes! It's my new favorite!
Butter, sugar, and sweet potatoes mash delightfully in this dish. The brown sugar and pecan layer is absolutely delicious!
Additional Sweet Potato Casserole Recipes You'll Love…
Every holiday table needs some more sweet potatoes! I know that this Sweet Potato and Pecan Casserole is going to become an absolute favorite!
A great recipe doesn't come around every day. However it does today!
Yield: 10 Servings
Sweet Potato and Pecan Casserole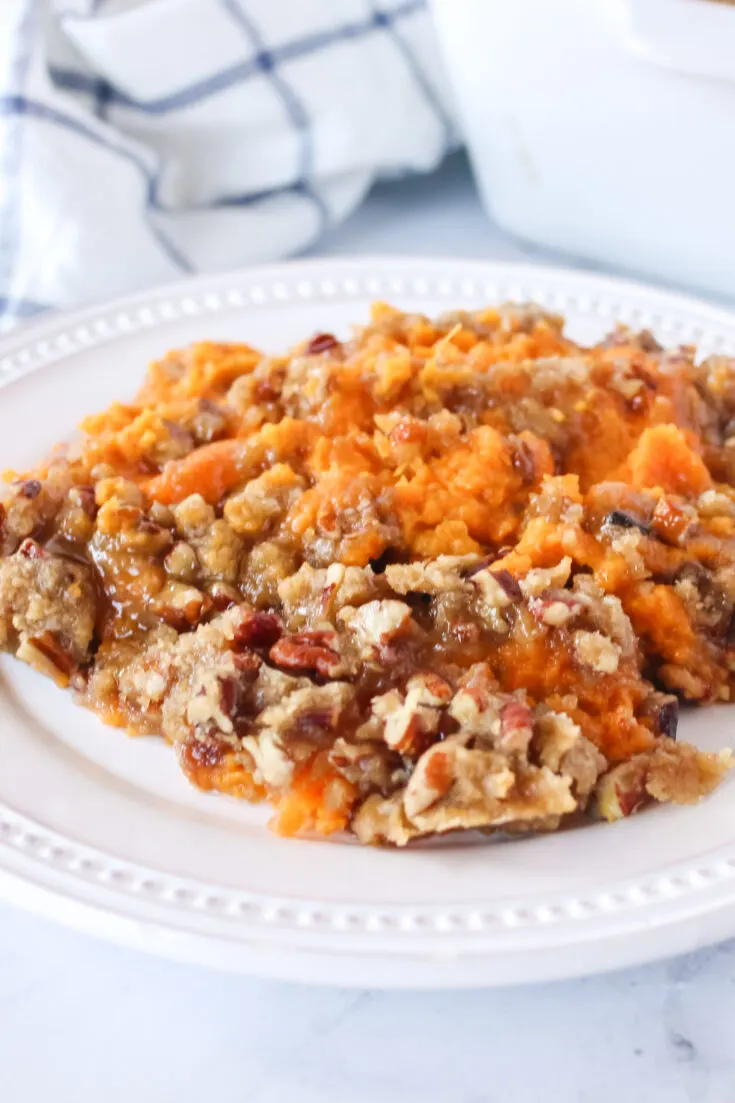 This Sweet Potato and Pecan Casserole is the best recipe out there! Perfectly sweetened potatoes dripping with butter and covered in a crisp, crunchy pecan crust. A delightful holiday staple that everyone will love!
Ingredients
Instructions
Preheat oven to 325*F
Spray a 9x13 casserole dish with cooking spray and set aside.
Wash each sweet potato to remove any extra dirt.
Pierce each sweet potato 4 -5 times all around the potato.
Microwave each sweet potato per your microwaves instructions. Mine has a potato button. If yours does not simply put all your pierced potatos in your microwave. Cook for 5 minutes (for the first potato) + 2 minutes for each additional potato. So 4 potatoes would be 5 + 6 = 11 minutes. 5 Potatoes would be 5 + 8 = 13 minutes. If your potatoes are not fully cooked cook for additional 2 minutes, unil soft in the center.
Once sweet potatoes are cooked slice in half and scoop flesh out of each potato and discard skins.
Place potato into a medium sized bowl.
Blend with a hand mixer until smooth and creamy.
Add 1/4 cup brown sugar, eggs, salt, butter, milk and vanilla extract and mix until smooth.
Transfer to prepared pan.
In medium bowl, mix the brown sugar and flour.
Using a pasty blender or knives or forks, cut in the butter until the mixture is coarse and resembles small peas.
Stir in the chopped pecans.
Sprinkle the pecan mixture over the sweet potatoes.
Bake in the preheated oven 30 minutes, or until the topping is light brown.
Serve immediately
Nutrition Information:
Yield:
10
Serving Size:
1
Amount Per Serving:
Calories:

412
Total Fat:

21g
Saturated Fat:

8g
Trans Fat:

0g
Unsaturated Fat:

11g
Cholesterol:

69mg
Sodium:

262mg
Carbohydrates:

53g
Fiber:

5g
Sugar:

30g
Protein:

6g