Self rising flour biscuits are the best 2 ingredient biscuit recipe you can find; they are fast and so delicious you may never make other biscuits again.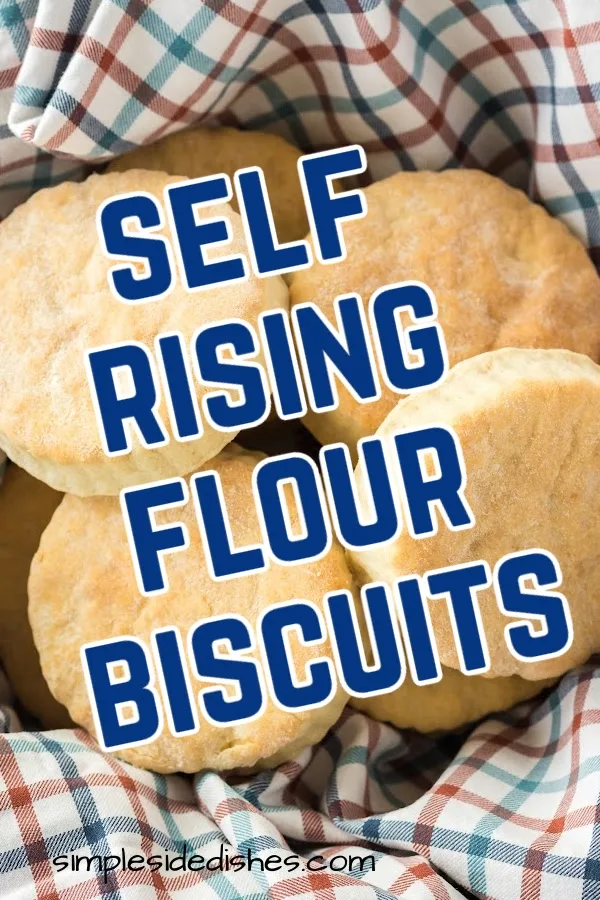 I love a classic southern biscuit. I also love not having to cube and cut cold butter into my flour with a pastry cutter when I'm trying to get a meal on the table.
Enter these self rising flour biscuits.
Or maybe you know them as two ingredient biscuits. Because that's all you need. 2 magical ingredients.
Some call them cream biscuits. Because cream and flour are the only ingredients you need.
My kids call them the buscuit recipe (pronouncing every letter).
Whatever you call them, they are one of the easiest things I make in my kitchen.
From start to finish you can have hot, perfectly fluffy biscuits on the table in less than 30 minutes.
That's kitchen magic for a flaky layers biscuit recipe using whipping cream.
What ingredients are in self rising flour biscuits?
Heavy Whipping Cream: whipping the cream is what will give your biscuits shape
Self-Rising Flour: this has the flour, salt, and baking powder already mixed together
Pro Tip: If you do not have self rising flour at home, take 1 cup all purpose flour, 1 ½ teaspoons baking powder, and ½ teaspoon salt and mix them together.
That will be the same as 1 cup of self rising flour. You cannot substitute regular flour because it has no leavening agents and your great biscuits will end up hard as a rock.
How to make biscuits with self rising flour:
Whip heavy cream in a large bowl until soft peaks form.
Add flour and whip until dough comes together.
Form biscuits with hands and place biscuits on baking sheet.
Bake until golden brown.
Pro Tip: If your biscuit dough flour mixture looks like coarse crumbs, add 1 teaspoon of cream. If your dough is too sticky to shape biscuits, add a sprinkle of flour.
If you prefer to cut biscuits with a biscuit cutter, for best results lay a piece of parchment paper on the counter and place flour on top. Then you can roll dough without it sticking to the counter and have easy cleanup.
You can also make small rectangular biscuits by cutting them into pieces with a knife.
What are soft peaks in whipped cream?
This means when you put a spoon/knife/spatula in the cream and lift it straight up, it will make a mountain top and then curl over like the top of a soft serve ice cream cone.
Stiff peaks are when the whipped cream sicks straight up into the air and doesn't move.
If you accidentally get to the stiff peak stage, these self rising flour biscuits will still turn out fine, you just might need to add extra cream with the flour.
After stiff peaks, the cream will break and separate into butter and buttermilk. If you whip that far, try making these southern buttermilk biscuits and try these biscuits 2 ingredients next time.
Pro Tip: If you have never whipped cream before, be sure to use a mixer or machine. While it can be done by hand, it will take a long time to get to the soft peak stage.
How to store leftover self rising flour biscuits biscuits:
Store in an airtight container at room temperature. They can also be stored in the fridge for 24 hours.
Pro Tip: Storing bread in the fridge can make it dry out faster. That is why we always recommend storing at room temperature or in the freezer.
Can you freeze self rising flour biscuits?
Yes! But these 2 ingredient biscuits taste best when they are eaten fresh.
If you need to freeze them, let them come to room temperature, wrap in plastic wrap, and then place in a freezer safe bag or container.
Let them thaw overnight at room temperature before serving.
Pro Tip: Anything that goes in the freezer can get freezer burn.
By wrapping the biscuits individually in plastic and then putting them in a freezer bag or container you help prevent freezer burn and keep the food you store in there fresher.
How to reheat self rising flour biscuits biscuits:
The best way to reheat and keep them moist is in the microwave. But if you overheat them, your flaky biscuits will end up rubbery.
You can also reheat them in a hot oven or toaster. Just brush the tops of the biscuits with melted butter before (and after) toasting to help them not dry out.
Can dogs eat self rising flour biscuits?
Probably not. A lot of dogs have trouble digesting lactose which is in heavy whipping cream. Some dogs also cannot have wheat flour.
If dairy and flour do not bother your dog, this won't hurt them, but there are other choices that would be better for your dog to eat than these whipping cream biscuits.
What to serve with self rising flour biscuits:
Sausage Gravy: these are the best biscuits to go with a perfect sausage gravy; try this recipe here
Soup/Stew/Chili: we like biscuits as an easy "oops I forgot to make bread" side dish for soup. And these can be made while your pot is simmering!
Breakfast: smothered in unsalted butter and honey this is a perfect side to bacon, eggs, and a glass of whole milk
Dinner: I serve this as bread next to meat and veggies whether it's rotisserie chicken, steak off the grill, or veggie kabobs
Dessert: add strawberries and whipping cream and get a strawberry shortcake biscuit dessert (a sprinkle of sugar on top makes them extra sweet!)
What are biscuits called in England?
Scones. But English scones are usually a sweet dessert served with jam, cream, or fruit. Sometimes cheese too.
This biscuit recipe with self rising flour is a classic American style dish.
In England, biscuits are cookies.
You will love these self rising flour biscuits because with only 2 simple ingredients you can get a perfectly delicious, easy side on the table in just 30 minutes.
Yield: 8 Biscuits
Self Rising Flour Biscuits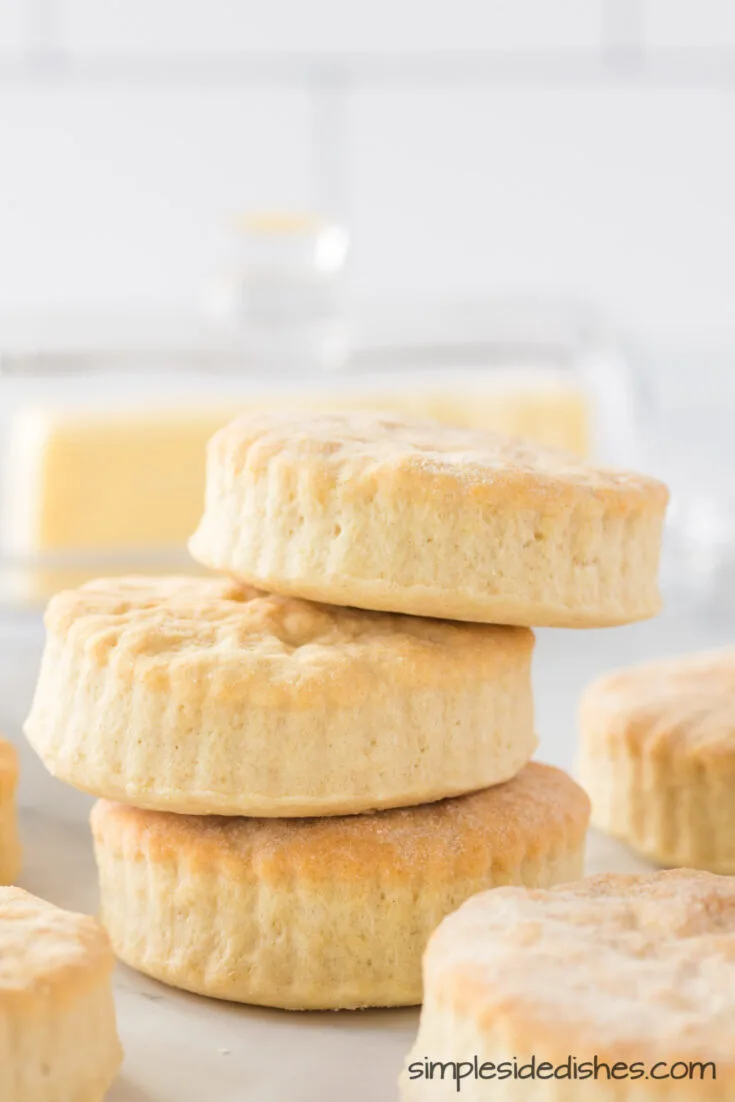 You will love these self rising flour biscuits because with only 2 ingredients you can get a delicious, side on the table in just 30 minutes.
Instructions
Preheat oven to 450*F
Prepare a cooking sheet with cooking spray, non stick foil or parchment paper. Set aside.
Place self rising flour in a bowl.
Add heavy whipping cream and mix well.
Lighly flour a work surface and roll to 1/2 inch thick.
Cut out 2 inch circles and place on the prepared baking sheet
Bake for 12-15 minutes or until biscuits are beginning to turn golden.
Notes
If you don't have a 2 inch round cookie cutter, you can use the rim of a small drinking glass.
Nutrition Information:
Yield:
8
Serving Size:
1
Amount Per Serving:
Calories:

237
Total Fat:

14g
Saturated Fat:

9g
Trans Fat:

0g
Unsaturated Fat:

4g
Cholesterol:

42mg
Sodium:

383mg
Carbohydrates:

24g
Fiber:

1g
Sugar:

1g
Protein:

4g