This Bacon Fried Carrots recipe combines simple ingredients into one delicious carrot bacon recipe. You will love the saltiness of the bacon flavor cooked into perfect golden brown carrot and onion slices; it is a perfect dish for any occasion.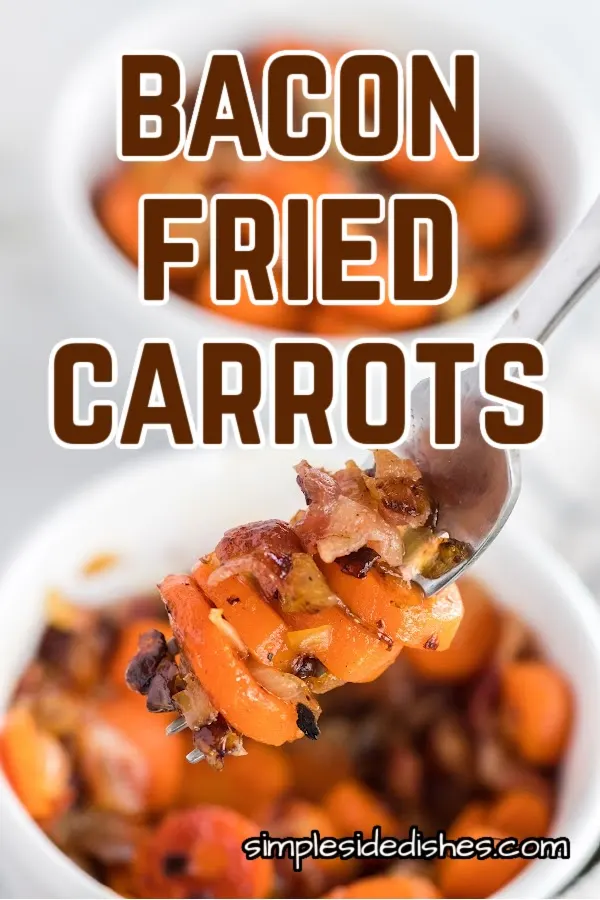 Sometimes the best recipe is an easy side dish recipe. The one that isn't the star of the meal, but takes over that position by using simple ingredients to give you great flavors.
They come together quickly, and have classic flavors you come back to again and again.
This easy Bacon Fried Carrots recipe only uses 5 ingredients and is ready to serve in just 30 minutes. And that includes 15 minutes of hands-off cooking time!
This simple bacon carrot side dish can go with almost anything else you are serving for dinner. Chicken, steak, fish, even soups and salads all sit nicely on the dinner table next to fried carrots with bacon.
And the best part is, this is an easy recipe that puts more veggies on the table on busy weeknights, but it has bold enough flavors that it can be a perfect side dish on a feast table during the holiday season.
What are Bacon Fried Carrots?
Carrots Fried in Bacon Fat are literally carrots fried in bacon grease. You cook the sliced carrots with onions in the same pan the bacon cooked in.
The carrots cook until they are golden brown and have absorbed the delicious bacon flavor, then they are topped with bacon crumbles. They are the most delicious carrots you will eat.
What ingredients are needed to make Bacon Fried Carrots?
Carrots: use a vegetable peeler to peel, then cut into coins so the carrots will get more caramelized than by using baby carrots
Onion: cooked onion will take on the flavor of the bacon and add more savory flavor to the dish
Bacon: regular bacon works great, but for an extra burst of flavor, try using thick-cut bacon
Black Pepper: A dash of black pepper will help your body absorb the nutrients of the carrots as you eat them
Sugar: just a dash of sugar helps balance the flavors and brings out the natural sweetness of the carrots.
Pro Tip: If you love a deeper molasses flavor, use brown sugar instead of white to add that extra layer. If you prefer maple bacon carrots, use a dash of maple syrup instead of the sugar.
How to Make Bacon Fried Carrots:
Cook bacon in a single layer in a large skillet until crisp. Use a slotted spoon to remove bacon but leave the grease.
Sauté carrots and onions in bacon grease with seasonings over medium heat until tender.
Uncover and cook over medium-high heat turning occasionally, until the carrots develop a golden brown color.
Crumble the crispy bacon pieces and sprinkle it over the cooked carrots.
Serve hot and enjoy!
Pro Tips: To save time when cooking, chop the onions and cut large carrots in advance.
Can I Make Bacon Fried Carrots Ahead of Time?
Bacon Sauteed Carrots are best enjoyed fresh, but you can prepare the ingredients ahead of time to make the cooking process faster. Chop the onions and slice the carrots 1-2 days before. Store them separately in an airtight container in the refrigerator.
Then cook the dish just before serving to ensure optimal taste and texture.
Pro Tip: If you cook the bacon the day before, be sure to save the bacon drippings so you can cook the carrots and onions in it on cooking day.
That adds so much of the flavor that you do not want to forget it. Sautéing in olive oil does not have the same flavor as carrots fried in bacon fat.
What Dishes Go Well with Bacon Fried Carrots?
Bacon Glazed Carrots are a tasty side dish for so many different main courses. Serve sautéed carrots with roasted chicken, pork chops, grilled steak, or even baked salmon. Try grilled dishes or barbecue favorites like burgers and hot dogs.
Can I Freeze Bacon Fried Carrots?
While you can freeze anything, if you freeze these Bacon Roasted Carrots, the texture and taste will not be the same as eating it fresh. Frozen carrots become rubbery when thawed because the water inside the carrots freezes, and the ice crystals are so sharp they damage the fiber structure of the carrot.
When it thaws, there is nothing to keep them crisp, so they become super soft and rubbery. For the best results, it's recommended to enjoy this dish fresh.
When to Serve Glazed Bacon Carrots:
Bacon Fried Carrots can be served any time of year for both casual and formal occasions. They are perfect for holiday dinner parties, family dinners, and backyard barbecues.
Whenever you're looking for a side dish with a burst of flavor, this bacon carrots recipe is the perfect choice.
Are Bacon Fried Carrots Healthy?
While Carrots Fried in Bacon grease contain bacon, which is high in fat and sodium, the carrots are a vegetable packed with vitamins and fiber. If you are looking for a healthier alternative to natural bacon, you can try turkey bacon or vegan bacon, but they will have a very different flavor, and you might need to add oil to help cook the vegetables.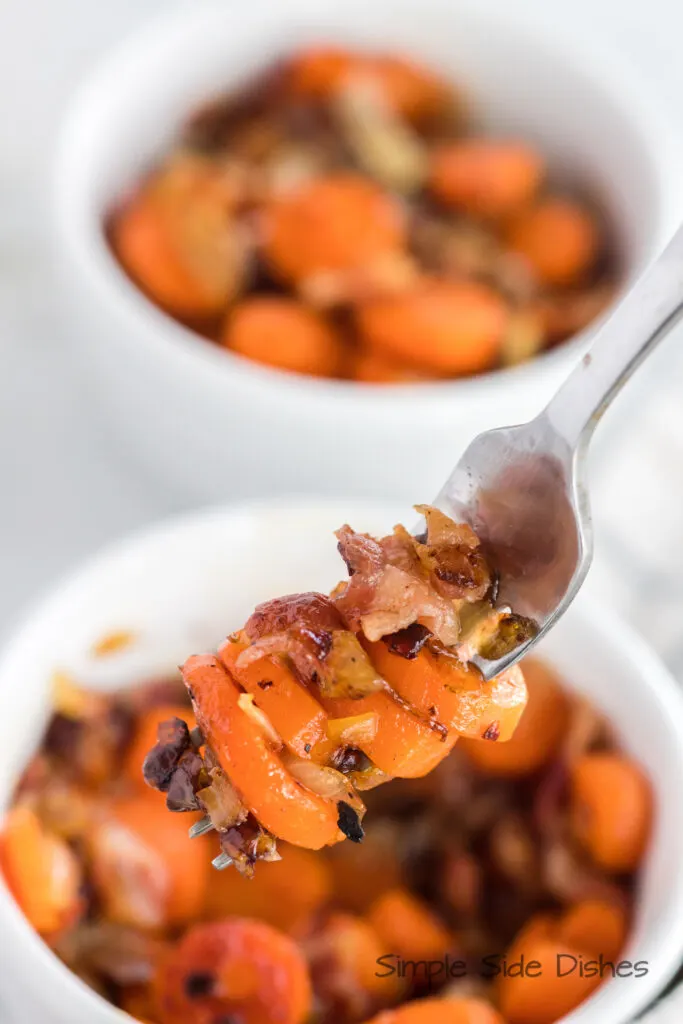 More Bacon Recipes You'll Love…
More Carrot Recipes You'll Love…
This Bacon Fried Carrots recipe is an easy-to-make side dish bursting with flavor. Perfectly balanced and visually appealing, it's a crowd-pleaser you won't want to miss!
Yield: 5 Servings
Bacon Fried Carrots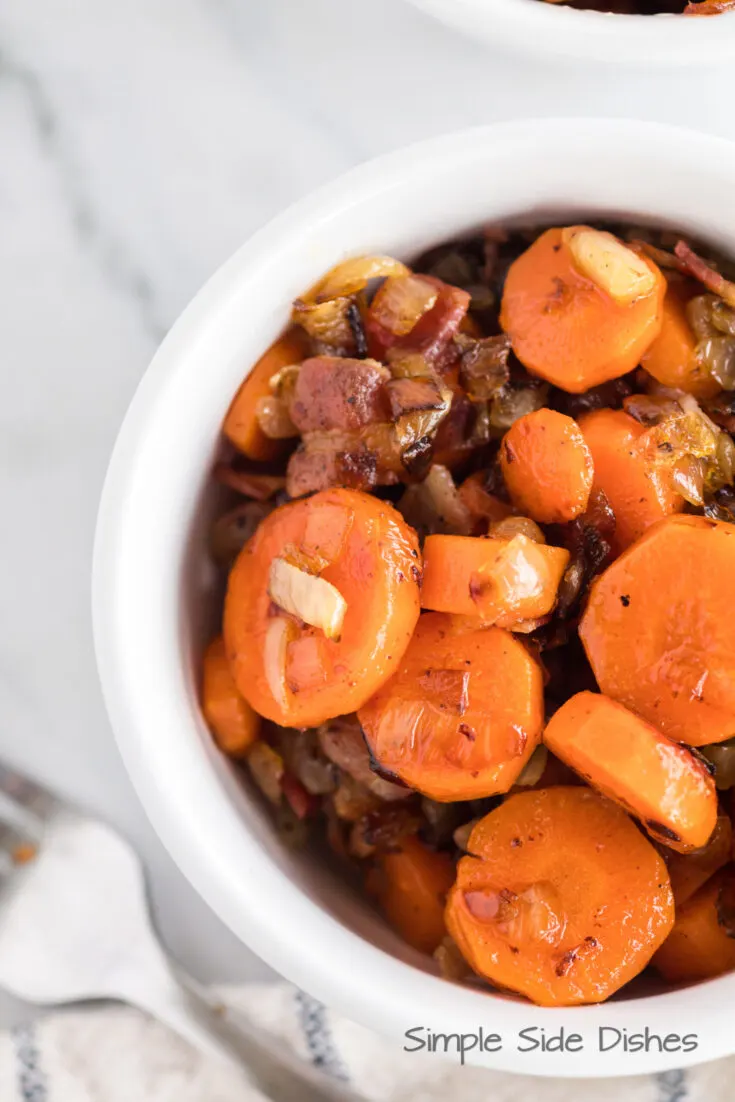 This Bacon Fried Carrots recipe combines simple ingredients into one delicious carrot bacon recipe. The perfect side dish for any occasion.
Ingredients
Instructions
Peel and cut carrots in coins. In a skillet cook bacon until crisp. Remove bacon and set aside.
Add carrots and onion to bacon fat; sprinkle with seasonings. Cover and cook slowly for 10 - 15 minutes or until just barely tender.
Uncover and cook turning occasionally until carrots are slightly brown.
Crumble bacon and add to carrots
Nutrition Information:
Yield:
5
Serving Size:
1
Amount Per Serving:
Calories:

82
Total Fat:

3g
Saturated Fat:

1g
Trans Fat:

0g
Unsaturated Fat:

2g
Cholesterol:

9mg
Sodium:

208mg
Carbohydrates:

9g
Fiber:

3g
Sugar:

4g
Protein:

4g