You will love how easy it is to get the rich flavors of this Easy Zuppa Toscana Soup in your own kitchen. A hearty combination of sausage, potatoes, kale, and creamy broth creates a comforting and irresistible dish.
Today I am sharing with you the best way to make your own Olive Garden Zuppa Toscana Soup. Yes, this is a Zuppa Toscana copycat recipe, and there are so many reasons why you should make this creamy soup in your kitchen today.
First, it is such an easy recipe. In just 30 minutes and following a few simple steps, you will have a soup so full of flavor it tastes like it simmered all day long.
Second, it has whole ingredients that give flavor and nutrients to the dish. Fresh kale gives a vibrant green color while cannellini beans add texture and protein so your soup is as delicious as it is beautiful.
Third, it uses sausage in the soup. And whether you use a mild Italian sausage or a spicy Italian sausage to give your soup a little heat, sausage helps give a huge depth of flavor to this dish, without simmering forever.
It's also zuppa toscana with bacon which means you get a hint of bacon flavor in every bite.
Finally, this is a creamy Zuppa Toscana Soup recipe. That means instead of a plain broth, the broth has a velvety smooth creamy texture making it a perfect soup for any time of the year.
Whether this is the exact Olive Garden recipe for Zuppa Toscana Soup or not, the first time you make it you will think you have become a master chef and made the restaurant version in your kitchen.
What is Zuppa Toscana Soup?
Zuppa Toscana Soup is a traditional Italian-inspired soup that originated in the Tuscany region. Toscana is the Italian word for Tuscany.
This tuscan soup uses a broth made with heavy cream, delicious Italian sausage, potatoes, kale, and beans. In other words, it is a hearty soup and a very flavorful dish.
What ingredients are in Zuppa Toscana Soup?
Italian Breakfast Sausage: you want sausage with a lot of spices for good flavor, but hot Italian sausage will take over the other flavors in the soup
Yellow Onion: this adds a savory base to the soup
Garlic: this adds great flavor and nutrients to the dish
Salt: you need this to make the flavors of the other ingredients even better
Black Pepper: this adds an earthy spice and helps your body absorb the nutrients in the other ingredients
Russet Potatoes or Canned Diced Potatoes: this gives texture and helps fill you as you eat the soup
Chicken Stock: this is the base for the soup, so pick a broth with good flavor
Fresh Kale: this adds color, texture, and nutrients to my favorite soup
Cannellini Beans: this help with the creaminess of the soup and add protein to the bowl
Real Bacon Bits: this gives you a smoky and crispy element without cooking and cleaning up bacon grease
Heavy Whipping Cream: this is the cream that gives you a thicker soup and perfect creamy base
Pro Tip: When using fresh kale, be sure to remove the stems and chop the leaves into bite-sized pieces. If you bought bagged pre-chopped kale, that usually has a lot of large stem pieces that do not cook down well in the soup.
How to Make Zuppa Toscana Soup:
Cook Italian sausage in a large pot or enamel coated dutch oven and set aside, keeping the grease to cook the vegetables in.
Sauté onions, garlic, salt, and pepper in the sausage oil over medium heat.
Add potatoes and chicken broth, and boil ten minutes.
Add kale, beans, cooked sausage, and crispy bacon bits and boil again until kale has softened and potatoes are tender.
Stir in heavy cream, and mix well.
Serve topped with grated Parmesan cheese and a side of crusty bread.
Pro Tips: If you want to make instant pot Zuppa Toscana Soup, it is easy to overcook the potatoes and beans no matter how careful you are. It also doesn't save you very much time. What the pressure cooker does really well is hold the soup at a safe warm temperature so that when people are in an out for activities, this will stay ready to eat.
Can You Freeze Zuppa Toscana Soup?
Yes, you can freeze Zuppa Toscana Soup. Once the soup has cooled, place it into a freezer safe airtight container or freezer bags and store for up to three months.
To serve it, let it thaw in the refrigerator overnight, and then reheat on the stove top until cooked through. This is a great way to have delicious soup ready for a cold day.
What Goes With Zuppa Toscana Soup?
The best thing to serve with this easy Zuppa Toscana Soup recipe is freshly baked bread. Try it with this braided braid, these homemade garlic knots, or this easy crispy focaccia bread.
To make this creamy zuppa toscana recipe even more authentic, serve it with a side salad or favorite pasta dish.
Is Zuppa Toscana Soup Gluten-Free?
Yes, this Zuppa Toscana Soup is gluten-free. But you always want to make sure that every ingredient is labeled gluten-free. Be sure to check the sausage, bacon, and chicken broth, since those are more likely to have gluten added.
Is Zuppa Toscana Soup Keto-Friendly?
With the potatoes, it is not naturally keto-friendly, but low carb Zuppa Toscana Soup can be made in your kitchen with a few changes. Replace the potatoes with a low carb version like cauliflower, and be sure to choose sausage and bacon without added sugars.
Is Zuppa Toscana Soup Healthy?
Yes, traditional Zuppa Toscana Soup is healthy! Making this zuppa toscana with kale means it is packed with vitamins and minerals, and beans that give lean protein.
What is the Best Sausage to Use for Zuppa Toscana Soup?
Italian breakfast sausage works best in Zuppa Toscana Soup. It has great seasonings that give flavor to everything else in the soup.
Be careful using hot sausage to make zuppa toscana with sausage because it can overpower the flavors of the other ingredients. Sweet italian sausage can work well too unless you really don't like mixing a touch of sweetness in your savory meals.
More Tasty Soup Recipes You'll Love…
A bowl of this Easy Zuppa Toscana Soup full of Italian sausage, tender potatoes, and fresh kale is the perfect soup for any occasion! You will want to keep this recipe card in your favorite spot so it is ready all the time.
Yield: 6 Servings
Easy Zuppa Toscana Soup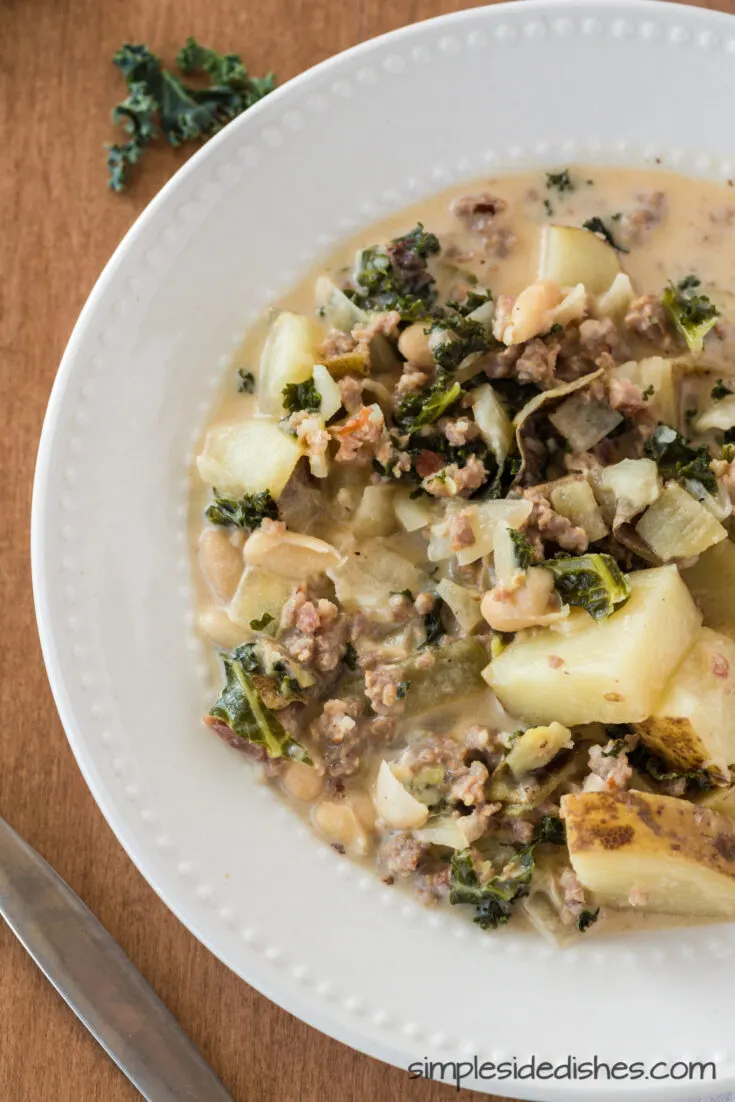 Indulge in this creamy and flavorful Easy Zuppa Toscana Soup Recipe. Featuring Italian sausage, potatoes, kale, and a luscious broth.
Ingredients
16 ounces Italian breakfast sausage
1 cup yellow onion, diced
4 cloves garlic, minced
1/2 teaspoon salt
1/4 teaspoon black pepper
2 large russet potatoes or 1 quart jar canned diced potatoes
64 ounces chicken broth (8 cups)
4 cups fresh kale, chopped into bite sized pieces
1 (15 ounce) can cannellini beans, drained and rinsed
1/4 cup real bacon crumbles
1 cup heavy whipping cream
Instructions
In a large soup pot, cook breakfast sausage until cooked through.
Once sausage is cooked, remove it from the pot, leaving the oil.
Saute onion in the oil for 5 minutes.
Add garlic, salt and black pepper. Cook for 1 minute.
Add potatoes and chicken broth. Bring to a boil for 10 minutes.
Add kale, cannellini beans, sausage and bacon.
Cook for an additional 10 minutes, or until potatoes are tender.
Add heavy whipping cream and mix well.
Serve immediately.
Nutrition Information:
Yield:
6
Serving Size:
1
Amount Per Serving:
Calories:

643
Total Fat:

38g
Saturated Fat:

16g
Trans Fat:

1g
Unsaturated Fat:

18g
Cholesterol:

120mg
Sodium:

2274mg
Carbohydrates:

51g
Fiber:

8g
Sugar:

8g
Protein:

29g