This Cranberry Grape Gelatin Salad is a sweet and tangy dish perfect for any occasion. The combination of smooth cranberry sauce and grape jello mixed with sour cream is a delicious treat that will have everyone asking for seconds.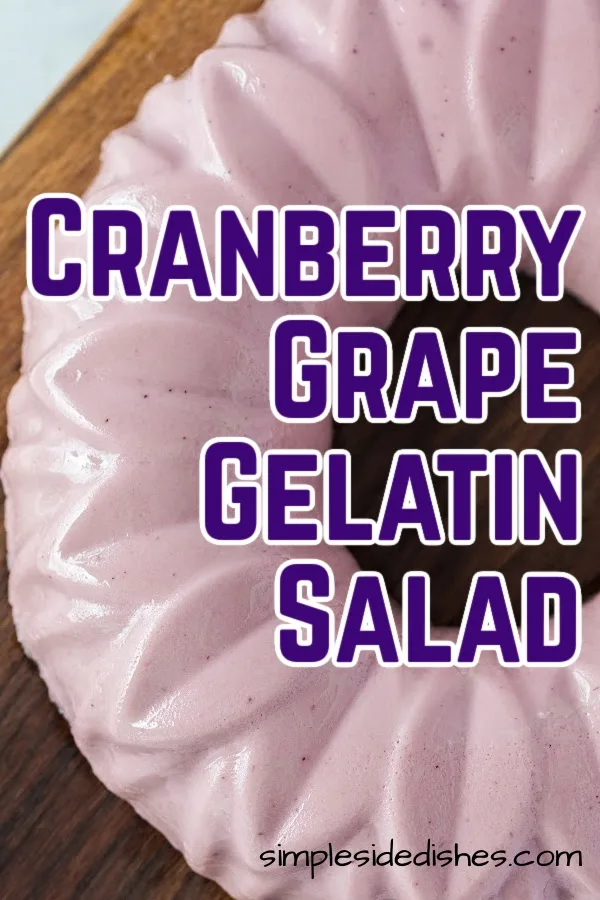 There are so many things to love about this cranberry jell-o salad. First, like all jello recipes, it is easy to make with just a few simple ingredients.
And cranberry grape jello salad is a great make-ahead dish. That means during the holiday season this is a fast and delicious side dish, and during special occasions it helps you have stress-free entertaining days so you have more time to spend with your friends and family.
This is also perfect to serve at a holiday dinner because grape cranberry jello salad can be served as a dessert or as a tasty side dish. If you need an extra side at the main course, move it over. If you want more dessert options, it fits there too!
The best part of this festive salad is that the sweet and tangy flavors of the grape jello and tart whole cranberry sauce are perfectly balanced. It really is a perfect blend of flavors.
Last of all, this cranberry grape jello salad can be customized with nuts or other toppings to add texture and flavor. If you have fresh fruit, and extra cup of pecans, or love a whipped cream layer on top, do it.
This is one of those delicious recipes that sits perfectly next to a thanksgiving turkey, but also is perfect for an afternoon snack when you need a little sweetness in your day.
What is Cranberry Grape Gelatin Salad?
Grape Cranberry Gelatin Salad is a combination of tart cranberries, grape jello, and sour cream. It creates a perfect, silky texture with a burst of flavors that will soon become your favorite recipe.
A perfect side dish for Christmas dinner or any family gatherings, this easy cranberry salad recipe is a dish the whole family will enjoy.
What Ingredients are in Cranberry Grape Gelatin Salad?
Jellied Cranberry Sauce: adds a sweet-tart cranberry flavor and smooth texture to the salad.
Grape Gelatin: infuses the dish with a delicious grape flavor and provides a gelatinous base for the salad.
Sour Cream: adds creaminess and balances the sweet and tangy flavors.
Water: helps dissolve the gelatin and creates the desired consistency.
Pro Tip: You can use different flavors of jello in a pinch, just keep in mind that by using raspberry jello, you will no longer have a grape gelatin salad with cranberries. Cran-raspberry gelatin is still a good flavor combination.
How Do You Make Cranberry Grape Gelatin Salad?
Dissolve grape gelatin in boiling water and let it chill in the fridge for 30 minutes.
Blend jellied cranberry sauce until smooth.
Add the rest of the ingredients to the gelatin mixture in a large bowl, blending until well incorporated.
Pour mixture into a serving dish or jello mold and refrigerate overnight or until set.
Pro Tip: For added texture, you can use whole cranberries instead of jellied cranberry sauce. Pulse them in a blender or food processor until smooth for best texture.
Can I Make Cranberry Grape Gelatin Salad Ahead of Time?
Yes, Cranberry Grape Jello Mold can be prepared ahead of time and refrigerated overnight before serving. It actually tastes better if you do because it allows the flavors to meld together and gives the cran-grape jello time to set.
Is Cranberry Grape Gelatin Salad a Dessert or a Side Dish?
Grape Cranberry Gelatin Salad is both a dessert and a side dish. Its sweet and fruity flavors make it a perfect complement to savory main courses, while its creamy texture and delightful taste also make it a delightful dessert option.
That's why it is always on the table as a thanksgiving jello salad. Everyone likes extra dessert options on feast days, and the children love seeing a sweet dish as an option with the main course.
Can I Use Fresh Cranberries in Cranberry Grape Gelatin Salad?
Yes, you can use fresh cranberries in Cranberry Grape Jello, but you will end up with a different texture. As much as you blend the fresh cranberries, it will be a chunkier salad compared to using jellied cranberry sauce. While it is a different texture, I like both versions of the dish.
How Do You Serve Cranberry Grape Gelatin Salad?
Serve 4 ingredient Cranberry Gelatin Salad chilled on its own or as a side dish. Cranberry recipes pair well with roasted meats or as a refreshing treat during summer picnics.
Pro Tip: For a more elegant presentation, you can pour it into individual glasses or gelatin molds.
How Long Does Cranberry Grape Gelatin Salad Last in the Fridge?
Grape Gelatin Salad will last for several days in the fridge. Be sure to cover it tightly with plastic wrap or store it in an airtight container to maintain its freshness.
How Do You Store Leftover Cranberry Grape Gelatin Salad?
Store leftover Cran-Grape Jello in the refrigerator in an airtight container. You can wrap it in plastic wrap or put it in a zip bag, but you want to make sure it is covered.
Can I Add Nuts or Other Toppings to Cranberry Grape Jello?
Yes, you can customize your CranGrape Gelatin by adding your favorite toppings such as chopped nuts, fresh berries, or a dollop of cool whip or homemade whipped cream. Top it with your favorite toppings to give a custom twist to your Grape Cranberry Gelatin Salad.
This sweet and tangy Cranberry Grape Gelatin Salad is easy to make and perfect for any occasion. Served as a side dish or dessert, you can customize it with toppings for added flavor and texture.
Yield: 8 Servings
Cranberry Grape Gelatin Salad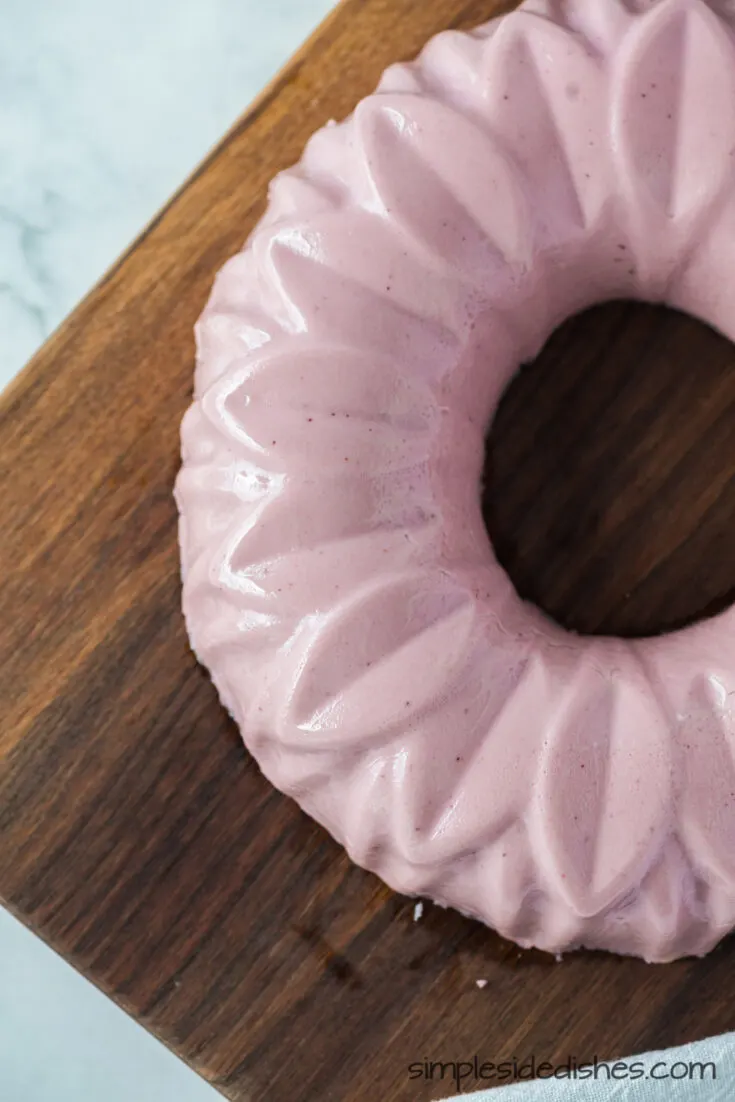 Indulge in a blend of cranberry and grape flavors with this Cranberry Grape Gelatin Salad. This dish is perfect for any holiday table.
Total Time
4 hours
20 minutes
Instructions
Bring the water to a boil.
Once water comes to a boil, turn off burner and add Jello. Mix until it's dissolved.
Chill Jello in the fridge for 30 minutes.
In a blender, blend cranberry sauce until smooth.
Add chilled Jello (it will still be liquid) and sour cream to blender. Mix well.
Pour Jello mixture into a dish or Jello mold.
Refrigerate for several hours or overnight.
Serve with dollops of whipped cream.
Nutrition Information:
Yield:
8
Serving Size:
1
Amount Per Serving:
Calories:

62
Total Fat:

0g
Saturated Fat:

0g
Trans Fat:

0g
Unsaturated Fat:

0g
Cholesterol:

1mg
Sodium:

3mg
Carbohydrates:

15g
Fiber:

0g
Sugar:

12g
Protein:

0g