This bacon cauliflower broccoli salad combines the freshness of cauliflower, broccoli, and peas with a rich and creamy dressing, sharp cheddar cheese, and crispy bacon. This salad is perfect for potlucks, picnics, family gatherings or an easy side dish to serve for any occasion.
This bacon cauliflower broccoli salad recipe is one of my favorites because it is so easy, but it also adds raw cauliflower to a classic dish. With the tangy dressing and extra crunch, no one will notice that you have added another power vegetable to the bowl.
In fact, with simple ingredients it is a really easy recipe that you can serve any time of the year! I have always found these items to be fresh and in season when I want to make this salad.
It's also the only broccoli and cauliflower salad that everyone in my family will eat. Probably because of the bacon included.
It really is the perfect combination of fresh vegetables, creamy dressing, sharp cheddar cheese, and crispy bacon. That's what makes this cauliflower broccoli salad recipe a great dish that everyone loves.
It is an easy-to-make recipe that is bursting with flavor. What more do you need?
What Ingredients Are in Bacon Cauliflower Broccoli Salad?
Cauliflower: this has a crisp and mildly sweet texture
Broccoli: this adds a hearty and earthy flavor, and a nice crunch!
Frozen Peas: these give a pop of color and a touch of sweetness.
Green Onions: this gives just a mild onion flavor and a hint of freshness to cut through the rich dressing
Mayonnaise: this is the creamy dressing base for the salad.
Sour Cream: this adds tanginess and brings out the creaminess of the dressing.
Garlic Powder: this gives the salad a quiet garlicky flavor.
Salt: this brings out the flavors of all the other ingredients
Black Pepper: this gives a deep earthy flavor to the dish.
Shredded Sharp Cheddar Cheese: this sharp cheese pairs perfectly with the other vegetables.
Parmesan Cheese Shreds: this adds a nutty and salty flavor to complement the cheddar and bacon.
Bacon Bits: the easiest way to add crispy bacon pieces to your salad
Pro Tip: If you prefer a stronger sweet onion flavor in your broccoli cauliflower salad, cut a red onion into small pieces and add it to the dish. Some people in my family prefer it without the red onion which is why the recipe is written with green onions instead.
How Do You Make Bacon Cauliflower Broccoli Salad?
In a large bowl, combine cauliflower, broccoli, green onions, and frozen peas.
In a separate bowl, mix the sweet dressing ingredients until well combined.
Pour the salad dressing mixture over the vegetables and mix until everything is evenly coated.
Stir in the shredded cheddar cheese and bacon bits, making sure they are spread throughout the salad.
Sprinkle Parmesan cheese shreds on top.
Cover and refrigerate for several hours or overnight. Before serving the next day, give it a good stir and drain off any excess liquid that may have accumulated.
Pro Tips:
For a smokier flavor, use real salty bacon crumbles instead of bacon bits.
To save time, use pre-cut cauliflower and broccoli florets available at most grocery stores.
For added freshness, squeeze a little lemon juice over the salad just before serving.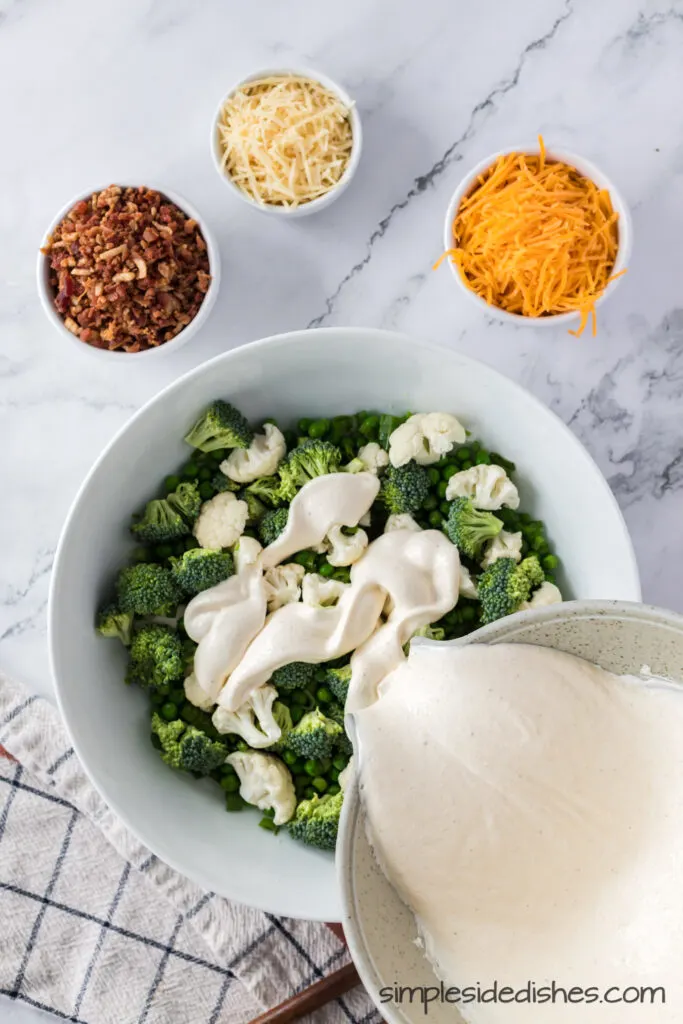 Can You Make Bacon Cauliflower Broccoli Salad Ahead of Time?
Yes you can make bacon cauliflower broccoli salad ahead of time! Prepare the salad as written on the recipe card, cover it tightly, and refrigerate it until you are ready to use it.
Making it ahead allows the flavors to mix together and intensify, giving you a more delicious broccoli & cauliflower salad. Just remember to stir well and drain off any excess liquid before serving.
How Long Does Bacon Cauliflower Broccoli Salad Last?
When stored in an airtight container in the refrigerator, bacon cauliflower broccoli salad can last for up to 3-4 days.
For best results and to enjoy the freshest vegetables, we suggest eating it within the first 2-3 days.
How to Store Bacon Cauliflower Broccoli Salad:
To store bacon cauliflower broccoli salad salad, transfer it to an airtight container or cover the bowl tightly with plastic wrap. Then place it in the refrigerator, where this easy broccoli salad will stay fresh for a few days.
Remember to stir well and drain off any accumulated liquid before serving the leftover salad, and you will still have a perfect side dish days after preparing it.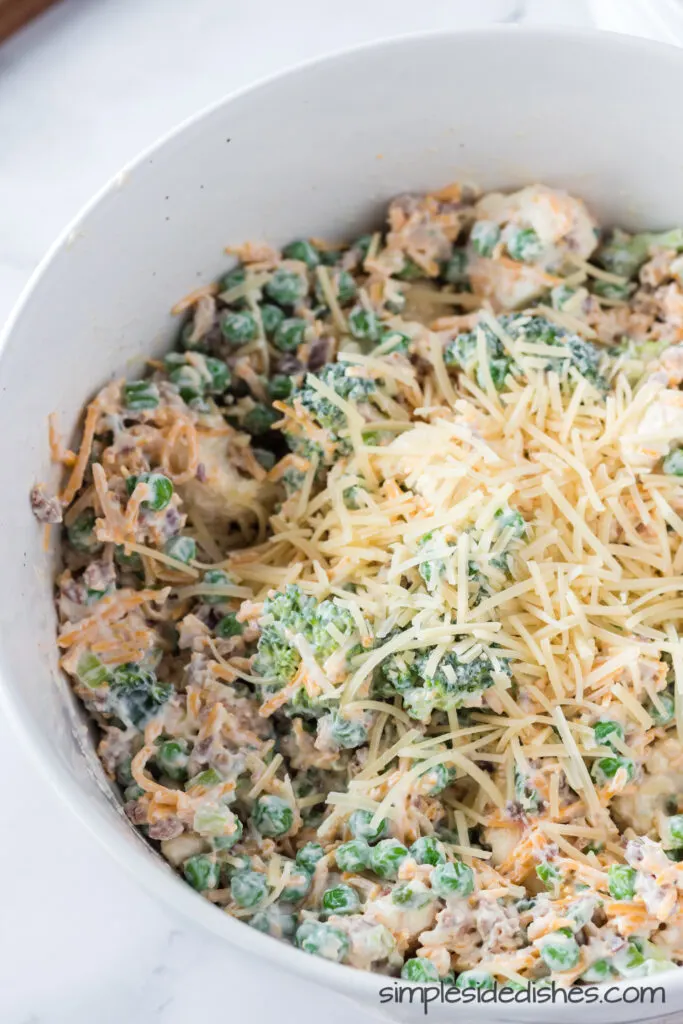 Can You Freeze Bacon Cauliflower Broccoli Salad?
While you can freeze anything including this broccoli cauliflower salad recipe, we do not recommend it. Freezing causes the vegetables to become limp and lose their crispness, which means when you thaw it you will get a salad with a soggy and limp texture.
Make this broccoli cauliflower salad recipe fresh each time and you will be surprised how fast it gets eaten.
Is Bacon Cauliflower Broccoli Salad Gluten-Free?
Yes, this broccoli & cauliflower salad is gluten-free since none of the ingredients contain gluten.
However, it's always important to double-check the specific brands of mayonnaise, cheese, and bacon bits to make sure the company didn't add anything containing gluten to their package.
What to Serve with Bacon Cauliflower Broccoli Salad:
Broccoli and cauliflower salad can be served with almost anything! Its delicious flavors make it an excellent side for any meal, but it is an especially easy salad to bring to potlucks.
Try serving this alongside grilled chicken, roasted pork tenderloin, or even a juicy steak. Bacon Cauliflower Broccoli Salad also goes well with sandwiches and wraps, making it a great side to your favorite lunches.
Yield: 8 Servings
Bacon Cauliflower Broccoli Salad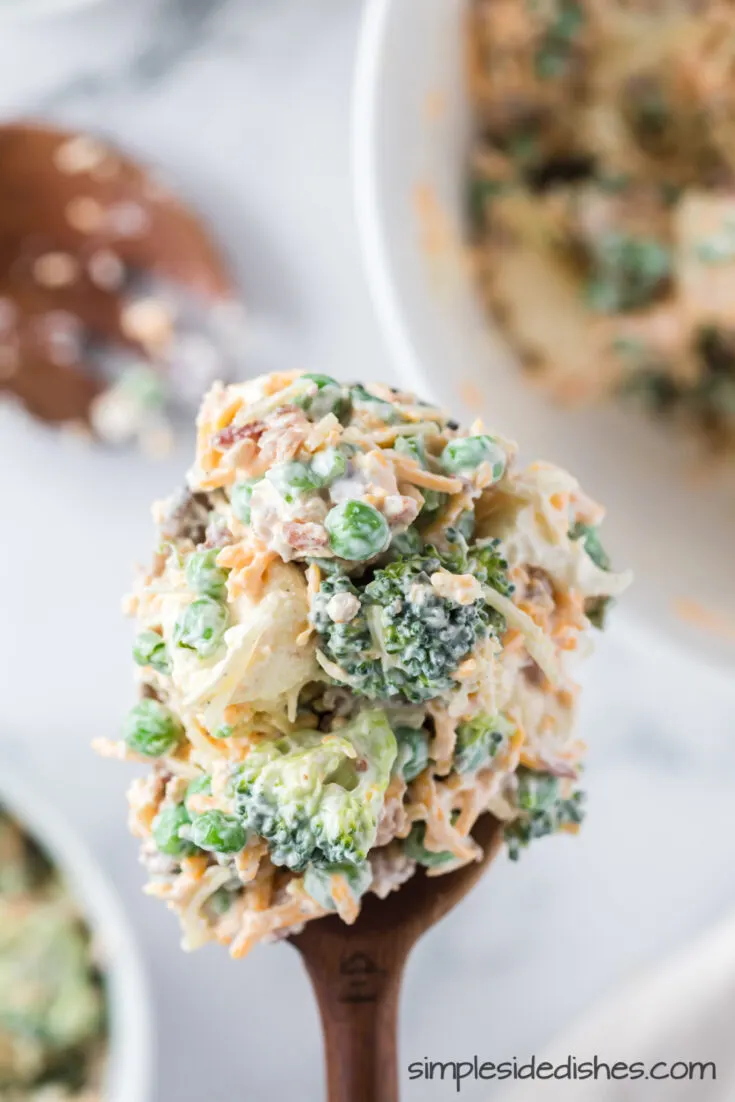 You are going to love this twist on a classic broccoli salad, bursting with flavor from the homemade dressing, tasty cheeses, and crispy bacon, it is a delicious combination of raw vegetables that everyone enjoys.
Total Time
2 hours
30 minutes
Instructions
In a bowl combine cauliflower, broccoli, onions, and peas. Mix well.
In a separate bowl combine mayonnaise, sour cream, garlic powder, salt and pepper. Mix well.
Pour mayonnaise mixture over vegetables and mix well.
Add cheddar cheese and bacon and mix well.
Sprinkle parmesan on top and chill several hours or overnight.
Stir well before serving.
Nutrition Information:
Yield:
8
Serving Size:
1
Amount Per Serving:
Calories:

505
Total Fat:

41g
Saturated Fat:

13g
Trans Fat:

1g
Unsaturated Fat:

25g
Cholesterol:

59mg
Sodium:

859mg
Carbohydrates:

19g
Fiber:

6g
Sugar:

5g
Protein:

18g