This Raisin Dutch Oven Bread recipe is a combination of plump raisins and fluffy bread, all baked to perfection in a Dutch oven. The smell of warm raisins and fresh bread will fill your kitchen, making it one of your favorite bread recipes!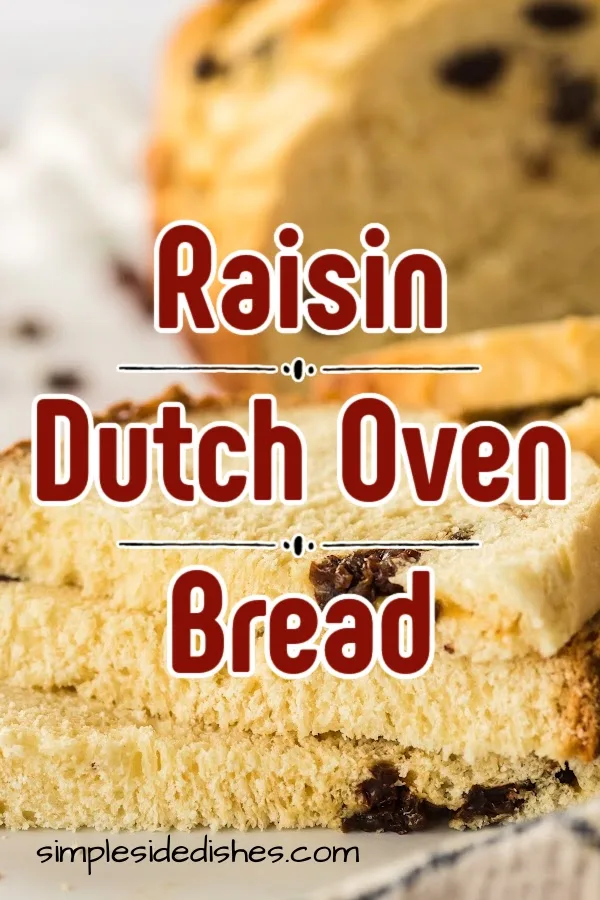 Raisin dutch oven bread is a great addition to your simple side dish recipe collection. It is not a traditional yeast bread; instead it is more of a no knead bread recipe.
Using your stand mixer, you just mix the dough and let it rise. Then you mix in the raisins and begin baking bread in a dutch oven right away.
It is an easy bread recipe that comes out perfectly each time and always looks beautiful. So if you need something that makes you feel like a domestic kitchen master, this one is perfect for you.
With a little bit of patience and 9 simple ingredients, you will soon have delicious cast iron dutch oven bread in your kitchen.
What is Raisin Dutch Oven Bread?
This Dutch Oven Bread is a yeast based bread filled with plump dark raisins. Cooking bread in dutch oven will give you a crispy crust and soft, tender interior, making it a perfect treat for any time of the day.
What ingredients are in Raisin Dutch Oven Bread?
Boiling Water: use this to plump the raisins
Dark Raisins: this adds natural sweetness and texture
Hot Milk: this creates a soft and moist crumb
White Sugar: this brings out the sweetness of the bread
Salt: this makes all the other ingredients taste better and slows down how fast the yeast grows
Butter: this adds richness to the dough
Warm Water: use this to activate the yeast; be sure it isn't too hot water or it will kill the yeast
Active Dry Yeast: this is what makes the bread grow light and fluffy
Egg: this helps the dough's structure
All-purpose Flour: this is the base for the bread and works just as good as bread flour in this recipe
Pro Tips (Ingredients):
Use dark raisins for a richer flavor; golden raisins for a more mild taste.
For a deeper molasses flavor, use brown sugar instead of white sugar.
Substitute instant yeast if you want the bread dough to rise even faster.
How to Make Raisin Dutch Oven Bread:
Plump the raisins in a small bowl with boiling water.
Mix the milk, sugar, salt, and butter in a large bowl.
Combine water, yeast, and milk mixture.
Add the flour gradually to your large mixing bowl until a stiff dough forms.
Let the dough rise in a warm place covered with plastic wrap until doubled in size.
Incorporate the plump raisins into the dough ball.
Bake the dough in a greased Dutch oven pot until it is a deep golden brown.
Pro Tips:
Don't let the dough rise for too long; it can over proof and affect the bread's texture.
If you prefer a spicier twist, sprinkle some cinnamon on top of the dough before baking.
If you want you can use a sharp knife to put a score mark on the bread before it bakes.
For added flavor, brush the bread with melted butter after baking.
What Size Dutch Oven Do You Need for Dutch Oven Bread?
To make Dutch Oven Bread with Raisins, use a 6-quart Dutch oven. You can use a larger size and it will be a shorter loaf of bread. Any smaller sizes should split the dough in 2 parts. Make sure it's well-greased to prevent sticking.
Pro Tip: For easy clean up and transferring, use a large square of parchment paper, even if you are making a round loaf. You can transfer dough to the dutch oven without making a mess and there is very little effort in cleaning your pan after cooking. It is my favorite way to make bread.
Can I Add Cinnamon to Raisin Dutch Oven Bread?
Yes you can add cinnamon to chewy raisin dutch oven bread! If you love cinnamon, add a sprinkling of ground cinnamon to the dough before baking. It will bring out the bread's flavor and look great on top of the bread.
Pro Tip: I like to serve Dutch oven cinnamon raisin bread toasted with butter for an easy breakfast the next morning. Make it the night before, and you can use bread to slice and go in the morning.
How to Store Raisin Dutch Oven Bread:
Store this dutch oven bread recipe in an airtight container or a plastic bag at room temperature for up to 3 days. You can slice it all fresh or leave it as a whole loaf and slice as you go. As long as it is airtight, it will keep its freshness.
Pro Tip: Do not store your homemade bread in the fridge. Refrigerating bread will make the starch in the bread recrystallize and lose moisture, giving you a drier bread.
Can I Freeze Raisin Dutch Oven Bread?
Yes, you can freeze this chewy Dutch oven bread! You can freeze the whole loaf and pull it out on the counter to thaw overnight before using. Or slice it and place parchment paper between slices before freezing. Then you can thaw individual slices as needed.
How Long Does Raisin Dutch Oven Bread Last?
If stored properly, this Cast Iron Dutch Oven Bread can stay fresh for up to 3 days at room temperature. Also it can last up to 3 months in the freezer. But usually it is gone the same day we make it at my house.
This sweet and soft Raisin Dutch Oven Bread is the perfect treat for any occasion! Serve it as a side to stew, as breakfast, or as a simple dessert, and you will have a great and simple side every time.
Yield: 1 Loaf
Raisin Dutch Oven Bread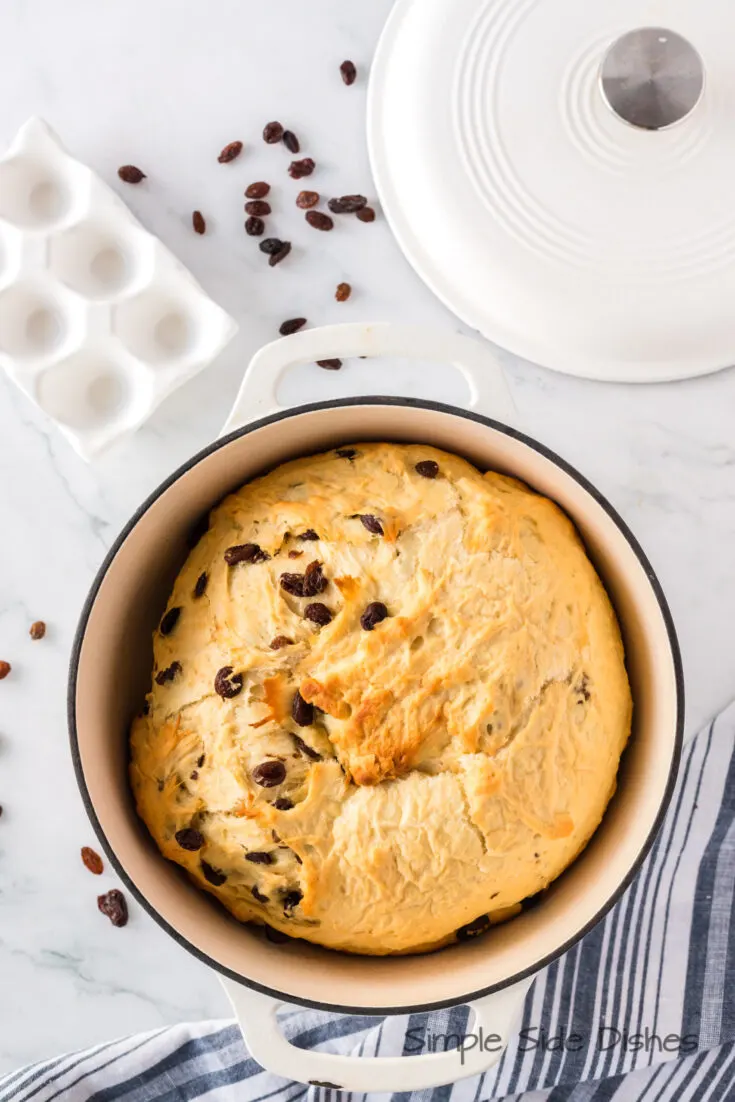 Indulge in the sweet perfection of Raisin Dutch Oven Bread. A delightful recipe with plump raisins, baked to perfection. Simply irresistible!
Additional Time
1 hour
5 minutes
Total Time
2 hours
25 minutes
Ingredients
Instructions
Add raisins to a medium bowl and pour boiling water over the raisins. Let sit for 10 minutes.
While raisins are plumping up, In a mixer add milk, sugar, salt and butter. Mix well. Let cool for 5 minutes.
After the raisins have sat for 10 minutes, drain water off raisins and pat dry. Set aside
Add warm water and yeast to the milk mixture. Mix well.
Add egg, and 3 cups of flour. Mix well.
Add remaining 1 ½ cup flour. Dough should be somewhat stiff.
Place dough in an oiled large bowl and cover with plastic wrap. Let rise until double (about an hour)
Preheat oven to 350*F
Beat down dough and add in raisins and knead a few times to incorporate raisins.
Oil a Dutch oven with cooking spray and place dough in the Dutch oven. Do NOT let it rise a second time.
Bake for 55 minutes in the oven without lid.
Let cool for 5 minutes before transferring to a wire rack to fully cool.
Nutrition Information:
Yield:
10
Serving Size:
1
Amount Per Serving:
Calories:

355
Total Fat:

6g
Saturated Fat:

4g
Trans Fat:

0g
Unsaturated Fat:

2g
Cholesterol:

33mg
Sodium:

273mg
Carbohydrates:

67g
Fiber:

2g
Sugar:

21g
Protein:

8g