These spinach stuffing balls are bursting with flavor in every bite. Perfectly crispy on the outside and tender on the inside with a great blend of all the good parts of stuffing, this is the perfect appetizer.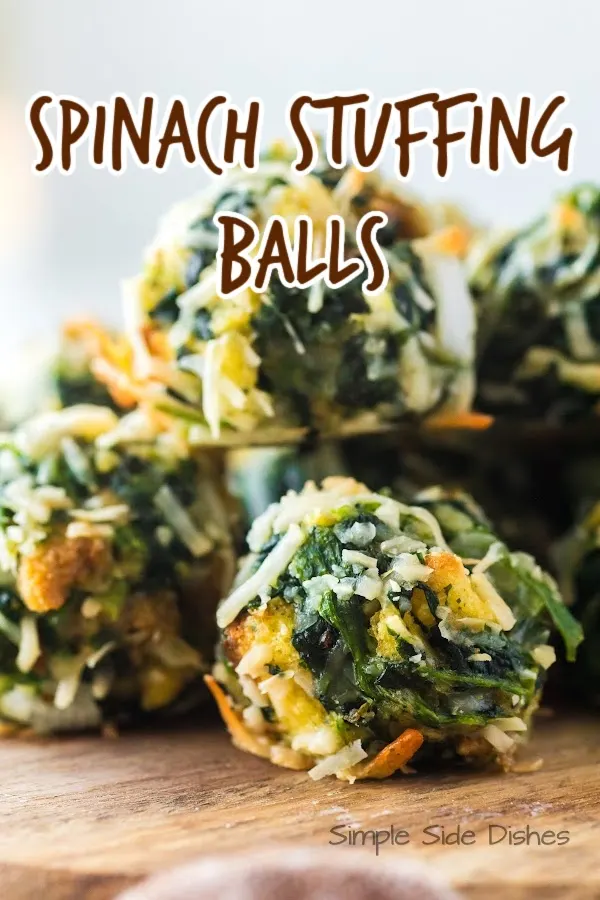 These spinach stuffing balls are a great thing to serve in the fall when you crave those classic Thanksgiving stuffing flavors.
The combination of spinach, seasoned stuffing, and parmesan cheese is such a perfect blend of flavors that you will make this again and again.
But more importantly, with just seven simple steps, these delicious spinach balls are a breeze to make, making them perfect for experienced cooks and new cooks who are trying this recipe for the first time.
This is also a great recipe to keep in the freezer for a quick and convenient dish whenever you need it.
And my favorite thing is the spinach which adds a nutritious twist to this recipe, so if you need a sneaky way to get more greens in your diet, these easy spinach balls are the way to go.
Whether you need a quick appetizer or are just looking for an original recipe to add to your holiday table, this old fashioned spinach balls recipe is the perfect dish to make.
What Ingredients Are in Spinach Stuffing Balls?
Melted Butter: Adds richness and moisture to the stuffing balls, bringing out their flavor and giving a better texture
Frozen Chopped Spinach: frozen spinach gives just as nutritious and quality taste as fresh spinach without needing to cook and cool
Seasoned Stuffing Mix: I like one with italian seasoning, but pick your favorite to give it a perfectly, herbed flavor
Shredded Parmesan Cheese: gives a cheesy, salty kick that makes the overall taste a huge hit
Large Eggs: Serves as a binding agent, holding the ingredients together and giving the stuffing balls their structure.
Salt: brings out the flavors and balances the dish's taste.
Black pepper: Adds a hint of spiciness and depth to the stuffing balls.
Diced onion: gives a subtle sweetness and texture to the stuffing mixture.
Garlic powder: adds a gentle garlic flavor, going perfectly with the other savory elements.
Pro Tip: Be sure the spinach is thoroughly drained and wrung out to avoid excess moisture, which can affect the texture of the stuffing balls.
How to Make Spinach Stuffing Balls:
Preheat the oven.
Melt butter and let it cool.
Combine stuffing mix, spinach, and parmesan cheese in a large bowl until the mixture is uniform.
Add the remaining ingredients, and mix thoroughly.
Use a 2-tablespoon cookie scoop and shape the spinach mixture into walnut-sized balls, rolling them in parmesan cheese.
Place the spinach balls with stuffing on a prepared baking sheet and bake until golden brown.
Serve hot!
Pro Tip: Use parchment paper or non-stick foil on an ungreased baking sheet for easy cleanup.
Can I Make Spinach Stuffing Balls Ahead of Time?
Yes you can make this spinach stuffing ball recipe ahead of time! I like to make them the day before and cook them right before serving.
Can I make gluten free spinach stuffing balls?
Yes you can make gluten-free spinach balls! Be sure to choose a stuffing mix that is gluten free. Regular Stove Top stuffing mix is not.
Everything else in the recipe is naturally gluten free making it a great choice to serve your gluten-free (and vegetarian) guests!
Are Spinach Stuffing Balls vegan?
No, spinach balls are not vegan since they contain butter, cheese, and eggs. If you need a vegan appetizer, try serving this Old Fashioned Cranberry Relish over vegan cream cheese with crackers or veggie sticks.
Do You Serve Spinach Balls Hot or Cold?
I serve stuffing balls hot. I think they are best served hot, straight from the oven, to enjoy their crispy exterior and warm, cheesy interior.
When to Serve Stuffing Balls with Spinach:
These appetizer spinach balls make a delicious appetizer. But I also serve them as a side dish, snack at parties, or any day I want to treat myself.
What to Serve with Spinach Stuffing Balls:
Pair this parmesan spinach balls recipe with a creamy dip or marinara sauce. These have such a great flavor they can also be the main course next a green salad like this Roasted Squash Salad.
Do Spinach Stuffing Balls Need to Be Refrigerated?
Yes, spinach balls with stuffing need to be refrigerated after they are cooked. Do not leave them out of the fridge for more than 2 hours.
How to Store Stuffing Balls:
Keep stuffing balls with spinach in an airtight container in the refrigerator for up to 3-4 days. I like to reheat in the oven or toaster oven to keep the crispy outside texture.
Can You Freeze Spinach Stuffing Balls?
Yes you can freeze stuffing balls! That is a great way to have party appetizer spinach balls ready to go for another day.
Prepare the spinach ball recipe as written, but instead of baking, place unbaked balls on a parchment lined baking sheet and let them freeze for 1 hour.
Then place in a freezer bag or container and store in the freezer for up to 3 months. Thaw and reheat as needed, just make sure to store them in an airtight container or freezer bag.
Additional Holiday Recipes You'll Love…
Whether you need easy holiday appetizers or just an awesome dish with simple ingredients, these spinach stuffing balls are perfect for your next gathering or just a healthy snack.
Yield: 40 Spinach Stuffing Balls
Spinach Stuffing Balls
Try our Spinach Stuffing Balls – crispy on the outside, tender on the inside. A versatile and delectable treat for any occasion!
Instructions
Preheat oven to 350*F
Melt butter in the microwave for 30 seconds and set aside to cool.
Prepare a baking sheet by covering it in parchment paper (yes), cooking spray or non-stick foil.
Make sure your spinach is dry and free of as much liquid as you can.
Combine spinach, stuffing and parmesan cheese. Mix well, breaking up spinach so there aren't any clumps.
Add beaten eggs and mix well.
Add cooled butter and mix well.
Add salt, black pepper, onion and garlic. Mix well.
Using a 2 Tablespoon cookie scoop, scoop out batter and roll in remaining ½ cup parmesan cheese.
Place the prepared spinach balls on the prepared baking sheet. (20 should fit on a sheet)
Bake for 14 minutes
Nutrition Information:
Yield:
40
Serving Size:
1
Amount Per Serving:
Calories:

54
Total Fat:

4g
Saturated Fat:

2g
Trans Fat:

0g
Unsaturated Fat:

2g
Cholesterol:

36mg
Sodium:

130mg
Carbohydrates:

1g
Fiber:

0g
Sugar:

0g
Protein:

2g