These cinnamon sugar pecans are delicious treats that use simple ingredients and come together in just thirty minutes; a great snack for the holiday season or any time of year!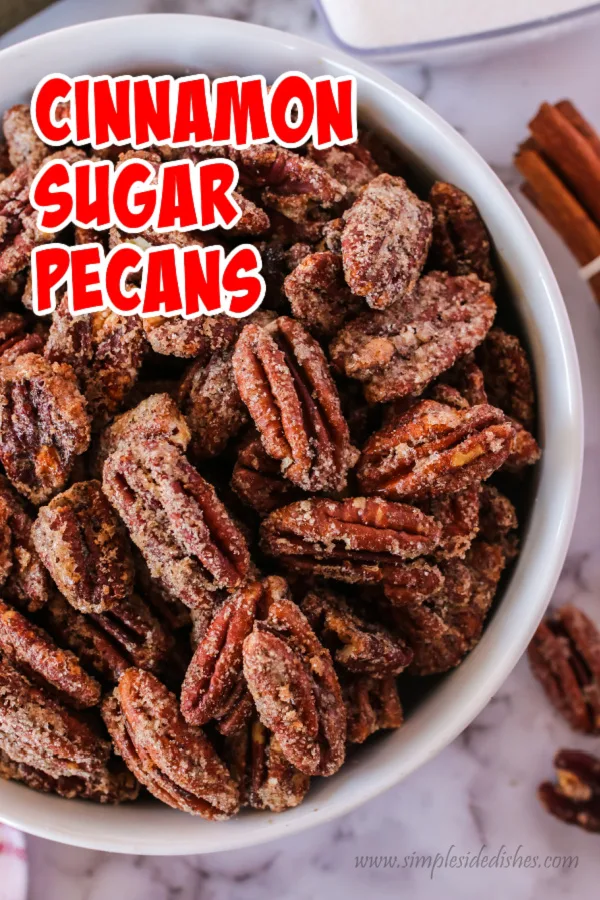 This is one of my most favorite recipes in the entire world. I really love sweet treats so those always make the top of my list.
But there is something about sugared cinnamon pecans that I just cannot resist. They are sweet and savory, crunchy, nutty, and make your house smell amazing.
I know a lot of people use these as gifts in the Christmas season, but I will use these as the perfect snack all year long.
If you've ever tried a recipe for cinnamon pecans, you might wonder how this can be an easy recipe.
You would know that the first time you make candy it can be overwhelming and challenging and call for special tools like a candy thermometer.
Not this recipe!
This is the easiest candied nut recipe you will ever make. It uses simple ingredients, basic cooking tools, and comes together in just thirty minutes without using the stove!
That makes it great anytime of the year for last minute gift bags or just because you want them.
What ingredients are in cinnamon sugar pecans?
White Sugar: this has a simple flavor that will give the pecans a great sweet coating
Cinnamon: this mixes with the sugar to give you the perfect sweet snack
Salt: this makes sure the nuts aren't too sweet and have a balance of flavors
Egg White: this makes the cinnamon sugar stick to the pecans
Pecans: use pecan halves (not pieces!) for best results
Pro Tip: You can substitute 2 tablespoons liquid egg whites if you don't want to crack an egg and separate it.
How to make cinnamon sugar pecans:
Combine sugar, cinnamon, and salt in a small bowl.
Beat egg white in a large bowl until tripled in size and frothy.
Add pecans to egg white and mix well.
Add cinnamon sugar mixture and mix well.
Spread in a single layer on a rimmed large baking sheet and bake, stirring halfway through.
Remove and cool; then enjoy!
Pro Tip: Use parchment paper to line your cookie sheet for easy clean up!
What is the difference between glazed pecans and candied pecans?
Sometimes people will use the words to mean the same thing.
But if we are getting specific about the terms, candied pecans are what this cinnamon sugar pecans recipe is making because it uses white sugar and egg whites to bind the sweet to the pecan and it hardens in the oven.
Glazed pecans use brown sugar, corn syrup, butter, and a candy thermometer and cook mostly on the stove and let the nuts cool on a cooking sheet.
Praline pecans a coated in caramel so it uses brown sugar, butter, and cream and cooks on the stove.
They are all delicious, and they all have different flavors and textures and amazing smells while they are cooking. But these candied pecans are my favorite nuts to eat and make.
Are cinnamon sugar pecans good for you?
Yes! Pecans are really great for you. They have proteins, healthy fats, and really great minerals.
We don't recommend eating this entire batch in one sitting which is very tempting to do. But these cinnamon roasted pecans are a healthier holiday snack choice than may other sweets you could choose.
When to eat cinnamon sugar pecans:
As a snack: these are great on their own
On a salad: try using these instead of croutons in a green salad
With dessert: top ice cream, yogurt, fresh berries, or even toss in a milkshake
As an appetizer: nuts are a great appetizer to hold you over, especially before a feast meal
On a charcuterie board: put some grapes, nuts, and cheese on a board or plate to make a great spread for a tasty and beautiful simple meal option (add crackers and meat for more savory; cookies and dessert dip for sweeter boards)
As a simple side dish with your favorite meal. Really you can add these to the table anytime. I have a hard time thinking of a bad time to eat these.
Can you freeze cinnamon sugar pecans?
Yes! Store this cinnamon pecans recipe in a freezer safe container for up to two months.
How long do cinnamon sugar pecans last?
2 weeks in an airtight container at room temperature. I like to keep this cinnamon sugar pecans recipe in a mason jar on the counter because they look so pretty.
Can dogs have cinnamon sugar pecans?
No! It is not safe for dogs to eat pecans at all. They have toxins in them that are very dangerous to your dogs digestive system and liver.
If your dog grabs one of these cinnamon sugared pecans on accident, just watch them, but if they eat a handful of pecans you should call your vet to see what they advise.
Can cats have cinnamon sugar pecans?
Pecans are not toxic to cats. And the levels of cinnamon in this recipe shouldn't hurt your feline.
But these cinnamon glazed pecans are hard and with harder half pieces of pecan, they can be a choking hazard for your cat. If you want to give them a few pieces as a treat it shouldn't hurt them, but remember cats need meat to provide most of the nutrition in their diet.
Are cinnamon sugar pecans gluten free?
Yes! Everything in this recipe is naturally gluten free, making it a great option to feed or to gift your friends and family who have a gluten-free diet.
Are cinnamon sugar pecans vegan?
No, but these are not butter cinnamon pecans, so these are dairy free.
Dairy free means no milk, butter, cheese, or cream. But vegan means no animal products at all, and since these have egg whites, they are not vegan.
More Side Dishes You'll Love…
You will love the great taste of these cinnamon sugar pecans, and even more you will love how easy they come together and cleanup than other homemade candy options
Yield: 4 cups
Cinnamon Sugar Pecans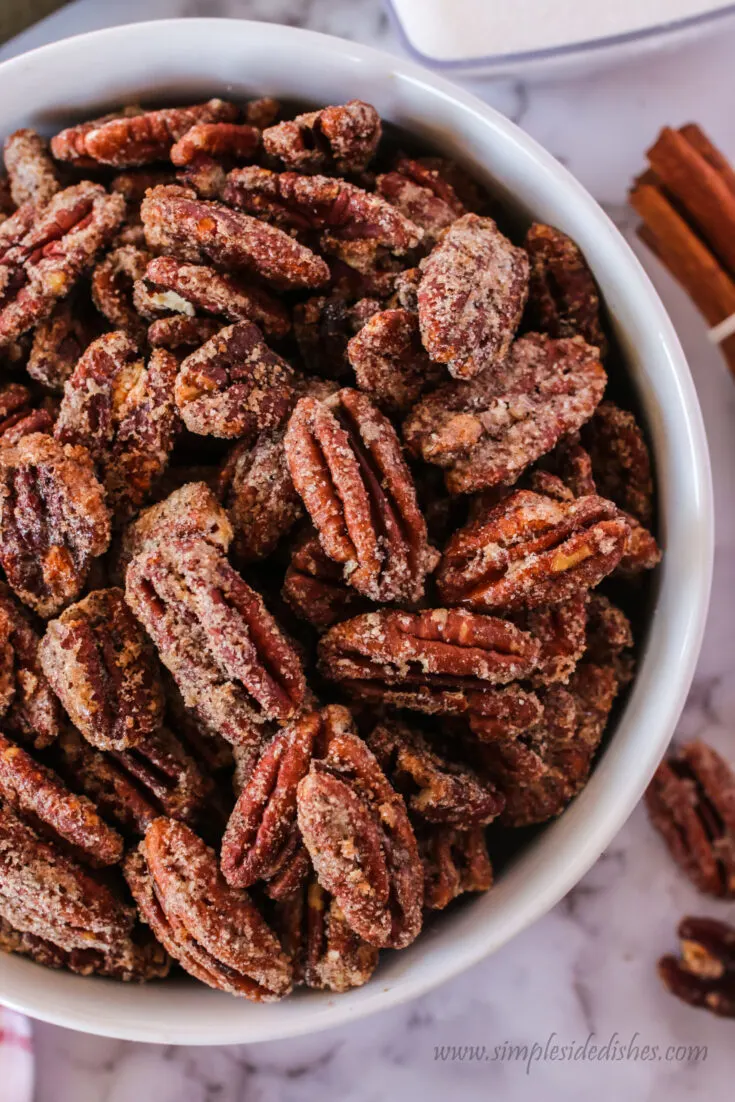 These cinnamon sugar pecans are delicious treats that use simple ingredients and come together in just thirty minutes!
Ingredients
Instructions
Preheat oven to 325*F
In a bowl combine sugar, cinnamon and salt.
In a separate bowl add egg white and mix well.
Add pecans and toss until all are coated in egg mixture.
Add sugar mixture and coat well.
Place pecans on a cookie sheet and bake for 10 minutes.
Remove from oven, stir well and bake an additional 10 minutes.
Remove from the oven and let cool.
Enjoy immediately.
Nutrition Information:
Yield:
6
Serving Size:
1
Amount Per Serving:
Calories:

549
Total Fat:

50g
Saturated Fat:

4g
Trans Fat:

0g
Unsaturated Fat:

43g
Cholesterol:

0mg
Sodium:

186mg
Carbohydrates:

27g
Fiber:

7g
Sugar:

19g
Protein:

7g